Dev Patel gives a career best performance as the titular character of Armando Iannucci's freewheeling Dickens adaptation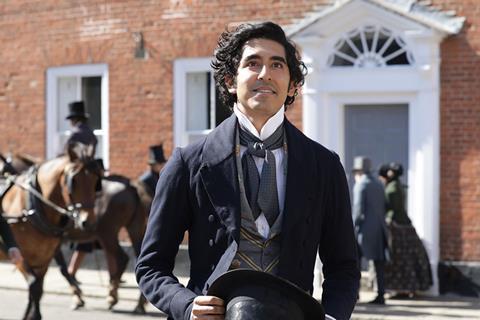 Dir: Armando Iannucci. UK. 2019. 116mins

Armando Iannucci brings a wonderful comic exuberance to his freewheeling adaptation of a novel that Charles Dickens considered his favourite child. The autobiographical account of an author's formative years unfolds in a giddy swirl of outlandish incident and indelible characters. Often riotously funny, it never loses sight of the underlying central themes of poverty, class, the tonic of compassion and the need for community. A treat for Dickens fans, The Personal History Of David Copperfield is so alive and immediate that it should also connect with an audience who would never dream of tackling a weighty 19th century tome.
The lynchpin of the whole enterprise is a terrific star turn from Dev Patel, who has never been better
David Copperfield has been frequently filmed, most notably as a lavish 1935 MGM production that featured W.C.Fields as the impecunious Mr. Micawber. Iannucci seems intent on doing everything he can to blow away the dusty reverence that might be feared from a literary adaptation. The pace is manic, the casting is triumphantly colour blind, the style is almost that of a graphic novel; sentences are written across the screen, characters come face to face with their younger selves. The energy fizzes and the supporting characters are vividly etched by a rogue's gallery of character actors performing at the top of their game.
Dickens most autobiographical novel relates the adventures of a young man who experiences seesawing extremes of hardship and good fortune. David Copperfield, played as an adult by Dev Patel, enjoys the kindness of strangers and suffers at the hands of those closer to home, including his wicked stepfather. Banished to distant relatives who live in a capsized boat, forced into gruelling factory work in London or raised to new heights by the offer of an education, he remains an eternally optimistic figure. Friendships are the wealth he accumulates along the way and he makes the world a better place by his very presence.
Iannucci and co-writer Simon Blackwell make us aware that we are witnessing the first steps in the life of a great storyteller. Snippets of conversation are stored away for future use, real events are embellished into beguiling yarns as Copperfield becomes a skilled impersonator of those around him and a shrewd observer of human nature. Everything marks him and forges the writer he will become.
The Personal History Of David Copperfield is beautifully crafted throughout. The costumes are a riot of colour from dresses of terra cotta and crimson to lavish waistcoats and striped stockings. Interiors match the wealth and status of the characters from the spacious, bright blue rooms of the wealthy to the grey, cramped quarters of those one step away from a life on the streets. Iannucci has assembled a marvellous, all-star ensemble that ranges from Tilda Swinton channelling Joyce Grenfell as a hysterical Betsey Trotwood to Peter Capaldi's splendidly shifty Mr. Micawber, Ben Whishaw's creepily twitchy Uriah Heep, a beguiling Rosalind Eleazar as Agnes and Hugh Laurie's endearingly whimsical Mr. Dick.
The lynchpin of the whole enterprise is a terrific star turn from Dev Patel, who has never been better. The energy and physicality of his performance is a constant delight; a tangle of arms and legs, he plays the knockabout farce with the timing and agility of a Chaplin. He is funny, heartfelt and endearing, making Copperfield an irresistible figure whose victories over cruelty and injustice are hard won and richly deserved. It is a tour de force performance that deserve to be part of any Best Actor conversations in the coming awards season.
Production companies: FilmNation Entertainment, Film4, Wishmore Entertainment
International sales: FilmNation Entertainment nyoffice@filmnation.com
Producers: Kevin Loader, Armando Iannucci
Screenplay: Armando Iannucci, Simon Blackwell based on the novel by Charles Dickens
Production design: Cristina Casali
Editing: Mick Audsley, Peter Lambert
Cinematography: Zac Nicholson
Music: Christopher Willis
Main cast: Dev Patel, Tilda Swinton, Hugh Laurie, Ben Whishaw, Peter Capaldi