Dir. Maya Forbes. US, 2017. 95 min.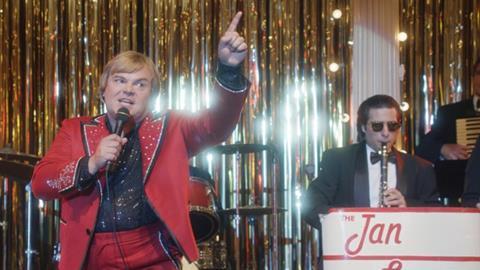 "This really happened." So begins the unbelievable based-on-a-true story of Jan Lewan, a Polish immigrant who started a Polka empire in the early 1990s. Starring Jack Black as the aspirational singer, The Polka King recounts Lewan's rise from small-time Pennsylvania entertainer to music mogul and entrepreneur by taking illegal investments (eventually totalling almost US$5 million) from his fans and followers.
The film's mid-nineties period and combination of garish and quirky Polish details are good for some laughs
While The Polka King has all the ingredients of a big Sundance crowdpleaser—the performance antics of Black; funny supporting players Jason Schwartzman, Jacki Weaver and Jenny Slate; a kitschy milieu filled with Bohemian folk music—it favours broad laughs and almost cartoonish goofiness. Still, this easily marketable movie is still likely to be an upbeat commercial performer.
When we first meet Jan (Black), with his peroxide-highlighted hair and infectious spirit, he's a proud man with big dreams and a growing number of geriatric supporters. Though he operates a little Polish tchotchke shop in a strip-mall in suburban Pennsylvania, he sees opportunities for growth. First, he starts taking investments from his fans, which he promises to pay back at a healthy 12% rate. But six months after he starts his own record label and other side businesses, government officials discover the scheme and force him to pay back the money.
Trapped, Jan looks for a way to dig himself out of debt. Though he tells a government agent he's closed down his business, he soon starts another company on the side and continues to take in more money. He even takes his investors on travel tours to Europe, including (in one of the film's humorous set-pieces) a "Premium Pope Package," which promises a visit with the Pope. You won't believe what happens. But despite Jan's big dreams, a Grammy nomination (in the Polka category, of course) and shiny new reality, the false empire eventually comes crumbling down.
Inspired by a 2009 documentary called The Man Who Would Be Polka King, the filmmakers stake their story on Jan's faith in the American Dream. As he says at one point, "I'm not a liar. I'm a believer." Many of those around him buy his buoyant presence and unwavering optimism, from his wife, Marla (Slate) to his best friend Mickey (Schwartzman). But there's one persistent doubter, Marla's mother Barb (Weaver, in a scene-stealing performance), who remains suspicious of Jan and screeches at her daughter and son-in-law to get real jobs ("I live in a place called 'Open Your Eyes'," she yells at them).
The film's mid-nineties period and combination of garish and quirky Polish details are good for some laughs, but The Polka King is too silly to be credible, which undermines our ability to root for the characters. Forbes, who directed Infinitely Polar Bear, about a manic-depressive father played by Mark Ruffalo, once again focuses on a central protagonist who is endearing and reckless at the same time. But The Polka King, and Jan's plight, never quite reaches the level of palpable human drama of their previous effort. Black does his best to make Jan a vulnerable and sympathetic character, but neither the script nor the direction allows him to become fully dimensional.
Audiences will still want to stick around for the end credits, where pictures and video of the real Lewan are shown on screen, including one with the smiling singer standing next to Donald Trump. The image gives The Polka King, as it is, after all, the story of a charlatan-entrepreneur-entertainer with a wife named Marla, some added relevance.
Production company: ShivHans Pictures, Permut Presenations, Red Hour Films
US sales: ICM/WME
Screenwriters: Maya Forbes, Wally Wolodarsky
Producers: David Permut, Stuart Cornfeld, Shivani Rawat, Monica Levinson, Wally Wolodarsky, Jack Black, Priyanka Mattoo
Executive Producers: Erika Hampson, Chris Mangano, Debbie Liebling
Cinematography: Andrei Bowden Schwartz
Production design: Carl Sprague
Editor: Catherine Haight
Music: Theodore Shapiro
Main cast: Jack Black, Jenny Slate, Jason Schwartzman, Jacki Weaver, J.B. Smoove