Dir/scr: Magdy Ahmed Ali. Egypt, 201, 129 mins.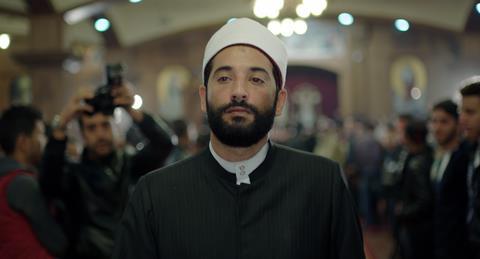 Controversial Egyptian writer and journalist Ibrahim Essa's 2013 best-selling novel The Televangelist – published in English this year – scales up well to the big screen for Magdy Ahmed Ali's satisfyingly dense The Preacher (Mawlana), a close-up look at the politics of religion in that country's Islamic world. It's no surprise that Essa views The Televangelist as being cut from the same cloth as The Da Vinci Code and The Name Of The Rose; there's a rigorous tangling with the tenets and interpretation of Islam in Egypt at play inside this twisty thriller.
What makes The Preacher so entertaining is the fact that Hatem is such a slippery fish.
With sequences shot inside Cairo's important religious institutions – both Mosque and Coptic church – and its explicit approach to the interpretation of Islam and thematic plea for religious tolerance, The Preacher is a talky, intellectual foreign-language thriller which is looking at a strong run in all Middle East markets and good arthouse prospects elsewhere. The subtitled print which world premiered in Dubai will need further refinement and contextualisation before its next outing, but The Preacher's frank confrontation of Egypt's problems runs to the terrorist bombing of a Coptic church and an attack on Sufi muslims and will undoubtedly engage debate.
Amr Sa'ad (The Other, El Medina) is terrific in the lead, playing Sheikh Hatem, a pious, funny man who – in a pre-credit sequence – is given the opportunity to lead prayers at the Government mosque. His stern warning ("authority is a responsibility you will be held accountable for on judgement day") leads to him being offered a job as a TV evangelist, where his blend of easy humour and in-depth knowledge of the Qu'uran leads to wild success, and he is soon followed by millions all over Egypt. His lifestyle rapidly scales up: he marries the beautiful Oamina (Dorra) and they have a son after seven years of trying, but his over-protectiveness puts the boy's life at risk.
As the film opens properly, Essa's screenplay makes it clear that Sheikh Hatem's public position has forced him into some personal compromises. He's more tolerant in private than he appears in public – particularly of Christians and the Sufi minority - and he uses his humour and knowledge of the hadiths to snake his way around difficult questions (would the Prophet drive a jeep if he were alive today? Is slavery allowed?) His TV studio audience is hand-picked and the questions pre-approved, but when a beautiful woman named Naswa (Reham Haggag) asks Hatem a potentially explosive question, The Preacher starts to open up as a political thriller.
Sheikh Hatem will need to muster all his considerable personal wit when he is approached indirectly by the son of a very powerful man (the inference is that this is Mubarak's son Galem) about a personal issue which is threatening to destroy their family: a son-in-law wants to convert to Christianity. Now Sheikh Hatem must try help sort out the troubled Hassan (Ahmed Magdi) and head him back to Islam, not a job he relishes, although he finds himself becoming increasingly fond of the young man. And as his friend and mentor, the Sufist Sheikh Mokhtar (Ramzi Al Adl) is framed and forced into hiding by the thuggish secret police who are manipulating religious divisions to their benefit, Naswa returns to personally compromise Sheikh Hatem.
What makes The Preacher so entertaining is the fact that Hatem is such a slippery fish. He can be glib, he can thunder, he issue fatwas, and he plays a high-stakes game. At heart, he's a rationalist: "The country's divided into rich and poor, corrupt people and honest people, not Muslims and Christians," he explodes, but he knows that won't play well on TV.
Perhaps understandably given its scope, The Preacher strikes a few plotting issues. It's not entirely clear what the independent Oamina is doing with the couple's son, or why, and the requirements for Hassan are perhaps beyond Magdi's abilities, with the confused Christian's distinguishing feature being a shaggy hairdo. These are minor quibbles, though. Magdy Ahmed Ali takes on a huge task in The Preacher and succeeds, aided by an attractive technical package – lensing is crisp and very light, even inside the religious institutions. There's a real sense of place and some standout sequences include a Sufi 'dihkr' religious meeting and a wedding, nicely edited by Soulafa Noureddim.
Production company: iproductions
International sales: Cedars Art Production (Sabbah Brothers), sadek@sabbah.com
Producer: Amgad Sabry
Executive producer: Dr Mohamed Al Adl
Screenplay: Magdy Ahmed Ali, based on the novel by Ibrahim Issa.
Cinematographer: Ahmad Bishari
Editor: Soulafa Noureddim
Music: Adel Hakki
Main cast: Amr Saad, Dorra, Ahmed Nagdy, Bayoumi Fouad, Reham Haggag