Dante Lam's mega-budget blockbuster starring Eddie Peng leads the pack going into Chinese New Year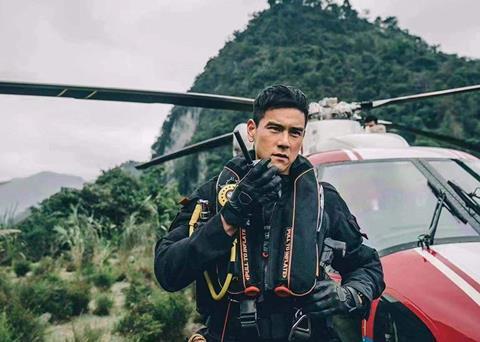 Dir: Dante Lam. China. 2020. 139 mins
One of the most expensive Chinese movies ever made (at over $90m), Dante Lam's follow-up to his crowd-pleasing action pictures Operation Mekong and Operation Red Sea is a tribute to the men and women of the Chinese Coast Guard. Built around spectacular and varied disaster sequences involving a burning oil-rig, a crashed jet-liner and a sinking ship, it also offers finds time for a tangle of soap opera sub-plots, with interludes for comedy, subdued romance and medical emergency. Anchored by a charismatic turn from Lam's regular star Eddie Peng as daring rescue chief Gao Qian, it's a predestined blockbuster in Asian markets and offers enough incredible action/mayhem to pique the interest of connoisseurs of big-screen spectacle elsewhere. (CMC Pictures will open the film in China, North America, Australia, New Zealand and the UK.)
The draw of the film is its huge set-pieces, which easily best recent Hollywood essays in disaster such as Deepwater Horizon.
Widowed Gao Qian (Peng), single father to cute son Cong Cong (Zhang Jingyi), is a winch-man, who specialises in abseiling out of a helicopter to haul imperilled innocents out of dangerous situations. Early on, he has a minor conflict with pilot Fang Yuling (Zhilei Xin) about his near-suicidal bravery, but this settles down as they learn to respect each other and work together – while Cong Cong tries hard to get Gao Qian to romance the pretty young pilot. Other characters and themes are from stock – anyone who's seen any other film about teams doing dangerous duties will be able to predict which of the crew is most likely to be a mid-film casualty – but there's more of an emphasis on co-operation and working together than in comparable Hollywood films, such as Ron Howard's fireman drama Backdraft or the John Wayne vehicle Hellfighters.
Also absent from the mix is an identifiable human villain like the arsonist in Backdraft, though an intriguing Final Destination-style undercurrent has the hero wonder whether the illnesses of those close to him – Cong Cong has to have a brain operation – are down to fate paying him back for all the lives he has saved.
Though some of the interludes are surprisingly effective – Cong Cong's playground romance is genuinely sweet – the downtime between disasters is mostly here to let the audience breathe. The draw of the film is its huge set-pieces, which easily best recent Hollywood essays in disaster such as Deepwater Horizon. Lam pointedly takes a credit for 'director/story/action choreography', and comes up with nerve-wracking sequences in which Gao Qian and his crew repeatedly risk their lives to haul injured folk out of the mouths of hell.
The mid-film large-scale evacuation of a stricken airliner which is breaking up and sinking fast features a great deal of well-researched detail about triage codes magic-markered on the foreheads of the injured and the tools used to extract passengers and crew trapped by buckled seats and fallen luggage – but it's the race-against-time battle with the elements that makes the scene such a high-point. (The film partially shot using the tanks of Mexico's Baja Studios).
Indeed, the air crash is so impressive that the film has to pull out even more stops to top it for a climax, in which Gao Qian rushes from the hospital while Cong Cong is being operated on to rejoin his team as they fly to the site of a stricken ship carrying inflammable gas. Here, Lam introduces a few fantastical elements as father and son hallucinate through parallel near-death encounters and the hero is left alone to battle the primal elements of fire and water as he has to escape from the huge ship as it comes apart while sinking into the deep.
Production companies: Bona Film Group, China Communications Press, Tencent Pictures, Autonavi YunMap Technology, Maoyan Weying Culture Media, Emperor Film Production Company Limited
International sales: China Modern Film and Television Development
Producer: Candy Leung
Screenplay: Wong Sze Man, Tan Yuli, Yaqing Zhi
Cinematography: Peter Pau
Production Design: Martin Laing
Editor: Chung Cho Chi, Lam Chi Hang
Music: Elliot Leung
Main cast: Eddie Peng, Xin Zhilei, Wang Yanlin, Lyric Yan, Zhang Jingyi, Wang Yutian, Xu Yang, Carlos Chan