Chris Williams delivers a dazzling triumph for Netflix with this ripping monster yarn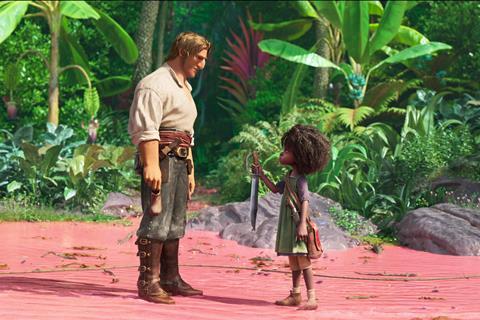 Dir: Chris Williams. US. 2022. 115 minutes.
In a time when the seas are churning with monstrous creatures, capable of crushing a battleship with a single tentacle, the most celebrated heroes of the age are The Hunters. These seasoned ocean warriors are charged by royal command to rid the seas of the beastly threat. And on land, children tell stories of the legendary men and women who make the world a safer place, one slaughtered sea beast at a time. Of these hunters, none is more celebrated than Jacob Holland (voiced by Karl Urban), a hero to all, especially to orphan Maisie Brumble (Zaris-Angel Hator), who dreams of joining the crew of their ship The Inevitable, and stows away in a barrel of grog. The latest animation from Chris Williams, his first for Netflix, is a rambunctious triumph; an old-fashioned ripping yarn which pays tribute to generations of monster movies past, showcasing some genuinely dazzling animation while also delivering an unexpectedly sophisticated message.
Exceptionally accomplished across the board
William's hit rate as a writer (he is credited on Mulan and The Emperor's New Groove) and director (Bolt, Big Hero Six and Moana) is impressive; luring him away from Disney is a notable coup for Netflix. The film will be launched globally on the streaming service on July 8th, but it would be a missed opportunity if the picture didn't also receive an awards qualifying theatrical release. Its diverse cast of characters, in particular the fact that Maisie, the young female lead, is a person of colour, should only add to the film's already broad appeal.
The 'misunderstood monster' genre has a long and rich tradition. The Sea Beast's story is a whirlpool of references, from King Kong to How To Train Your Dragon (there's more than a passing resemblance between the most fearsome creature of the deep, the Bluster, and Toothless the Night Fury dragon). But there's also a level of authenticity in the depiction of maritime life which suggests considerable depth of research – Williams cites 'Moby Dick' and 'Master And Commander' as influences. There's a pleasing solidity to the character animation – they are persuasively flesh-and-blood, they bruise and they bleed – and the ship on which they spend the vast majority of their lives is equally substantial (and, arguably, another character in the story).
There are themes of de facto family at play which bring the film an emotional weight. Jacob, pulled as a child from the wreckage of a boat destroyed by a beast, is the son that Captain Crow (Jared Harris) never had. Crow has named him his successor as Captain once they have defeated the Bluster. And Maisie, whose parents were hunters who, according to popular legend "lived a great life and died a great death", sees in Jacob a replacement for the family she lost. But family comes in all shapes and sizes, and it's possible, it seems, to form a bond with a 100-foot sea monster, if you only stop shooting harpoons at its face. The film calls into question the foundations of a war which has claimed generations of lives, both of hunters and monsters – a striking glimpse of the sea bed, a graveyard of ships and beasts, makes a poignant point. Sometimes, the picture suggests, it is advantageous for those in power to engineer an enemy – a collective societal hate object to distract from injustice and evils closer to home.
It's a powerful message, but one which is carried relatively lightly by a film which, apart from a few outbreaks of pirate-itis in the voice performances, feels exceptionally accomplished across the board. But its stand out element is the action: thrilling set pieces, above and below the sea, including combat against a monster crab, a great deal of tentacle peril and, in one instance, getting sneezed out of the nostril of what looks like a giant newt.
Production company: Netflix animation
Worldwide distribution: Netflix
Producers: Jed Schlanger, Chris Williams
Screenplay: Chris Williams, Nell Benjamin
Animation: Zach Parrish
Production design: Matthias Lechner
Art Director: Jung Woonyoung
Editing: Joyce Arrastia
Music: Mark Mancina
Main voice cast: Karl Urban, Zaris-Angel Hator, Jared Harris, Marianne Jean-Baptiste, Dan Stevens, Kathy Burke, Doon Mackichan, Jim Carter