Guillermo del Toro crafts a poignant creature fable starring Sally Hawkins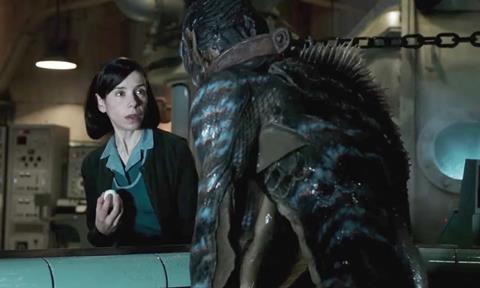 Dir. Guillermo del Toro. US. 2017. 123 mins.
Guillermo del Toro channels all the streams that make him unique into The Shape Of Water, pouring his heart, soul and considerable craft into an exquisite creature fable. A delicate homage, to both his forbears of Golden Age Hollywood and those who first captured the spirit of the monster myth, this is del Toro at his most poignant and sweet, eschewing the harder edges of horror and releasing a torrent of warmth into a precisely calibrated setting.
Del Toro has crafted a magnificently empathetic creature
The Shape Of Water should follow the films it so lovingly references into movie-making lore; despite its lack of marquee names, del Toro's fluid valentine will almost certainly attract awards attention from craft through to storytelling and performances, with Sally Hawkins so intuitive and nuanced at the film's mute centre. While shaping a classic creature movie, del Toro has focused on its heart, and the result is intensely humane. If there's a spirit it embodies, it's that of Woody Allen in his Purple Rose of Cairo days, crossed with the Universal Creatures who fled hatred and persecution, and this Venice-Toronto feature should have a wide, more mature appeal because of it.
Del Toro gives the viewer much to drink in. The era in which Water is set – Cold War 1960s – informs the aesthetic, but the director and designer Paul Austerberry have couched it in a baroque-coloured, industrial-like setting, a dripping netherworld, a fairytale land existing within that time zone yet eternal. We are introduced to Eliza Esposito (Hawkins) in an aquatic prelude as she sleeps. She is, apparently, a princess from another time, although right now she's a lowly cleaner who works the night shift with her friend Zelda (Octavia Spencer) at a high-security government laboratory.
Scarred on the neck and abandoned as a baby, mute orphan Eliza is precise in her routine. Wake up; set the timer for her boiled eggs; some efficient masturbation as part of her morning bath, a visit to her ageing neighbour Giles (a warm performance from Richard Jenkins), before taking the bus to work in the dark. Bad things happen at night, we know, and especially in underwater tanks in government laboratories in the middle of the Cold War.
Eliza forms an immediate connection with a creature who has been dragged back from the Amazon by the menacing agent Strickland (Michael Shannon) and put in that tank. Cruel-hearted Strickland tortures this Aqua-Man even as scientist Dr. Robert Hoffstetler (Michael Stuhlbarg) recognises its potential. There's a clear homage here to the 1954 Creatures From The Black Lagoon, which is visually referenced, yet The Shape Of Water manages to stay narratively unpredictable within its classical construction, even while its sensual layering of imagery consistently thrills (multiple clips from old Hollywood classics alongside homages in both staging and camera angles are enhanced by a subtle score from Alexandre Desplat).
So clear are his intentions, del Toro spells out his colour palette in dialogue: teal, that medium blue-green of aqua land; and butterscotch for those with their feet on solid ground.
While finding his central love story, del Toro casts a warm eye on the troubles of the surrounding characters. The advertising artist Giles, a recovering alcoholic and tentatively hopeful gay man; Zelda, who lives in a world of casual racism and whose husband is deaf and mute to her needs; and then there's Strickland, with Shannon squaring up to the demons inside his character's frustrated soul. He prods the creature with an 'Alabama how-de-do', an electrified cattle-prod, and the audience easily understands that it's not just the creature - "an affront" - who is being persecuted here.
Del Toro has crafted a magnificently empathetic creature, played by Doug Jones (who also played the Pale Man in Pan's Labyrinth), and set him in a Hollywood golden era backdrop where a song and dance isn't ever out of the question. Characters play their parts with flickers of, and music from, Hello Frisco Hello, Mardi Gras, That Night In Rio, amongst others, playing in the background. Eliza, who lives above the Orpheum movie theatre, tap dances. The almost-forgotten Alice Faye, and, latterly, Renee Fleming, croon the evocative You'll Never Know. At the end of the credits, del Toro thanks his fellow Mexican directors Alfonso Cuaron and Alejandro Gonzalez Inarritu, who have taken their talent to the podium. His time has come, and how.
Production company: Double Dare You
International distribution: Fox Searchlight
Producers: Guillermo del Toro, J. Miles Dale
Screenplay: Guillermo del Toro, Vanessa Taylor, from a story by Guillermo del Toro
Cinematography: Dan Lausten
Production design: Paul Denham Austerberry
Editor: Sidney Wolisnky
Music: Alexandre Desplat
Main cast: Sally Hawkins, Michael Shannon, Richard Jenkins, Octavia Spencer, Doug Jones, Michael Stuhlbarg