Latvia's wartime drama is a playful crowdpleaser set for North American release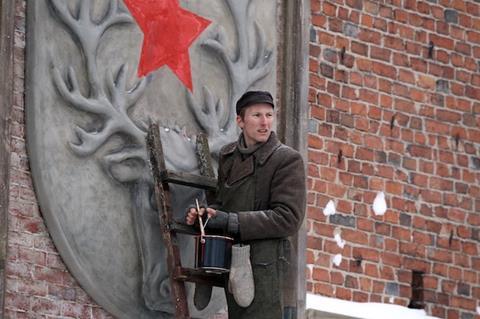 Dir-scr: Viesturs Kairiss. Latvia, Czech Republic, Lithuania. 2020. 114 mins
The riverside town which is home to sign painter and aspiring artist Ansis (Davis Suharevskis) is a provincial backwater. But as the Second World War unfolds, it serves as a microcosm for Latvia's fate. Occupied by Nationalists, Communists and Nazis, its people find themselves under the boot of one brutal regime after another. And like his hometown, Ansis is himself buffeted between conflicting allegiances – he loves fiery Jewish communist Ziselle (Brigita Cmuntova), but inadvertently finds himself betrothed to Naiga (Agnese Cirule), a Latvian Christian, in this spirited, tragicomic drama.
The film asserts its independence through artistic choices
The Sign Painter, which is based on a novel by Gunars Janovskis, follows director Viesturs Kairiss's previous picture, The Chronicles Of Melanie, to the Tallinn Black Nights Film Festival. And like Melanie, it takes as its subject matter events from Latvia's wartime history. Tonally, however, the films are worlds apart, with The Sign Painter's lighter, more playful handling of its material already proving attractive to domestic audiences and to foreign distributors: a deal has been announced with Menemsha Films for North America. After Tallinn, the film will screen at the Philadelphia Jewish Film Festival. Further festival slots seem likely, following which the film could make a worthwhile addition to a curated streaming platform's offer.
Evocative production design and a generous widescreen aspect ratio make for a conventionally handsome portrait of mid 20th century Latvia. But with unorthodox framing choices – the camera is perpetually off-kilter, or positioned at knee height peering up – cinematographer Gints Berzins adds an individualistic flourish and a subtle sense of defiance against the prevailing tendencies of the period drama. Like its mild-mannered but principled protagonist, the film asserts its independence through artistic choices.
Ansis makes a living as a sign painter, and there is no shortage of work. With each new occupying regime comes a new preferred colour palette and a new name for the main street: Freedom Street is changed to Unity Street, and then changed yet again to honour first Stalin, and then Hitler. Even font preferences alter: "Can you write Gothic letters?" asks a German who is commissioning a new Nazi-friendly sign for the town boundary. But Ansis dreams of making something of himself, and harbours aspirations to be an artist. His preferred subject is the town – the distinctive twin spires of the white-painted church is a recurring motif which is alluded to, powerfully, in a scene towards the end of the picture. And, encouraged by Bernstein, the Jewish shopkeeper and the father of Ziselle, Ansis starts to paint the townspeople.
Bernstein is less encouraging when it comes to Ansis's romantic hopes for his daughter. He warns him away, telling Ansis that Ziselle has a fiance in Prague. Ziselle, a proto-feminist and very much her own woman, scoffs at the suggestion, and, tired of her 'milksop' suitor and the parochial town, takes herself off to the city to study as a teacher. By this time, Naiga and her family have arrived in town. The daughter of the new pharmacist, Naiga has set her sights on Ansis and is quite proactive in courting him, posing nude for a singularly unflattering portrait.
As Ansis's painting style becomes harder and more uncompromising, so does life in the town. The communists send trains full of Latvian townspeople to Siberia – Ansis and Naiga escape thanks to a warning from Ziselle, now a secretary to the Communist regime. Then the Nazis round up the Jews and herd them out of town to an uncertain fate. Ansis returns the favour by hiding Ziselle in an attic. It's a cause of friction with Naiga, who is more than happy to cosy up with the occupiers.
A musical motif, a riotous Klezmer wedding celebration which is used whenever the power shifts in town, takes on added emotional weight with each chapter. It's a potent reminder of all that has been lost over time – the absent people, and the joy which is conspicuously missing from life in this town.
Production company: Artbox
International sales: EastWest Filmdistribution office@eastwest-distribution.com
Producer: Guntis Trekteris
Cinematographer: Gints Berzins
Editing: Armands Zacs
Production design: Ieva Jurjane
Music: Juste Janulyte
Main cast: Davis Suharevskis, Agnese Cirule, Brigita Cmuntova, Gundars Abolins, Juozas Budraitis, Aidas Jurgaitis