John C Reilly and Joaquin Phoenix play hitmen siblings operating in the 1850s American West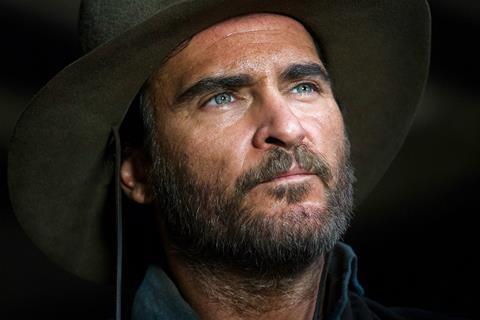 Dir: Jacques Audiard. US/France/Romania/Spain. 2018. 120mins
"This world is an abomination." That line, spoken in the searching Western The Sisters Brothers, could apply to several films of director Jacques Audiard, who finds fresh new inhospitable terrain in a story of disparate discontents negotiating their way through the American Gold Rush of the 1850s. The Palme d'Or-winning filmmaker's first movie in English is a meandering, meditative affair, but it's a journey well worth taking as Audiard once again studies how people make peace with their environment and circumstance.
Audiard demonstrates considerable skill with the movie's brief, brutal action sequences
A cast led by John C. Reilly, Joaquin Phoenix, Jake Gyllenhaal and Riz Ahmed will draw art-house crowds when the film hits US theatres on September 21. Fans of revisionist Westerns should hop on board as well, although mainstream audiences may decline simply because The Sisters Brothers is low on action. Still, strong reviews should convince the curious to take a chance on a film longer on atmosphere than tight plotting.
Taking place mostly in Oregon, The Sisters Brothers stars Reilly and Phoenix as Eli and Charlie Sisters, expert hitmen siblings assigned to hunt down Hermann (Ahmed), a chemist who claims to have created a formula that will make gold prospecting far easier. Morris (Gyllenhaal), who is working independently from the brothers to locate Hermann, finds him first, but he becomes so intrigued by the chemist's proposal that he decides to join forces with him.
Audiard (Dheepan, A Prophet) has often been interested in outsiders who must learn to survive in difficult conditions, and Patrick deWitt's 2011 novel provides him with an excellent backdrop for his thematic concerns. Less a deconstruction of the Western than a thoughtful reconsideration of the kind of men who populated the Wild West, the film offers us characters whose motivations aren't always clear in a world that's indifferent to their anxieties and vulnerabilities.
The Sisters Brothers primarily focuses on the Sisters siblings, who are in some ways conventional opposites. Older brother Eli is a sensitive romantic longing to end his days as an assassin, while younger brother Charlie is a cocky, horny drunk who couldn't imagine his life getting any better. But the ways that Reilly and Phoenix invest their characters with precise shading keep Eli and Charlie somewhat unpredictable while suggesting their complicated family history.
Simultaneously, we spend time with Hermann and Morris, who appear to be men of greater depth and intellectual curiosity. But Ahmed and Gyllenhaal — reuniting after the work in 2014's Nightcrawler — also find unexpected emotional crevices to explore, adding to the film's overall notion that the American West allowed for reinvention, but not so much that individuals could fundamentally escape themselves.
While The Sisters Brothers can occasionally be a bit pokey, permitting a slower pace so that we can get to know these cowboys, Audiard demonstrates considerable skill with the movie's brief, brutal action sequences. The movie sometimes slyly mocks the dusty, broad-shouldered clichés of the Western but, when the hitmen siblings go about their work, there's a steely efficiency that, like with many of Audiard's previous films, darkly highlights the destructive power of violence. Although Eli and Charlie exhibit very different demeanours, as killers they're frighteningly effective — indeed, it may be the one thing that bonds them even more than blood.
Indicative of The Sisters Brothers' surprising tonal shifts, Alexandre Desplat has crafted a fluid score that weaves from whimsical to elegiac to brooding. And production designer Michel Barthélémy and cinematographer Benoît Debie provide the movie with period authenticity without stooping to postcard-pretty compositions. This is a Western which is rugged and raw, eschewing the genre's mythmaking for something a little more off the beaten path.
Production companies: Annapurna Pictures, Why Not Productions, Page 114, France 2 Cinema, France 3 Cinema, UGC, Michael De Luca Productions, KNM, Top Drawer Entertainment, Les Frères Sisters AIE, Apache Films, Mobra Films, Les Films Du Fleuve, Canal+, OCS, France Télévisions, Atresmedia Cine, Movistar+, Wallimage, Casa Kafka Pictures, Belfius
International sales: IMR International
Producers: Pascal Caucheteux, Gregoire Sorlat, Michel Merkt, Michael De Luca, Alison Dickey, John C. Reilly
Screenplay: Jacques Audiard & Thomas Bidegain, based on the book by Patrick deWitt
Production design: Michel Barthélémy
Editing: Juliette Welfling
Cinematography: Benoît Debie
Music: Alexandre Desplat
Cast: John C. Reilly, Joaquin Phoenix, Jake Gyllenhaal, Riz Ahmed, Rutger Hauer