Ildiko Enyedi's lengthy and lifeless drama adapts the 1942 novel by Milan Fust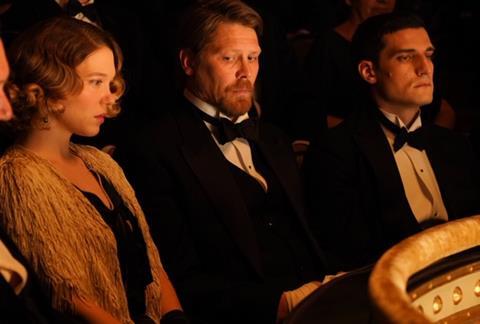 Dir/scr: Ildiko Enyedi. Hungary/Germany/Italy, France. 2021. 170 Mins
The 1942 novel 'The Story Of My Wife' by Milan Fust provides the source material for this indigestible and over-long europudding by Ildiko Enyedi. The film charts the on-off (and on and off) romance between Captain Jakob Storr (Gijs Naber) and Lizzie (Léa Seydoux), the wife he picked up in a cafe following a bet with a friend that he would marry the first woman to walk in. Perhaps not surprisingly, this doesn't prove to be a successful strategy for finding a life partner, but the film takes an awfully long time to make this point. It's a handsome period production which unfolds on stormy seas and in well appointed boudoirs in Paris and Hamburg, but it lacks the sparking originality and lightness of touch of Enyedi's previous film, the Golden Bear-winning and Oscar nominated abattoir-based romantic fantasy, On Body And Soul.
Indigestible europudding
Prestige production values make the picture an attractive proposition visually, but the decision to film mainly in English with a predominantly non-native speaking cast poses an immediate and enduring problem. When the dialogue sounds this inauthentic, there's little chance of persuading the audience that the relationship at the film's core is genuine, or indeed anything worth caring about. The English dialogue may, in fact, make the film less marketable rather than more so in anglophone territories. It will likely stand the best chance of connecting with audiences for whom the book has a particular resonance.
Dutch actor Gijs Naber, imposing of physique and beard, makes for a suitably virile-looking Jakob Storr, a career sailor who decides to take a wife after a suggestion that it might help ease the gastric distress caused by "the sea man's illness". The film is structured into seven 'lessons', the first of which, charting the meeting and almost immediate marriage of Jakob and Lizzie, is titled "A practical problem solved", suggesting that Jakob is, by nature, a pragmatist rather than a romantic. But stolid seadog that he is, he finds himself increasingly tortured by jealousy (with good reason). And over the course of the film's overly generous running time, the couple make each other comprehensively miserable in a multitude of ways, mainly numerous micro-aggressions and inferred betrayals. The passion between them remains, however, and the score surges into persuasively orgasmic crescendos to emphasise that fact.
Jakob's main rival is Dedin (Louis Garrel), a lipless fop who wafts around Paris on a cloud of privilege and his rich Uncle's money. The first encounter between the two is not auspicious: Jakob suggests that Dedin is a "wharf rat"; Dedin smirks expensively. Another figure on the periphery of the story is Jakob's friend Kodor (Sergio Rubini), a small-time hustler with a finger in many pies and a nose for a crooked business opportunity. His role in the story is less clear – does he represent the less honourable side to the character of Jakob, the hero captain? Or is he simply there to cast a shadow on any chink of happiness that Jakob and his wife might enjoy?
For her part, Seydoux is as charismatic and minxy as always, but the role of Lizzie is maddeningly elusive and underdeveloped. Perhaps the main disappointment of the picture, aside from its lifeless and conventional approach, is the fact that it is so preoccupied with the leaden Jakob, while his mercurial, treacherous wife is a far more interesting character.
Production Company: Inforg-M&M Film
International Sales: Films Boutique, contact@filmsboutique.com
Producers: Monika Mecs, Ernö Mesterhazy, Andras Muhi
Cinematography: Marcel Rev
Editor: Karoly Szalai
Production Design: Imola Lang
Music: Adam Balazs
Main Cast: Léa Seydoux, Gijs Naber, Louis Garrel, Sergio Rubini, Jasmine Trinca, Luna Wedler, Josef Hader, Ulrich Matthes, Udo Samel