A rousing fight for the future of endangered people and land in the Brazilian Amazon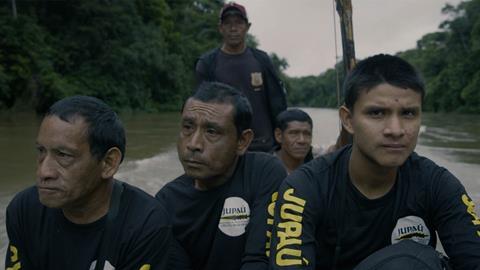 Dir: Alex Pritz. Brazil/Denmark/US. 85 mins.
Treating both climate and human emergency with the urgency they deserve, documentary director and cinematographer Alex Pritz foregrounds the Indigenous community who represent the beating heart of the Amazon in his smart, concise feature debut.
Moving precisely because it goes right to the heart of what filmmaking can be
The titular endangered territory is 7,000 square miles of rainforest, a protected site, in the Brazilian Amazon belonging to the Uru-eu-wau-wau people. Encroaching landgrabbers – we are introduced to poor farmers and opportunists looking to build there and grab their slice of the 'Brazilian dream' of "owning some land and making money from it," - while the Uru-eu-wau-wau, reduced from a poulation of thousands to fewer than 200 people, use whatever tools they can find to fight back. Co-produced by the Uru-eu-wau-wau community, this timely documentary, premiering at Sundance in the World Cinema Documentary Competition, has already been picked-up by National Geographic and should find further festival play, especially among events with human rights and environmental themes, before wide terrestrial broadcast.
The lush rainforest is hemmed in on all sides by (mostly cattle) farms. Newly elected by his elders, Bitaté, just 18 years-old at the time of filming, leads the Jupaú Association and Uru-eu-wau-wau 'media team'. Sergio, meanwhile, sets up an association as an attempt to make his landgrab 'legitimate', Martin is amongst the many opportunists looking for somewhere to build a home. The struggle is not new; this war of attrition has raged since Brazilians first made contact with the Uru-eu-wau-wau people in the 1980s, but now it is brutally accelerated under the rhetoric of Jair Bolsonaro, including his terrifying election promise that, "There won't be one inch of Indigenous land left".
Pritz, who shares cinematography credits on Kenyan ivory poaching documentary When Lambs Become Lions and last year's Covid-19 study of frontline workers The First Wave, was introduced to the Uru-eu-wau-wau through environmental and human rights activist Neidinha Bandeira in 2018. Known in the community for over 40 years, Neidinha took Pritz into Uru-eu-wau-wau territory to show him the devastation. The result was this collaborative effort, which saw the Uru-eu-wau-wau behind the cameras as well as in front of them. (Once the elders agreed to the project, Pritz assembled a team and ran informal filmmaking workshops). Using those tools - cameras, drones, and other forms of technology – the Uru-eu-wau-wau are now telling their own story through improved connectivity between villages and to journalists and media in the outside world.
Pritz shares a cinematography credit with Tangae Uru-eu-wau-wau, whose camera moves faster than Pritz's own, revealing felt urgency as the Jaupú move with purpose through the thick of the rainforest to track invaders. His footage doesn't care for photographic semiotics but is nonetheless weaponised; documenting destruction at clear protected territory coordinates, gathering evidence of injustice and preserving the tribe's language and culture, a visual echo of Bitaté's insistence that there is an "Indigenous way of seeing".
Katya Mihailova's sparing score, which includes recorded songs of the Uru-eu-wau-wau and the myriad sounds of the environment, underlines those narrative beats just enough to elicit fear when tragedy strikes and hope when invaders are arrested and escorted off their land while Carlos Rojas Felice's edit brings the details of invasion; hands covered in oil, dirt and sweat, pouring chemicals, wielding weapons, to exert control over the natural world, into sharp conflict with the urgent footage from the Uru eu-wau-wau.
Though it centres human rights and environmental themes, The Territory is more than just an issues doc. It is moving precisely because it goes right to the heart of what filmmaking can be – a tool to capture, control and explicate a unique world view.
Production Companies: Documist, Doc Society, Passion Pictures, Protozoa Pictures, Real Lava, Time Studios, XTR, Associação Jupaú do Povo Uru-eu-wau-wau
International Sales: Real Lava
Producers: Darren Aronofsky, Sigrid Dyekjær, Lizzie Gillet, Will N Miller
Editing: Carlos Rojas Felice
Cinematography: Alex Pritz, Tangae Uru-eu-wau-wau
Music: Katya Mihailova