Dir. Leanne Pooley. NZ. 2009. 84 mins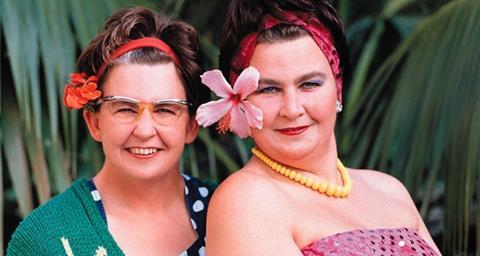 It takes a very special documentary to deny Michael Moore a top festival prize but to see The Topp Twins is to fall in love with it.
Leanne Polley's celebration of the life and times of Kiwi icons Lynda and Jools Topp is such a joyous crowd pleaser that you can easily understand why it won the first People's Choice documentary award at the Toronto Film Festival, ahead of Moore's much admired Capitalism: A Love Story. It is a film which leaves the wider audience brimming with admiration for the twins and baffled as to why the have not been on the radar before, despite some amazing achievements. The Toronto prize, excellent word of mouth and critical support should be enough to attract international theatrical distribution for what has already become New Zealand's highest grossing documentary. Returns could be on a par with Dixie Chicks: Shut Up And Sing.
"The twins are naturally funny and entertaining people with an appetite for life that is irresistible"
Lynda and Jool Topp almost sound too bizarre to be anything other than fictional characters, but they are very real and very human. Born in rural New Zealand, the twin sisters began their professional career busking, attracting crowds with an infectious mixture of yodelling, country and western music and boisterous comic asides.
The documentary is structured around a contemporary concert which recalls highlights from a lengthy career, including their international tours and a popular television series featuring their comic creations like Ken and Ken and Camp Mother and Camp Leader. British viewers are bound to see an affinity with comedy duo French and Saunders, although the twins suggest: " " We're not comedians. We're just singers who are funny."
Pooley has a great natural subject in the twins but also a fascinating array of archive material from newsreels, early concerts and television appearances. She has also assembled a wide range of expert testimony from the girls' parents to Billy Bragg, Maori activist Mereana Pitman and former New Zealand Prime Minister Helen Clark.
The more Pooley reveals, the more astonishing the girls' lives appear, as we learn of their wholehearted commitment to campaigning against apartheid and for nuclear disarmament, Maori rights and gay rights. Both of the twins are lesbian and Clark asserts that their popularity was a strong factor in steering a successful homosexual reform bill through the New Zealand Parliament.
In many ways The Topp Twins is an exemplary assemblage of archive footage, interviews and talking heads which constantly deepens and enriches our understanding of the sisters and what they have achieved. Pooley gradually allows us to know them a little better, and when we later follow Jool's fight with breast cancer it has a considerable emotional impact.
A compact running time works in the film's favour but Pooley's strongest asset is the twins. They are naturally funny and entertaining people with an appetite for life that is irresistible. They have succeeded by being honest about who they are and refusing to change or compromise to conform to other people's expectations or prejudices. As one promoter notes: "On paper they should be commercial death, but they always deliver." The Topp Twins: Untouchable Girls should ensure a vast increase in their devoted followers.
To sign up for Screen's weekly Reviews Newsletter with all the week's new releases, international openings and full festival reviews delivered free to your mailbox every Friday, please click HERE
Production Company
Diva Films
International sales
NZ Film
+ 64 4 382 7680
Producer
Arani Cuthbert
Cinematography
Leon Narbey
Wayne Vinten
Editor
Tim Woodhouse
Music
David Long
Main cast
Lynda Topp
Jools Topp