Aaron Sorkin rallies for democracy and due process in Netflix's stirring awards-and friendly drama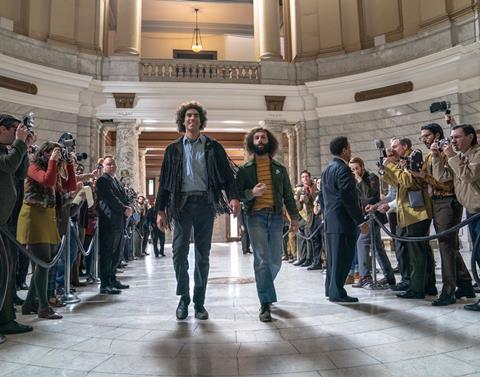 Dir/scr: Aaron Sorkin. US. 2020. 129mins.
Aaron Sorkin's considerable gifts for showmanship, snappy dialogue and heart-tugging liberal fervour are all on display in The Trial Of The Chicago 7 — so much so that they largely overcome his nagging weakness for grandiosity and self-regard. Recounting the 1969 trial of the men accused of orchestrating the riots that took place during the previous year's Democratic National Convention in Chicago, the writer/director most certainly wants to connect past and present, showing how free speech and democratic ideals continue to be threatened by a tyrannical American government. This courtroom drama has its florid excesses, but a fine cast (combined with Sorkin's indefatigable enthusiasm for electric, shamelessly proselytising entertainment) sell the commentary at this still-relevant story's centre.
Chicago 7 captures enough of the urgency and anger of its era to be consistently compelling
Netflix will give Chicago 7 a limited theatrical run in several markets starting September 25 before it begins streaming October 16. This awards-courting crowd-pleaser features an ensemble that includes Sacha Baron Cohen, Michael Keaton, Eddie Redmayne, Mark Rylance and rising star Yahya Abdul-Mateen II, and the film's timely subject matter will entice left-leaning viewers during a crucial year.
Chicago 7 focuses on the protestors who were charged with conspiracy to incite a riot, and as the trial begins it becomes apparent how disparate these men were. Everyone from hippie radicals such as Abbie Hoffman (Baron Cohen) to more pragmatic individuals, such as future politician Tom Hayden (Redmayne), and the outraged Black Panther Bobby Seale (Abdul-Mateen II) all stood together in court, passionately defended by William Kunstler (Rylance), who squares off with the combative, unsympathetic Judge Hoffman (Frank Langella).
Sorkin, who won a screenplay Oscar for The Social Network, has familiarity with both courtroom dramas (he wrote the play A Few Good Men and its Hollywood adaptation) and liberal politics (he created the TV series The West Wing). So it's no surprise that Chicago 7 allows him to flex potent dramatic muscles, engaging the audience with the trial's legal processes while simultaneously championing the right to speak out in opposition to America's involvement in Vietnam.
Chicago 7 is a mixture of patriotic speechifying and flashy set pieces in which the acclaimed actors dig into Sorkin's self-consciously clever dialogue. But by his standards, the film is, for the most part, commendably restrained, allowing the trial's remarkable twists and turns to speak for themselves. The central showdown concerns Kunstler's battles with Judge Hoffman — no relation to Abbie — who views these defendants as disrespectful thugs and seeks to weaken their case however he can. (The judge's behaviour toward Seale is even more deplorable because of its overt racism.) Rylance's smart, defiant defence attorney is a delectable hero, and watching the Oscar-winner thrust and parry with the equally authoritative Langella is a constant highlight.
Sometimes, attempts to draw parallels between the 1960s counterculture and the modern-day resistance to Donald Trump can be strained, but the film is stronger when it's more self-critical, observing as Abbie Hoffman and Hayden bicker over the best way to bring about revolution. Sorkin wisely lets these two actors' onscreen personas imbue their characters: Baron Cohen is a sharp, impish instigator, while Redmayne's earnest decency nicely matches Hayden's belief that working within the system is more productive than incendiary rhetoric. Their conflicting views on liberal protest offer the film's most thoughtful passages.
Even the supporting roles get opportunities to shine, particularly Keaton as former Attorney General Ramsey Clark, whose contentious witness testimony could decide the case. Abdul-Mateen II, so good in HBO's Watchmen, is also excellent as Seale, who knows that he has only been charged along with these white men to make them look more guilty. (As Seale keeps trying to explain to the uncaring judge, he barely spent time with them during the DNC protests, but his affiliation with the Black Panthers is enough for him to be considered a threat.) And Joseph Gordon-Levitt nicely underplays his part as a prosecutor with a conscience.
Daniel Pemberton's muted score mostly avoids underlining every rousing monologue and narrative surprise, although Sorkin and editor Alan Baumgarten ill-advisedly crosscut a few high-stakes sequences, artificially goosing certain moments. But with that said, Chicago 7 captures enough of the urgency and anger of its era to be consistently compelling. Even when Sorkin goes for one last showy dramatic firework at the end, the emotional overkill almost feels appropriate considering what's at stake for American democracy.
Production companies: Marc Platt Productions, DreamWorks Pictures
International distribution: Netflix
Producers: Marc Platt, Stuart Besser, Matt Jackson, Tyler Thompson
Production design: Shane Valentino
Editing: Alan Baumgarten
Cinematography: Phedon Papamichael
Music: Daniel Pemberton
Main cast: Yahya Abdul-Mateen II, Sacha Baron Cohen, Joseph Gordon-Levitt, Michael Keaton, Frank Langella, John Carroll Lynch, Eddie Redmayne, Mark Rylance, Alex Sharp, Jeremy Strong