Nicole Kidman, Hugh Grant and Donald Sutherland star in a glossy suspense series for HBO and David E. Kelley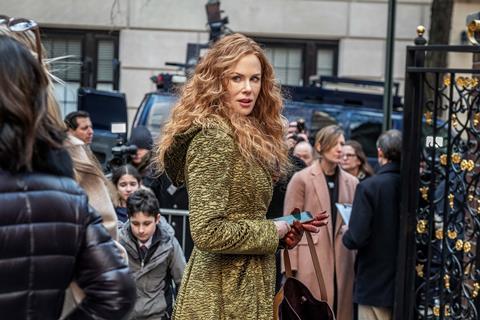 Showrunner David E. Kelly's The Undoing initially pitches itself as a Manhattan version of his highly successful Little White Lies. An outsider drops into a cosy group of monied school mothers with lethal results; Nicole Kidman stars; HBO backs again. Pretty soon, though, it twists into a roiling potboiler about a woman whose perfect life turns out to be a deception and how much you care about that will depend on how much you care for her. After a strong run of form in high-end TV, Hugh Grant has signed up as co-star, along with Donald Sutherland, while the Oscar-winning Susanne Bier directs. That's more than enough to hook any audience out for a pulpy excursion, although The Undoing is unlikely to push far past that core market.
The show's entire autumnal colour palette seems designed solely to match Kidman's auburn tresses
Kelley's show is based on a novel called 'You Should Have Known', which fits into the same airport bestseller rack that spawned film adaptations Gone Girl (2014) and The Girl On The Train (2016). Structurally, it would possibly be a better fit in a sub-100-minute drama than a 6x60 series, but filmed entertainment doesn't live in the same world as it used to. With Kidman also on board as executive-producer, it's easy to see The Undoing as something of a vanity project: despite her high-profile co-stars, this is not an ensemble production by any stretch. Kidman's character, the perpetually startled Grace Fraser, is in every scene and the story is related very much from her PoV. In fact, the show's entire autumnal colour palette seems designed solely to colour-match Kidman's auburn tresses.
That won't be a problem for many viewers, but there are subtleties in the book – not in itself the most subtle of tomes – which are missing here. Grace Fraser is an Upper East Side therapist, both on paper, and on screen, and a quite directional one. In the novel, she's about to release a self-help book called 'You Should Have Known', because that's the smug catchphrase she uses on her rich patients. So when it turns out that her oncologist husband is completely untrustworthy (Grant's British accent will already have given that game away), Grace's bubble of smug privilege is burst. In Kelley's script, though, there's no sense of any hubris, as the characters mostly fall over each other to tell Grace how great she is. "You're so kind Grace!" is such a constant refrain, it seems as if it must be a clue. Grant's saintly child doctor Jonathan, meanwhile, is so uxorious it's clear that something is up: the scenes where he plays with a young chemotherapy patient are at hot-fondue levels of cheese.
The series starts out at the brownstone home of this glamorous, loving family – Grace, Jonathan and their son Henry (the talented young actor Noah Jupe from A Quiet Place and Honey Boy, giving his scenes an easy naturalism which is often missing elsewhere). Grace is heading off to a PTA meeting for a charity auction; Henry's elite private school, paid for by Grace's father Franklin (Sutherland), attracts the cream of New York society, but also takes scholarship kids. This monied fundraising circle is shocked by the arrival of a sexy young mother (Matilda de Angelis) who breastfeeds her infant in a "hostile" manner at the table, all the while staring at Grace. Anyone with a passing interest in thrillers will click at this point that Jonathan is somehow involved in this, but The Undoing is best consumed with brain firmly in neutral.
Even though many viewers will easily be able to sniff out what's coming next, that's perhaps not so important as spending time with the four main characters left in the piece: Grace, Jonathan, Henry and Franklin, as The Undoing snakes towards a denouement, taking in a courtroom showdown en route. Grace seems like an unreliable narrator as well, and Kidman's odd performance, which shifts from frozen to eye-rolling camp, seems to signify that she could go either way.
The Undoing has a top-drawer technical team, working through the entire show and including Bier and DoP Anthony Dod Mantle behind the camera. There's often a visual flourish that reminds the audience of this; at the same time, though, it mostly looks like the standard high-end TV suspense drama that it is.
Production companies: Blossom Films, David E. Kelley Productions
Worldwide distribution (HBO, Sky Atlantic)
Creator/executive producer: David E. Kelley
Executive producers: David E. Kelley, Nicole Kidman, Susanne Bier, Celia D. Costas, Stephen Garrett, Bruna Papandrea, Per Saari
Screenplay: David E. Kelley, from the novel "You Should Have Known" by Jean Hanff Korelitz
Director (series): Susanne Bier
Cinematography (series): Anthony Dod Mantle
Production design (series): Lester Cohen
Editing (series): Ben Lester
Music: Evgeny Galparine, Sacha Galparine, Viktor Reyes
Main cast: Nicole Kidman, Hugh Grant, Noah Jupe, Donald Sutherland, Matilda de Angelis, Lily Rabe, Edgar Ramirez, Sofie Grabol, Janel Moloney