Sandra Bullock puts in an earnest performance in this unconvincing remake of British miniseries Unforgiven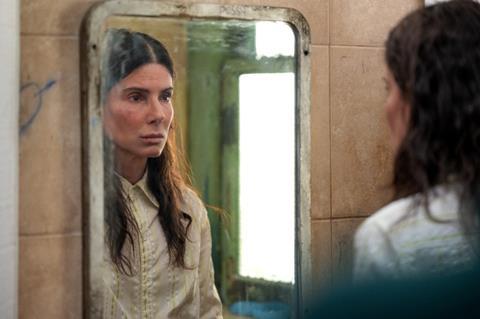 Dir: Nora Fingscheidt. US. 2021. 112mins
After serving 20 years in prison, a convicted murderer discovers just how hard it is to rebuild her life in The Unforgivable, a frustrating drama that struggles to be either a thoughtful character study or a slow-burn thriller. Sandra Bullock earnestly portrays the emotionally scarred protagonist seeking to reconnect with her much-younger sister, but this adaptation of the 2009 British miniseries Unforgiven never settles on one compelling tone, wandering into unconvincing, pulpier terrain in its second half.
Initially, a realistic look at a convict's navigation of post-prison life, the film's plot starts offering disappointingly movie-ish twists
Releasing in US theatres on November 24, director Nora Fingscheidt's English-language debut will start streaming on Netflix December 10. Bullock is joined by fellow Oscar-winner Viola Davis, and those partial to sombre, gritty dramas may be intrigued. But in the midst of a packed awards season, The Unforgivable could fall through the cracks against higher-profile fare.
Bullock plays Ruth, a convict let out early for good behaviour. But as she meets with her no-nonsense parole officer Vince (Rob Morgan), she knows that readjusting to the outside world will be difficult — especially considering she was sent away for killing a police officer. Working menial jobs and living in a halfway house, Ruth stays focused on one task, finding her sister Katherine (Aisling Franciosi), who she raised as a girl and was given up for adoption after Ruth was arrested. Franciosi plays Katherine as a budding pianist who nurses buried trauma; she remembers almost nothing about her time with Ruth, but we see fragments of her distorted, pained memories.
Fingscheidt (System Crasher) sets the story in Seattle, the city's perpetual grey skies echoing the story's despairing mood. Her face ashen, Bullock depicts Ruth as a hardened, wary soul — a bit like a caged animal who is not sure about her new freedom. One could hardly blame Ruth for being brittle: The Unforgivable is strongest when it illustrates the real-world challenges that former inmates encounter when the outside world continues to punish them, even though they've served their time. Ruth can barely find employment — she loses one job after her boss is made aware of her criminal record — and she lives in fear of anyone discovering her specific crime. (As she'll learn in painful fashion, some people don't take too kindly to cop killers.)
Initially a realistic look at a convict's navigation of post-prison life, the film's plot starts offering disappointingly movie-ish twists. The sons of the man Ruth shot (Will Pullen, Thomas Guiry) begin planning their revenge, while a possible love interest in the form of bashful coworker Blake (Jon Bernthal) fails to offer much in the way of surprises. At the same time, the couple who adopted Katherine when she was five (Richard Thomas, Linda Emond) aren't happy to learn that Ruth is looking for her — a mission aided by kindly lawyer John (Vincent D'Onofrio), who takes pity on Ruth. These seemingly disparate threads will eventually come together, but Fingscheidt gives the proceedings a melodramatic flair which is meant to suggest grand tragedy but ends up feeling manipulative and convoluted.
As a result, Bullock's solemn performance becomes merely another cog in the narrative engine. Through a series of laboured flashbacks, we get glimpses of her crime, which involved a tense standoff with the authorities during a forced eviction, and The Unforgivable uses these clues to emphasise her anguish and guilt. But John's far less supportive wife Liz (Davis, commanding in a small role) refuses to feel sorry for Ruth, arguing that her desire to find Katherine is selfish rather than what's best for the young woman. But rather than allowing the audience to wrestle with the story's central questions — should murderers be forgiven? Can bad people ever be redeemed? — The Unforgivable introduces a few late-stage reveals that simplify and sidestep potentially fascinating ethical debates. Maybe Ruth isn't worthy of forgiveness, but she deserves better than that.
Production companies: GK Films, Fortis Films
Worldwide distribution: Netflix
Producers: Graham King, Sandra Bullock, Veronica Ferres
Screenplay: Peter Craig, Hillary Seitz and Courtenay Miles, based on the TV series Unforgiven by Sally Wainwright
Production design: Kim Jennings
Editing: Joe Walker, Stephan Bechinger
Cinematography: Guillermo Navarro
Music: Hans Zimmer and David Fleming
Main cast: Sandra Bullock, Vincent D'Onofrio, Jon Bernthal, Richard Thomas, Linda Emond, Aisling Franciosi, Rob Morgan, Viola Davis