Dir: Amat Escalante. Mexico/Denmark/France/Germany/Norway/Switzerland, 2016. 100 mins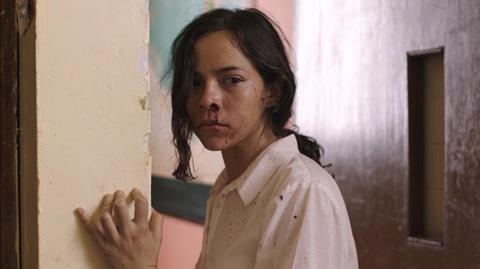 Sex, death and the extremely weird intersect – or perhaps that should be intertwine – to unnerving effect in The Untamed, the fourth feature by Mexican writer-director Amat Escalante. In his previous films, Sangre, Los Bastardos and most recently drug war story Heli, Escalante has shown himself to be both narratively and formally audacious in mapping the outer limits of human desire and violence, albeit usually within the bounds of recognisable realism. His barely describable new film, however, goes right off the usual art–cinema map, crossing into the realms of science fiction, horror and (in a queasy way) the erotic, in ways that may test some audiences' acceptance to the limit.
Even if The Untamed comes perilously close to sabotaging itself at times, this generic tightrope walk is a ferociously individual, highly intelligent piece
But this unarguably disturbing and compelling cinematic UFO has cult potential in the same way as other sexually charged essays in the uncanny, notably Jonathan Glazer's Under the Skin and Andrzej Zulawski's notorious tentacle-laden 1981 film Possession, with which it shares a distinctive creepiness The film will be alluring for art-house distributors ingenious enough to work the cross-genre angle, while festivals should be only too eager to get entangled.
The film begins with a special-effects shot of an asteroid floating in space, before cutting to an image of a young woman, Veronica (Simone Bucio), having an ecstatically close encounter with something we barely glimpse, though it clearly isn't human. Whatever it is, however, seriously wounds her, and Veronica is next seen in hospital in a small town, tended to by nurse Fabián (Eden Villavencio). Fabián's sister Alejandra (Ruth Ramos) is the mother of two small boys, and married to road worker Angel (Jésus Meza), a strutting macho homophobe – who is nevertheless having a passionate gay relationship with Fabián.
As Veronica gets to know Fabián, she decides to introduce him to pleasures unknown on earth – her strange sexual partner, which lives in a remote shack in the care of an elderly couple. The drastic consequences of Fabián's encounter with this extra-terrestrial demon lover – designed by Morten Jacobsen/Soda and brought to life under the SFX supervision of Peter Hjorth – have terrible repercussions for the other characters.
What's remarkable about the drama is that, while Escalante pushes things into the far regions of the outré and the icky, he nevertheless anchors the story very firmly in mundane daily life – most of the action revolves around such elements as Alejandra's childcare issues, her relationship with her domineering mother-in-law, and the barrage of sexting between the two male lovers. For much of the running time, the most uncanny presence on screen is actually Bucio's eternally anxious-looking Veronica, a woman who knows that her transgressions have opened up the ultimate Pandora's Box.
By rooting the story so firmly in the everyday, Escalante emphasises his metaphoric intent – the thing in the barn stands for the untameable erotic aspect of the Id, but the 'wild region' alluded to in the film's Spanish title (La Region Salvaje) is the destructive drive of humanity, embodied in Angel's machismo and in the guns and animal head trophies that fill his parents' home. When Escalante does allow his uncanny elements a full airing – with shades of H.P. Lovecraft to the fore – the jump into grotesque horror is, when it works, highly unsettling.
Even so, the brilliance of the visual effects is at moments arguably counter-productive, the direct representation of what's otherwise suggested pushing the film into a zone of visual literalness that some viewers may find overstated, even a cause for nervous laughter. Indeed, one wildly bizarre image – of an orgy unlike any other seen on film – is the sort of thing that normally you have to be Lars von Trier to get away with, and whether Escalante does will depend on individual audiences. Nevertheless, even if The Untamed comes perilously close to sabotaging itself at times, this generic tightrope walk is a ferociously individual, highly intelligent piece and a superb, very affecting cast ensure that the human factor remains dominant, however creepily inhuman things may become at times.
Production companies: Mantarraya Producciones, Tres Tunas
International sales: The Match Factory, info@matchfactory.de
Producers: Jaime Romandia, Fernanda de la Peza, Amat Escalante
Screenplay: Amat Escalante, Gibrán Portela
Cinematography: Manuel Alberto Claro
Production designer: Daniela Schneider
Editors: Fernanda De la Peza, Jacob Secher Schulsinger
Music: Guro Moe, Lasse Marhaug, Martín Escalante
Main cast: Ruth Ramos, Simone Bucio, Jesús Meza, Edén Villavicencio