Doug Liman's stripped-down standoff between a US soldier and an Iraqi sniper boasts a solid performance from Aaron Taylor-Johnson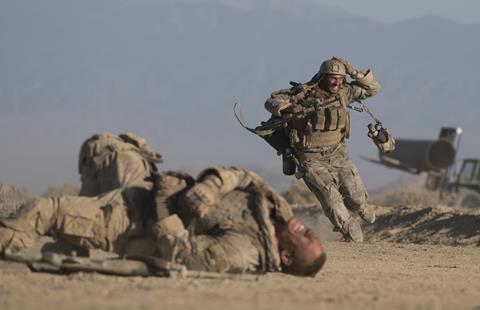 Dir: Doug Liman. US. 2017. 90mins
An effective, albeit somewhat artificial, exercise in suspense, The Wall derives much of its propulsion from Aaron Taylor-Johnson's grunting, grimacing performance as a wounded US soldier squaring off with an unseen Iraqi sniper. This stripped-down thriller from Bourne Identity director Doug Liman feels like the sort of change-of-pace indie that a mainstream filmmaker tackles between major projects, and it's adequately engaging if hard to be invested in a movie so smoothly and soullessly executed.
Liman incorporates few frills, preferring simple camera moves and measured cutting to ratchet up the tension.
The Wall opens in the US on May 12, the low-budget offering catering to those turned off by the blockbusters dominating the marketplace. Taylor-Johnson and co-star John Cena have limited box-office appeal, so Liman's name may be the driving commercial factor. It's fair to ask if audiences have tired of Iraq War dramas, however, which is why Amazon Studios may focus its advertising on the film's action-thriller elements.
Set in 2007, as the war draws to a close, the movie stars Taylor-Johnson as Isaac, an American soldier somewhere in the Iraqi desert with his partner Matthews (Cena). They come across a section of oil pipeline littered with corpses — the work of what appears to be a deadly sharpshooter. Sure enough, the sniper is still hiding in the distance, severely wounding Matthews and clipping Isaac, who scurries behind a dilapidated wall for cover.
Written by Dwain Worrell, the screenplay is a classic cat-and-mouse game in which Isaac engages in a battle of wills with the sniper (voiced by Laith Nakli), who communicates with the soldier over a shortwave radio frequency. Pinned down and worried that Matthews is dead, Isaac tries outsmarting the sniper; a confident, seductive killer who presses him for personal information — in particular, the reasons why he's uncomfortable talking about a fellow soldier who died in the line of duty.
Liman is best known for event movies such as Mr. & Mrs. Smith and Edge Of Tomorrow, but here he builds a story from one setting, the bulk of the film involving Isaac hiding behind the crumbling wall that protects him from the mysterious assassin. Working with frequent David Ayer cinematographer Roman Vasyanov, Liman incorporates few frills, preferring simple camera moves and measured cutting to ratchet up the tension.
The Wall doesn't feature many action sequences, and so it's incumbent upon Liman to translate Worrell's myriad dialogue scenes into terse drama. That the director mostly succeeds is down to Taylor-Johnson, who articulates his intentionally unexceptional character's every agony and anxiety. Hit above the right knee, dehydrated and losing blood, Isaac is an ordinary man in a nightmare scenario. Taylor-Johnson's elemental, physical performance is gripping without calling attention to itself.
Unfortunately, other aspects of The Wall showboat in comparison. Isaac's conversations with the sniper start off as chilling, but soon Worrell embellishes the dialogue with theatrical flourishes that undercut the story's gritty realism. The sniper haughtily references William Shakespeare and quotes from Edgar Allan Poe's The Raven; that is, when the two men aren't debating the immorality of the Iraq War and America's foreign policy in exchanges that feel like rehashed talking points rather than a trenchant volley between conflicting worldviews.
For all of Liman's efforts to fashion a blunt, mano-a-mano thriller, the movie exudes an air of Hollywood phoniness — especially when it forces a stilted psychological dimension onto the proceedings. It's not enough that Isaac is fighting for his life, he must also unburden himself of a deep, dark secret that, predictably, holds the key to his backstory. Likewise, the sniper isn't just an extraordinary marksman, he miraculously has the ability to locate Isaac's every emotional vulnerability.
Production companies: Amazon Studios, Hypnotic, Big Indie Pictures
International sales: FilmNation nyoffice@filmnation.com
Producers: David Bartis
Executive producer: Ray Angelic
Screenplay: Dwain Worrell
Cinematography: Roman Vasyanov
Production design: Jeff Mann
Editor: Julia Bloch
Main Cast: Aaron Taylor-Johnson, John Cena, Laith Nakli
Website: www.thewallthemovie.com