Ben Affleck is the former sports star looking to recapture former glory as the coach of a school basketball team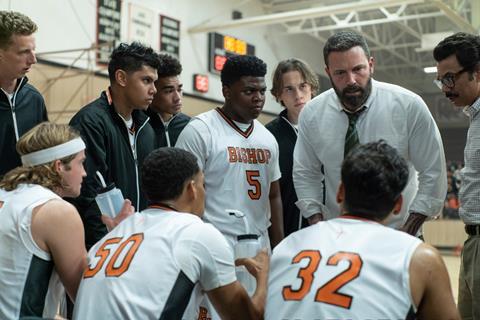 Dir: Gavin O'Connor. US. 2019. 108mins.
To borrow a sports cliché, Ben Affleck gives 110 per cent in The Way Back, an earnest but effective character study that doubles as an inspirational basketball drama. Clearly courting comparisons to his own off-screen issues with alcoholism, the Oscar-winning actor delivers an impassioned, wounded performance as a once-promising athlete looking for a second chance by coaching at his old high school. Miracle director Gavin O'Connor is adept at blue-collar dramas like this, finding the small kernels of truth in otherwise familiar material, and the film's understated execution leads to many moving moments — even if the viewer hasn't been keeping up with Affleck's real-life struggles.
We appreciate the expert skill, even if we know almost every move by heart
Warner Bros. releases this hoops-heavy film in the US on March 6, just in time for the country's popular annual college basketball tournament, after which it will arrive in the UK on April 24. Affleck's stardom, and the parallels with his personal life, will be a significant draw, although fans of sports films will also get in line. That rare mainstream studio movie geared to grownups, The Way Back should enjoy solid word-of-mouth – which the film will need for strong commercial legs.
Affleck plays Jack, a construction worker and alcoholic whose life has fallen apart since he and his wife Angela (Janina Gavankar) separated more than a year ago. But as we'll eventually learn, his tailspin started long before: In truth, he probably peaked when he was the star player on his Catholic high school's championship basketball team. Feeling lost, Jack receives a call from his alma mater, asking him to fill in as the basketball coach, an offer he initially resists. But he soon realises that this might be an opportunity to exorcise some demons.
The Way Back doesn't reinvent the sports-movie playbook. Like many cinematic coaches before him, Jack must help a team of underdogs reach their potential while taking down superior competition. (Those who have seen Hoosiers will feel a particularly strong sense of déjà vu.) But the sturdy storytelling has considerable merit in the hands of O'Connor, who previously teamed with Affleck on the action-thriller The Accountant. For one thing, the director of Miracle and Warrior understands how to stage sports scenes, giving the basketball sequences sufficient excitement. Additionally, he and screenwriter Brad Ingelsby astutely connect Jack's hard-charging, chip-on-his-shoulder personality to the aggressive style he instils in this undersized team. They may be counted out, but they'll outhustle their opponents to snag every possession.
The film's emotional centre is, of course, Affleck, who plays Jack as a functioning alcoholic close to hitting bottom. O'Connor takes his time unpacking the different reasons for the character's downward spiral and, while none of them are particularly startling, the revelations are handled with refreshing restraint. Affleck's personal dramas seemingly inform Jack's battles to pull himself together, and there's an undeniably seductive art-imitates-life allure to watching the tortured actor work through his issues. From early in his career, Affleck has always possessed the ability to convey sincerity — and with a film like Hollywoodland, portray a person going through a spiritual crisis — and so we sense Jack's fragility, as well as his belief that he's not yet too far gone.
The Way Back sometimes overstates the tragedy of Jack's life — he's had significant misfortune, although many people have endured greater hardships — but the film is unromantic about what's driving him to coach this team. Jack isn't so much interested in being a role model as he is in being a winner again; a feeling he hasn't experienced for a long time. That bittersweet insight gives the de rigueur plotting a necessary bit of shading, and culminates in a sobering twist near the end.
Still, the pile-up of clichés can be frustrating. (No surprise that the team contains the obligatory difficult-to-coach braggart and the soft-spoken leader.) Jack's hard but successful road to recovery and his players' maturation into a formidable squad are assured from the start, but credit O'Connor and Affleck for mining these genres' narrative conventions for genuine sentiment. (And the supporting cast — especially Gavankar as the wife who had to move on and Al Madrigal as Jack's concerned assistant coach — have a grounded, economical style that adds to the film's unpretentious air.) Often in sports, teams run the same plays over and over again, simply because they work. That's true of The Way Back as well: We appreciate the expert skill, even if we know almost every move by heart.
Production companies: Jennifer Todd Pictures, Mayhem Pictures, Film Tribe
Worldwide distribution: Warner Bros.
Producers: Gordon Gray, Jennifer Todd, Gavin O'Connor, Ravi Mehta
Screenplay: Brad Ingelsby
Production design: Keith P. Cunningham
Editing: David Rosenbloom
Cinematography: Eduard Grau
Music: Rob Simonsen
Main cast: Ben Affleck, Al Madrigal, Michaela Watkins, Janina Gavankar, Glynn Turman