An intricate, inky-noir, gangland thriller from China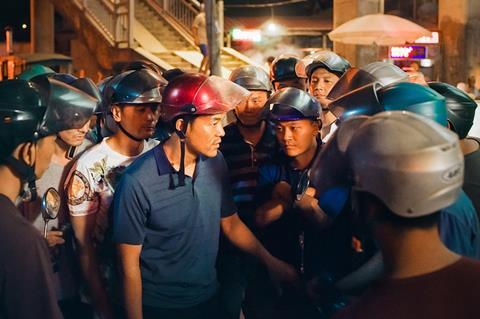 Dir. Diao Yinan. China/France. 2019. 113 mins.
Diao Yinan's The Wild Goose Lake starts with a rainy night, a guy on the lam, a dame who sidles up to him and murmurs, "Got a light?" In other words, this Chinese gangland thriller kicks off in classic noir style, and gets progressively noirer and more nocturnal as it goes on.
A significant crossover with serious export potential
The fourth feature from writer-director Diao, who made a major impression with 2014's investigative drama Black Coal, Thin Ice, this hyper-stylish manhunt drama laces slow-burn atmospherics with abrupt outbursts of staccato action, and boils down characterisation to the leanest of bare bones, making for minimalist existentialism in the style of Jean-Pierre Melville. In the wake of Black Coal… and Bi Gan's recent hypnagogic Long Day's Journey Into Night, Diao's film confirms that the noir tradition is alive and well and being comprehensively reinvented in China; but The Wild Goose Lake, skewing rather more to the genre mainstream than to art-house stylistics, should provide a significant crossover with serious export potential.
The initial meet, at a lonely railway station – setting the tone for the film's almost entirely night-set action – is between Zhou Zenong (Hu Ge), a gang leader recently released from prison, and Liu Aiai (Gwei Lun Mei), a young woman who has been sent to rendezvous with him. In two extended flashbacks, the pair explain to each other how they got here.
Zhou recounts how, two days earlier, he checked in at a gangster convention which led to an explosive confrontation over territorial rights. That resulted in a bike-stealing contest, thrillingly staged, and Zhou shooting a cop, setting off a full-scale manhunt with a huge price on his head. Liu Aiai then explains why Yang Shujun (Wan Qian), Zhou's long-estranged wife, hasn't come to the rendezvous. Her flashback fills us in on the subculture of the lawless zones around the Wild Goose Lake – one of the many expanses of water around the central Chinese city of Wuhan - where Liu Aiai is one of the so-called 'bathing beauties' who ply their sexual trade on the shore in summer in a uniform of wide-brimmed white hats.
These two elaborate set-ups lead to a complex web of pursuit and double-cross, recounted in a series of fabulously imaginative set-ups, notably a hunt through a zoo at night. Equally magical is a scene in which Zhou's pursuers' bikes light up the night sky at a distance, with a dash of comic delirium brought by a sequence featuring a crowd in neon trainers dancing en masse to Boney M's 'Rasputin'.
The film's labyrinthine sense of space takes us through countless locations – squalid diners, crumbling apartment blocks, a bizarre funfair tent - comprehensively dirtied up by set designer Liu Qiang and often steeped in ripely artificial colours by DoP Dong Jinsong. Diao's flamboyant direction means that he often sets up one elaborately staged tableau just for a single shot, those shots sometimes coming in expansive flurries; some action scenes also feature lightning inserts fired off with surreal abruptness, as in the first gang rumble.
Anchoring this restless narrative is the Robert Mitchum-like stillness of saturnine scowler Hu Ge, coupled with the downright strangeness of Taiwanese star Gwei Lun Mei (also in Black Coal…), who brings an androgynous dreaminess to her 'lost soul' character. Wan Qian also makes her presence felt economically but decisively as Zhao's isolated wife, although this very masculine drama rather treats its female characters as pawns in a macho game – notably in one rather jarring rape scene. However, that comes as part and parcel of a bleak worldview which suggests a closed circle of poverty, brutality and deep, dark night – although a daylight coda offers some hope of escape, and a more female resolution to the drama.
Production companies: Green Ray Films, Maisong Entertainment Investment, He Li Chen Guang International Culture Media Co., Omnijoi Media Corporation Co., Tencent Pictures Culture Media Co., Memento Films Production, ARTE France Cinema
International sales: Memento Films International, sales@memento-films.com/ festival@memento-films.com
Producers: Li Li, Shen Yang
Screenplay: Diao Yinan
Cinematography: Dong Jinsong
Editors: Kong Jinlei, Matthieu Laclau
Production design: Liu Qiang
Music: B6
Main cast: Hu Ge, Gwei Lun Mei, Liao Fan, Wan Qian, Qi Dao