Nuri Bilge Ceylan's latest sees a young graduate attempt to carve out some independence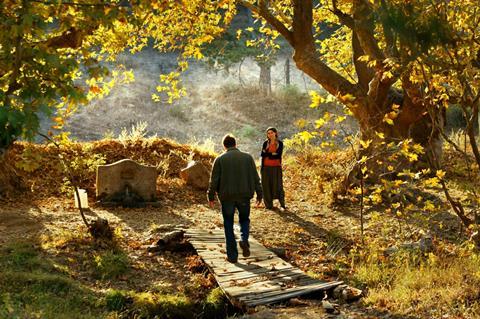 Dir. Nuri Bilge Ceylan. Turkey-France, 2018. 188mins
Nuri Bilge Ceylan, who has already collected, among his many Cannes awards, one Palme d'Or (for Winter Sleep) and two Grand Prix (for Once Upon A Time In Anatolia and Distant), has never been known either for his brevity or accessibility. True to form, this time he puts even more demands on his audience in a sobering, beautifully shot, existential confrontation between a son and his father, which deals with much more than the generation gap.
Ceylan's script reveals a stagnating provincial world
Sinan (Aydin Dogu Demirkol) is a young man about to graduate college but anxiously looking for a way out of the fate that seems to be mapped out for him; following in the paternal tracks to become a school teacher. Coming home to visit, he finds out his father Idris (Murat Cemcir), is drowning in debt due to a gambling obsession he never fully admits. Sinan's mother, Asuman (Bennu Yildirimlar) drowns her bitterness in the endless telenovelas provided by the Turkish TV channels.
Following Sinan's meanderings before and after his final exams, Ceylan's script reveals a stagnating provincial world, characters all handling their thwarted hopes and inevitable resignations in their own way. Traditional sources of inspiration (Chekhov and Dostoyevsky are among those credited), add more weight to the marathon dialogues, while the Canakkale location (near the ancient city of Troy and the far more recent WW1 battle of Gallipoli) contributes a number of historical references. Performances are all admirable.
Passionate about becoming a writer, Sinan looks for a way to publish his first novel — but his clumsy, idealistic pitch fails to obtain any kind of sponsorship, meaning that he ultimately has to pay for the publication out of his own pocket, with money that for the time being, he doesn't have. No wonder his disposition is sour.
As for Idris, his main concern is the country home in a nearby village where he intends to withdraw once his teaching career is over. Every single weekend he goes there, obstinately digging a well that his own bellicose father, living next door, and the rest of the villagers predict will stay dry. But despite the downbeat mood of his family, and very much unlike his son, Idris is always charming and sunny, a smile on his face and a joke on his lips; a jolly façade to dissimulate the disappointments of a wasted life hiding behind it.
This is a very long picture, some images in it are indeed unforgettable, but having to deal constantly with an ample text and subtitling in which every word counts, one can't help wishing, every once in a while, for a chance to rewind and listen again. That, unfortunately, is not an option open to cinema audiences.
A heart-wrenching scene taking place in a paradisiac orchard, has a lovely young woman, Hatice (Hazar Ercuglu), gloomily looking into a future she has no choice but assume. Sinan's mother has a moving monologue confessing that despite all the aggravations of her married life, had she been given a second chance, she would still choose the same husband. There is more than a touch of irony in the conversation between two imams discussing Islamic traditions and religion or in Sinan's meetings with an established writer, the frustrated young man trusting he might change the world while the older, successful author, no longer entertaining such hopes.
Production companies: Zeyno Films, Memento Films Production, Detail Film, RFF International, Sisters and Brothers Mitevsky, 2006 Produkcija Sarajevo, Film I Vast, Chimney Pot.
International sales: Memento Films International (distribution@memento-films.com)
Producers: Zeynep Ozbatur Atakan
Screenplay: Akin Aksu, Ebru Ceylan, Nuri Bilge Ceylan
Cinematography: Gokhan Tiryaki
Editing: Nuri Bilge Ceylan
Production design: Meral Aktan
Cast: Aydin Dogu Demirkol, Murat Cemcir, Bennu Yildirimlar, Hazar Erguclu, Serkan Keskin, Tamer Levent, Akin Aksu, Oner Erkan, Ahmet Rifat Sungar, Kubilay Tuncer, Kadir Cermik, Ozay Fecht, Ercument Balakoglu, Asena Kesinci