Keiichi Hara follows up 'Miss Hokusai' with a complex coming-of-age adventure story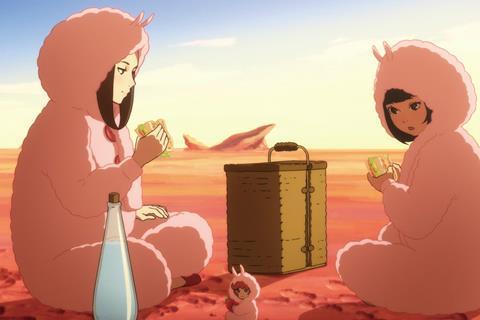 Dir: Keiichi Hara. Japan, 2019. 115mins
A spoiled young girl learns to appreciate the wonderful world that is all around her in The Wonderland, but only after a series of daunting tasks and magical adventures. Keiichi Hara's animated adaptation of the 1988 children's story 'Strange Journey From The Basement' marks a return to more lighthearted, straightforward fare for the director of 2015's Miss Hokusai , which could disappoint some of his adult fans. It is entertaining enough and often eye-catching but the meandering, over complicated plot could prove too much of a challenge for some family audiences.
Working with Russian illustrator Ilya Kuvshinov on character design and world concepts, Keiishi Hara offers a visual feast of contrasts
As the title suggests, The Wonderland takes a good deal of inspiration from Alice In Wonderland but it also seems to bind together a patchwork quilt of elements from traditional fairytales and family favourites ranging from The Wizard Of Oz to Beauty And The Beast and the Arthurian legend of the Sword In The Stone. The overly busy story provides countless opportunities to create imaginative worlds and strange characters, but it also tends to feel like a string of set pieces rather than something that builds dramatic tension or momentum.
Schoolgirl Akane (Mayu Matsuoka) lives an idyllic existence, indulged by her mother and envious of lives that appear so much easier than her own. On the eve of her birthday, she visits a shop run by Chi (Anne Watanabe) to collect her present. It is a treasure trove of lights and trinkets, lamps and jewels. When she places her hand in the imprint of a plaster cast it is an exact match. Soon, moustache-twirling alchemist Mr Hippocrates (Masachika Ichimura) and his apprentice Pipo (Nao Toyama) emerge from the shop's basement to inform Akane that she is the chosen one. She is the Goddess Of The Green Wind and is the appointed saviour of a world devastated by drought.
Akane is reluctant to venture out of her comfort zone, but the adventurous Chi agrees to accompany her and they set off along a spider's web road to their destination.
The Wonderland is lively and fast-paced as the quartet survives a sand storm, travels underwater, journeys through scorched desert and snowy winter wonderlands and also learns of a dastardly plot by the evil Zan Gu (Keiji Fujiwara) and his sidekick Doropo (Akiko Yajima).
That is just a brief taste of a complicated story that keeps adding extra characters and unexpected twists whilst simultaneously losing sight of earlier storylines or sidelining characters that once seemed important. The pay-off to an urgent race to enter a splendid jumper in a knitting competition is just another moment that passes in the melee. Akane is often overshadowed by the more spirited Chi and frequently doesn't seem that essential to a story that is supposedly testing her mettle and teaching her lessons.
Working with Russian illustrator Ilya Kuvshinov on character design and world concepts, Keiishi Hara offers a visual feast of contrasts from Zan Gu travelling the streets of a grim, soot smeared industrial town in his armoured tank to the Land Of The Red Wind where the sand storm blows.
The Wonderland delights with its vision of the Northern Lights, the comic relief provided by Akane's aggrieved cat Gorobeh or the frustrations experienced by the dapper Hippocrates when he is transformed into a fly. It is often very enjoyable but, for a simple coming of age tale in which Akane learns to count her blessings, it also feels as if a less elaborate approach might have achieved more of an emotional impact.
Production company: Fuji Television Network Inc, Signal MD
International sales: Fuji Creative: http://www.fujicreative.co.jp/Portals/0/special/anime/BW/
Producers: Yoshinori Takeeda, Honda Fuminori
Screenplay: Miho Maruo based on Sachiko Kashiwaba's novel 'Strange Journey From The Basement'
Music: Harumi Fuuki
Character design: Ilya Kuvshinov
Main voice cast: Mayu Matsuoka, Anne Watanabe, Masachika Ichimura