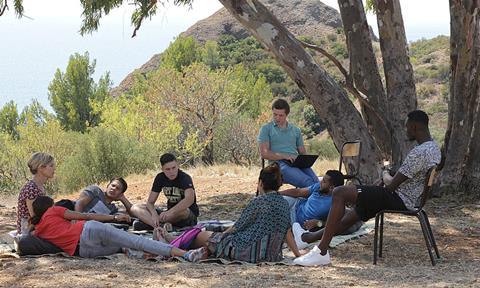 Dir. Laurent Cantet. France, 2017. 113mins
Tackling once again the burning topics of the day - in this case France at political and demographic crossroads - with subtle intelligence and a profoundly humanistic touch, Laurent Cantet (The Class) delivers a film that may be difficult to classify in generic terms, but should connect strongly with the arthouse and festival crowds that have admired his previous work. This story of a successful crime novel author who is invited to a small town to take charge of a writing project is part social survey, part political documentary, with the potential flicker of a love story and the touch of a thriller
Cantet's most impressive achievement is integrating the characters of his amateur performers,
The Workshop conveys a stunningly authentic portrait of French youth today; their class, racial and occupational concerns. The seven young people in author Olivia's (Marina Fois) class represent a snapshot of France's colorful young population, no intellectuals with writing experience among them (all are played by non-professional actors). Charged with producing a book to promote the image of La Ciotat, a small seaside town located in between Marseille and Toulon, Olivia soon discovers that the one subject which unites her students is murder - though they can't quite agree on what kind of murder they should write about, or how to treat it.
As their work progresses, the discrepancy between their world and that of their tutor becomes painfully evident, despite all her efforts to bridge the yawning gap. No less visible are the fissures separating the young people themselves, their respective grasp on their lives and the one common denominator they all share, the desire to break away from it, be it only in the fiction they are about to write.
Each student quickly develops a distinct personality of their own, closely observed by the camera. The most remarkable of the seven, Antoine (Matthieu Tucci), whose rebellious conduct is constantly in conflict not only with Olivia but his peers, will be the one to finally define all the unease of a young person attempting to find a place in a society that doesn't acknowledge his existence.
Working from a script he wrote with Robin Campillo (whose own BPM (Beats Per Minute) is featured in Cannes' competition this year), Cantet's most impressive achievement is integrating the characters of his amateur performers, all of them young people from La Ciotat, with the parts they play, and using their input to refine these parts and enrich them.
The use of several cameras for the entire shoot (a technique used in The Class) ensures that no detail of their performances is lost; indeed, these performances are the film's most precious asset.
Finally, for the record, La Ciotat is famous not only for its train station featured in one of the first films ever shot by the Lumiere brothers, The Arrival of a Train at La Ciotat Station (Cantet throws in a tribute to that historic milestone). It also served as a vast naval center until the late 1980s when the decision to close it down caused major labour rebellions which shook the entire city. Today, the shipyard's enormous cranes and workshops, fit to build huge tankers, still tower over the landscape, rotting testimony of the past, barely used to fix luxury yachts while the place turns itself into yet another Riviera spa.
Production companies: Archipel 35, France 2 Cinema
International Sales: Film Distribution,
agathe@filmsdistribution.com
Producer: Denis Freyd
Screenplay: Robin Campillo, Laurent Cantet
Cinematography: Pierre Milon
Editing: Mathilde Muyard
Music: Bedis Tir, Edouard Pons
Cast: Marina Fois, Matthieu Lucci, Warda Rammach, Issam Talbi, Florian Beaujean, Mamadou Doumbia, Julien Souve, Melissa Guilbert, Olivier Thouret, Leny Sellam