The burgeoning genre of street-kid cinema is lampooned in this unbalanced satire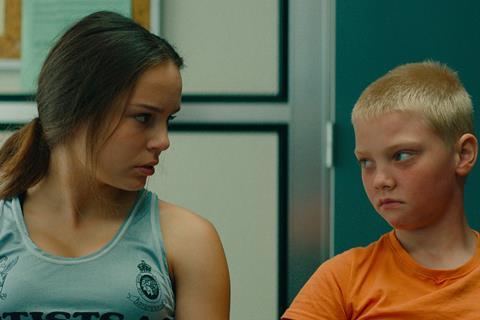 Dir: Lise Akoka, Romane Gueret. France. 2022. 101 mins
For decades now, the use of non-professional actors in films has been taken as a sort of 'certified organic' label. French cinema, in particular, has a long tradition of movies in which street-cast kids from tough areas play what audiences take to be a version of themselves and their challenging lives. So the idea of a film that questions the methods and ethics of this phenomenon is intriguing. Former casting directors Lise Akoka and Romane Gueret's sensitive, sometimes affecting but ultimately inconclusive debut feature certainly wants to be that film.
There is emotion in seeing just how brilliantly these four kids can act
Set in a housing project on the edge of the town of Boulogne-sur-Mer in northern France, it follows the casting, pre-production and shooting of a feature by a Belgian director who, at the age of 54, is eager to make the world sit up and take notice of what – for reasons unexplained – is his first full-length film. As he and his adult crew audition, rehearse, film, record, and hang out with their chosen cast of underage kids from this 'Cité Picasso' housing estate, lines are crossed; some of them in pursuit of that 'certified organic' sense of gritty realism that is sure to wow festival audiences.
It's a premise that could have generated a coruscating satire of the 'banlieue' school of French filmmaking that stretches from La Haine via Games Of Love And Chance to Divines, Les Miserables and beyond. It could also, perhaps at the same time, have become an edgy drama with echoes of Laurent Cantet's 2008 Palme d'Or winner The Class about seemingly cool, politically correct adults who abuse positions of responsibility. But Akoka and Gueret's script fails to commit itself in either direction. It's only when you read up about a project that was years in development and involved hundreds of casting sessions and workshops all over northern France that the penny drops: The Worst Ones is trying to be both a kind of documentary about its own making and a drama about a guy making another film. Unfortunately, the two don't mesh.
Or rather, they combine very briefly only at the start of the film, when the four protagonists – pre-pubescent Ryan (Timéo Mahault) and mid-teenage Lily (Mallory Wanecque), Jessy (Loic Pech) and Maylis (Melina Vanderplancke) – are presented in auditions, reluctantly, flirtingly or cockily answering questions posed by off-screen adults. After the title sequence, we fast forward to follow the filming of Pissing In The North Wind, a tough drama directed by hirsute Belgian Gabriel (Johan Heldenbergh), who exudes late-starter neediness.
We never learn that much about the plot of this film within the film, other than it seems to typecast its young actors as versions of how people pigeon-hole them in real life: pretty, vulnerable Lily is seen as the neighbourhood 'slut', Ryan is a kid with anger management issues, Jessy hides his male insecurity behind a veneer of casual misogyny. Pigeons themselves appear, in multitudes, in the strange finale of Gabriel's film, which we suspect was supposed, at some point of the writing process, to have been intended as an out and out parody of the 'abused street kid finds redemption through animal friend' genre kick-started by Ken Loach's Kes. Instead, it's just baffling.
The scenes that work best are those in which the ethical lines that divide film crew and cast are crossed or blurred. Gabriel triggers Ryan's anger buttons to get him to act like he means it in a fight scene – then goes on filming even after Ryan has become an emotional wreck. A love scene between Lily and Jessy is pushed to the limits of voyeurism, with no intimacy coordinator anywhere in sight. A late scene adds yet another undeveloped theme, when we see what we take to be real-life residents of Cité Picasso complaining to a crew member that films like this one tarnish the image of a suburb that is, in fact, not that bad a place to live, and making efforts to improve.
But there is emotion, for all that, in seeing just how brilliantly these four kids can act – and it's an emotion channelled by some lovely shallow-focus close-ups of their expressive faces. In the end, The Worst Ones is probably best viewed not as a 'cinematic slum tourism' critique, but as a feature-length defence of kids who are considered by their peers and neighbours to be unredeemable bad apples.
Production company: Les Films Velvet
International sales: Pyramide International, sales@pyramidefilms.com
Producers: Marine Alaric, Frédéric Jouve
Screenplay: Lise Akoka, Romane Gueret, Eleonore Gurrey
Production design: Laurent Baude
Editing: Albertine Lastera
Cinematography: Éric Dumont
Cast: Mallory Wanecque, Timéo Mahaut, Johan Heldenbergh, Loic Pech, Mélina Vanderplancke, Esther Archambault, Matthias Jacquin