Amanda Seyfried and James Norton try to warm up a haunted-house melodrama for Netflix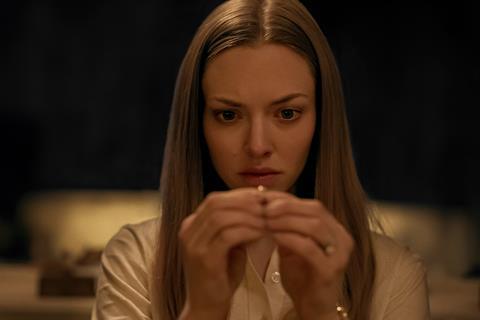 Dirs. Robert Pulcini, Shari Springer Berman. US. 2021. 120mins.
Things Heard & Seen is a film that Netflix could almost have been invented for, and was, in fact, put together specifically for the streamer: a back-of-the-rack Blockbuster video with some shiny stars on the cover in the shape of Amanda Seyfried and James Norton. The suspense thriller is centred around a potentially haunted mansion, an unhappy couple and a small child, and it is Seyfried's second house-based supernatural film in a year, after Universal's straight-to-streaming You Should Have Left (fortunately, Mank dropped in between the two, leading to an Academy Award nomination for supporting actress).
It's all pretty low-tech
At two hours, Things Heard & Seen could stretch the patience of even the most sedentary couch-surfer, who won't be happy to be rewarded by a denouement in which absolutely everything falls apart: characters, logic, story, ways to turn, places to hide. Yet this story of a couple who move from a briefly glimpsed Manhattan to the rural, isolated Hudson Valley, does take some risks. Catherine and George Claire (Seyfried and Norton) are defiantly unlikeable, together or apart, and that gives this adaptation an edge to cling to as the puzzle comes predictably together.
Written and directed by wife-and-husband team Shari Springer Berman and Robert Pulcini (American Splendor) from a bestselling novel by Elizabeth Brundage, this Netflix-produced film also finds an extra layer of interest visually in its 1980 setting. This is evident not so much in the costumes, but the interiors that are so crucial to the film. Certainly, Catherine and George are creatures of their time and class, all chinos and button-down shirts as he uproots the family in order to teach at a small liberal-arts college in Chosen, upstate New York. This is not a happy move, and they are not happy people, long before the melancholic surroundings of their rundown farmhouse begin to seep into their bones.
Catherine is defined by her eating disorder, attraction to the spiritual/occult, and the suspicion her husband may not be entirely as he appears. She is a remote presence, a former art restorer, and Seyfried plays her with a cool chill. George, meanwhile, is controlling at home, unfaithful, but finds it easy to make friends in their new surrounds, including his head of department (F Murray Abraham). He also, in a plot twist that isn't so much tired as ready for the retirement home, has not told his wife that – ta dum! – the house they're living in has a bloody history. The two young groundsmen who come to help (including the hunky Alex Neustaedter) aren't all they appear, either.
Before too long, ghostly entities are making their presence felt. An electric toothbrush springs to life; a creepy night-light explodes; a radio switches itself on. It is all pretty low-tech. To their credit, Pulcini and Springer Berman try to add some intellectual texture to the piece by introducing the ideas of a Swedish mystic and the art of a Hudson River School artist, whose 'Into The Valley Of Death' is referenced throughout. It may be hot air warming up a cold plot, but it does its job fairly effectively.
Karen Allen turns up in a supporting role as the local realtor, while Breaking Bad's Rhea Seehorn is sharp and witty as Catherine's new friend who suspects that all is not as it seems. Both Seyfried and Norton commit fully to the roles and convey effectively the frigidity of a failing marriage. In fact, the dynamics of the Claire family (whose daughter is rarely to be seen) are several layers more interesting than the plot, which makes it all the more disappointing when a film that has ballooned its running time with attempts at nuance then bursts into silliness.
The conventional industry wisdom is that you can never go broke with a nicely packaged supernatural thriller like Things Heard & Seen. Still, though, look at Blockbuster.
Production company: Likely Story
Worldwide distribution: Netflix
Producers: Anthony Bregman, Stefanie Azpiazu, Peter Cron, Julie Cohen
Screenplay: Shari Springer Berman, Robert Pulcini, from the novel 'All Things Cease To Appear' by Elizabeth Brundage
Cinematography: Larry Smith
Production design: Lester Cohen
Editing: Louise Ford, Andrew Mondshein
Music: Peter Raeburn
Main cast: Amanda Seyfried, James Norton, Natalia Dyer, F Murray Abraham, Karen Allen, Rhea Seehorn