Viggo Mortensen and Colin Farrell star in Ron Howard's sturdy dramatisation of the 2018 Thai cave rescue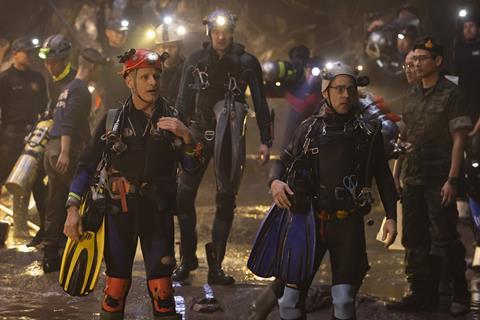 Dir: Ron Howard. US. 2022. 146mins
Telling the remarkable true story of the 2018 rescue of 13 Thai boys from a local football team who got trapped in a cave, Ron Howard's workmanlike drama focuses more on the harrowing details rather than the individuals involved. Thirteen Lives is sufficiently gripping and intentionally lacking in flash, emphasising just how audacious the mission was to save them — and also how miraculous it was that they all survived. Boosted by unfussy performances from Viggo Mortensen and Colin Farrell, playing two of the men who risked their lives to bring the boys home, the picture ends up feeling sturdy rather than inspired, efficient rather than stirring.
When Thirteen Lives directs its energies toward illustrating the impossibility of the divers' mission, the film is solidly compelling
Thirteen Lives will receive a limited theatrical release in the US and the UK on July 29 before its global streaming premiere on Amazon Prime Video starting August 5. The actual events captivated the world, serving as the backbone for last year's well-reviewed documentary The Rescue, along with Tom Waller's 2019 actioneer which featured some of the cave divers playing themselves, so it's fair to wonder whether there's still enough audience interest in this tale. That said, the sheer boldness of the rescue operation — not to mention the preordained happy ending — will attract the curious, alongside the film's starry cast, which also includes Joel Edgerton.
Following the 18 days during which 12 members of a football team from northern Thailand, along with their coach, Ekkaphon (James Teeradon Supapunpinyo), were stranded in the Tham Luang cave network, Thirteen Lives follows two British divers, Rick Stanton (Mortensen) and John Volanthen (Farrell), as they lead an international rescue operation. With monsoon season bearing down on them, they must work quickly to save these trapped boys before they drown or run out of oxygen, but it will require a fraught journey through flooded tunnels, with the odds of survival exceedingly low.
More than 25 years ago, Howard made a very different true-life rescue drama, Apollo 13, but Thirteen Lives mostly resists the emotional flourishes which marked that Oscar-winner. Instead, the filmmaker highlights the logistical difficulties involved in this mission, offering little in the way of character details so as not to distract from the task at hand.
Stanton is portrayed as a stoic loner — he even admits he doesn't much like kids — while Volanthen feels guilt about being an absent father to his young son. Those snippets of backstory, along with the fact that Stanton is more pragmatic, leaving Volanthen to remain the optimist, are all Mortensen and Farrell have to play, and yet they invest their characters with weary authenticity.
Tapping Apichatpong Weerasethakul's celebrated cinematographer Sayombhu Mukdeeprom, and shooting partly in Thailand, Howard does his best to centre the story on the football players, their worried families and local government officials. But it's perhaps inevitable that Stanton and Volanthen will become the main protagonists — as will, later, Harry Harris (Edgerton), a doctor whose arrival helps spark the gutsy plan they will implement to free the imperilled teammates. Consequently, Thirteen Lives treats those 13 lives too much as abstractions, reducing them to generic sympathetic figures who our heroes must rescue. Likewise, Howard's respectful but superficial investigation of Thai culture fails to capture the nuance of a community thrust into the global spotlight.
And yet, when Thirteen Lives directs its energies toward illustrating the impossibility of the divers' mission, the film is solidly compelling. Anyone suffering from claustrophobia or a fear of drowning may find Thirteen Lives deeply traumatic, with Howard submerging us in those tight, flooded tunnels alongside the divers, who face certain death if they make one false move. (The underwater cinematography was handled by Simon Christidis.) Indeed, an especially arresting sequence involving a tragic mistake deep inside the cave is wrenching without being exploitative.
Of the Thai cast, Sahajak Boonthanakit brings resonance to his role as Governor Naronsack, an ineffectual bureaucrat who was about to be sacked when this crisis occurred; his bosses want him to stay on longer to take the blame if the rescue mission fails. Boonthanakit communicates his character's helplessness but also his genuine concern, recognising that there's little he can personally do to save these young men. And despite little screen time, Supapunpinyo ably portrays a mentor tasked with keeping his players calm in a nightmarish situation.
Smoothly edited by James D. Wilcox, the film's eventual rescue sequence is appropriately electric, even if neither the rescued nor the rescuers are fully fleshed out. Howard honours the collective heroism above all else, resulting in a well-crafted procedural that's a little impersonal. Like the brave men who ultimately saved the day, Thirteen Lives gets the job done.
Production companies: Imagine Entertainment, Storyteller, Magnolia Mae Films
Worldwide distribution: Amazon Prime Video
Producers: P.J. van Sandwijk, Gabrielle Tana, Karen Lunder, William M. Connor, Brian Grazer, Ron Howard
Screenplay: William Nicholson, story by Don Macpherson and William Nicholson
Cinematography: Sayombhu Mukdeeprom
Production design: Molly Hughes
Editing: James D. Wilcox
Music: Benjamin Wallfisch
Main cast: Viggo Mortensen, Colin Farrell, Joel Edgerton, Tom Bateman, Paul Gleeson, Pattrakorn Tungsupakul, Tui Thiraphat Sajakul, James Teeradon Supapunpinyo, Sahajak Boonthanakit, Weir Sukollawat Kanaros