'A grinningly goofy comic-book movie that reverberates with boyish delight'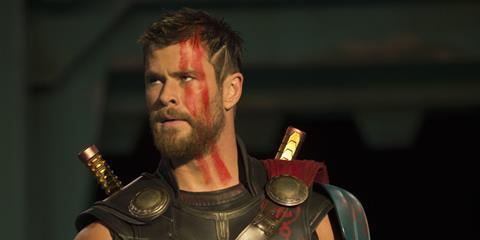 Dir: Taika Waititi. US. 2017. 130mins
Within the Marvel Cinematic Universe, the Thor film tend to be cheekier and relatively more carefree than the standalone installments from the God of Thunder's fellow Avengers. Hunt For The Wilderpeople director Taika Waititi embraces that legacy with gusto, delivering in Thor: Ragnarok a grinningly goofy comic-book movie that reverberates with boyish delight. The film's deadpan good cheer makes room for big-budget spectacle and a modicum of emotional depth, but a self-effacing vibe and pop-culture giddiness work the best here — necessary countermeasures as Marvel fights against the inevitable creative fatigue incurred after a decade of multiplex dominance.
The director's light touch doesn't preclude Ragnarok from being the kind of brawny blockbuster that audiences demand
Hitting UK screens on October 24 before making its way to the US on November 3, Ragnarok will try to top the $645 million grossed by 2013's Thor: The Dark World. The Thor films aren't Marvel's biggest hits, taking a backseat to movies featuring Iron Man or Captain America, and the studio has already released two other films this year in Guardians Of The Galaxy Vol. 2 ($864 million) and Spider-Man: Homecoming ($879 million). So it's Ragnarok will have to work hard to reach comparable commercial heights, although the added star power of Cate Blanchett should entice Marvel's legions of loyal fans.
Chris Hemsworth returns as Thor, who discovers that his evil adoptive brother Loki (Tom Hiddleston) is still alive, while his beloved father Odin (Anthony Hopkins) is dying. Odin tells the two rivals that his all-powerful firstborn, Hela (Blanchett), has returned to enslave their home planet of Asgard. While trying to defeat her, Thor is marooned on the lawless world of Sakaar, where he discovers he must fight for his freedom in a gladiatorial showdown with the planet's most fearsome warrior — who just so happens to be his old friend Hulk (Mark Ruffalo).
In Ragnarok, New Zealand's Waititi combines the understated comedy of one of his earlier films, What We Do In The Shadows (co-directed with Jermaine Clement), with the wised-up, all-ages entertainment of 2016's Hunt For The Wilderpeople. It's not uncommon for a Marvel film to flaunt a smart-aleck tone that mocks the conventions of superhero movies, but Ragnarok consistently takes aim at lots of deserving targets — everything from Thor's regal pomposity to the action-movie cliché of characters hatching clever plans to outsmart the bad guys.
Irreverent playfulness has always been a staple of Waititi's work, but the director's light touch doesn't preclude Ragnarok from being the kind of brawny blockbuster that audiences demand. And as he demonstrated with Wilderpeople, Waititi exhibits a droll sense of humour without losing sight of character dynamics, tonal sophistication or thematic undercurrents. As has become painfully typical of the MCU movies, Ragnarok teases us with the possibility that an entire planet could be destroyed, but as slapstick funny as this film can be, notions of heroism and self-sacrifice are interwoven in a way that feels organic and even slightly poignant, giving this high-spirited lark a little heft.
That ebullient atmosphere isn't always successfully maintained, however. Although Tessa Thompson is dynamic as a fierce, witty soldier who reluctantly joins forces with Thor, Blanchett mostly just sports dark mascara and a dull campy villainy. And Ragnarok's early going can be slow as Waititi and his three screenwriters struggle to establish the right comedic rhythm while laying out the dark dramatic stakes. But once Ruffalo's Bruce Banner arrives, he and Hemsworth lock into an amusing odd-couple rapport that almost transforms Thor: Ragnarok into a buddy-cop film. (And that's to say nothing of Hemsworth's on-going comedic chemistry with Hiddleston, who's very good at playing up Loki's dastardly smugness.)
Ragnarok isn't impervious to the monotony that has seeped into recent MCU instalments, where the studio's winning mixture of action, laughs and superhero pizzazz have started to feel rote. But Waititi has fun tampering with the formula, casting Jeff Goldblum to exude maximum off-kilter oddness as Sakaar's cruel ruler. And the director taps cinematographer Javier Aguirresarobe and production designers Dan Hennah and Ra Vincent to dream up a vivid colour palette and occasionally surreal visual aesthetic that highlights the material's science fiction and videogame qualities. Like any self-respecting superhero movie, Ragnarok exudes an epic grandeur, leading to a stirring, euphoric finale that doesn't sacrifice scope or gravitas despite all the wisecracks Waititi and company make along the way.
Production company: Marvel Studios
Worldwide distribution: Disney, www.movies.disney.com
Producer: Kevin Feige
Executive producers: Louis D'Esposito, Victoria Alonso, Brad Winderbaum, Thomas M. Hammel, Stan Lee
Screenplay: Eric Pearson and Craig Kyle & Christopher L. Yost
Cinematography: Javier Aguirresarobe
Production design: Dan Hennah, Ra Vincent
Editors: Joel Negron, Zene Baker
Music: Mark Mothersbaugh
Website: www.marvel.com/thor
Main Cast: Chris Hemsworth, Tom Hiddleston, Cate Blanchett, Idris Elba, Jeff Goldblum, Tessa Thompson, Karl Urban, Mark Ruffalo, Anthony Hopkins