Angelina Jolie plays a firefighter in the latest from 'Wind River' director Taylor Sheridan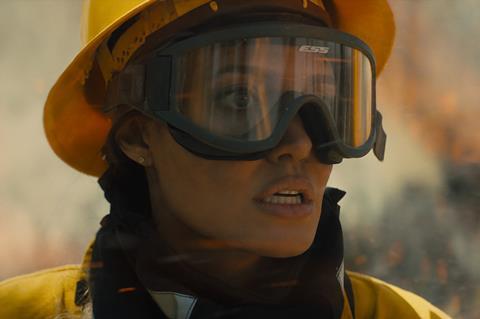 Dir: Taylor Sheridan. US. 2021. 100 mins.
There's smoke but not much fire in Those Who Wish Me Dead, a thriller set in a potentially interesting milieu. Angelina Jolie plays a smokejumper — an elite firefighter tasked with jumping from a plane into the heart of a forest blaze — who is ravaged by guilt for the lives she couldn't save during a recent fire, only to be thrust into a dangerous situation where she has to protect a 12 year-old boy hunted by hitmen. Taylor Sheridan's first film since Wind River further explores the director's fascination with the untamed natural world — and the savagery within some people — but this adaptation of the Michael Koryta novel feels like a compendium of different themes and genre tropes, never fully coalescing into a compelling whole.
It's not a good sign that, as the film crosscuts between its different story threads, Angelina Jolie's becomes the least interesting
Releasing in theatres and on HBO Max in the US on May 14 — and heading to UK theatres three days later to coincide with cinemas reopening— this Warner Bros drama boasts the star power of Jolie, who will next be part of the much-anticipated Eternals. Those Who Wish Me Dead's violence and mature tone, matched by its lack of slickness, will make it an ideal fit for older audiences, who perhaps won't mind some of the secondhand elements.
Set in the Montana wilderness, the picture focuses on Hannah (Jolie), the one female member of her local smokejumper crew. Just as tough as the men, she is nonetheless haunted by the deaths of three young people during a forest fire. (Even though there was nothing she could have done to rescue them, she blames herself.) But redemption comes in the unlikely form of an on-the-run boy, Connor (Finn Little), whose father was killed by hitmen Patrick (Nicholas Hoult) and Jack (Aidan Gillen), who are now looking for him. Alone deep in the forest with Connor, can she protect him from certain death?
Sheridan's films, including his screenplays for Sicario and Hell Or High Water, chronicle pitiless worlds in which only the strong survive. That's certainly the case with Those Who Wish Me Dead, considering how Patrick and Jack efficiently eliminate their targets, all of whom are connected to the discovery of unspecified financial impropriety that some powerful individuals want buried. With a stripped-down approach, Sheridan spends roughly the first half of the film following Connor's desperate escape, then shifting gears once Hannah befriends the scared boy.
There's a muscular authority to the plotting as Sheridan juggles the different storylines — including one involving Ethan (Jon Bernthal), a sheriff's deputy tracking down Connor, and his very pregnant wife Allison (Medina Senghole) — and brings them all together for a final confrontation. The picture exudes a grim sense of inevitability as these characters, many of whom are wrestling with notions of mortality and renewal, face their grand reckoning.
But the film's confidence belies how shopworn the proceedings prove to be. Whether it's the all-business assassins, the guilt-ridden hero who must save a helpless child, or the pregnant wife put in harm's way, Those Who Wish Me Dead draws from myriad thriller tropes, with the only truly novel wrinkle being Hannah's profession, although actual smoke-jumping isn't very important to the story. Even the introduction of an out-of-control forest fire during the third act, while visually striking, fails to distract from what is otherwise so familiar.
These deficiencies might have been neutralised by a commanding performance from Jolie, but the Oscar-winner doesn't bring much presence. Partly, this is the fault of a screenplay that fails to define the character — Hannah is a bland "just one of the guys" female protagonist saddled with nightmares — and doesn't give Jolie much screen time with Little. Even so, she never develops a rapport with her young co-star, severely undercutting Those Who Wish Me Dead's emotional undercurrent. It's not a good sign that, as the film crosscuts between its different story threads, Jolie's becomes the least interesting.
As cliched as the hitman characters are, Hoult and Gillen lock into these men's unfussy professionalism, never delivering wisecracks or exhibiting quirky traits. Likewise, Senghole elevates Allison's damsel-in-distress trappings by revealing a steeliness that catches both the assassins and the audience off guard. The brutality of the action sequences is affecting without being showy, very much in keeping with a film whose characters just want to get the job done right. But a little bit of personality and originality might have helped the picture burn in the memory.
Production companies: BRON Studios, FILMRIGHTS
Worldwide distribution: Warner Bros.
Producers: Steven Zaillian, Garrett Basch, Aaron L. Gilbert, Kevin Turen, Taylor Sheridan
Screenplay: Michael Koryta and Charles Leavitt and Taylor Sheridan, based on the book by Michael Koryta
Production design: Neil Spisak
Editing: Chad Galster
Cinematography: Ben Richardson
Music: Brian Tyler
Main cast: Angelina Jolie, Finn Little, Nicholas Hoult, Aidan Gillen, Jake Weber, Medina Senghore, Jon Bernthal