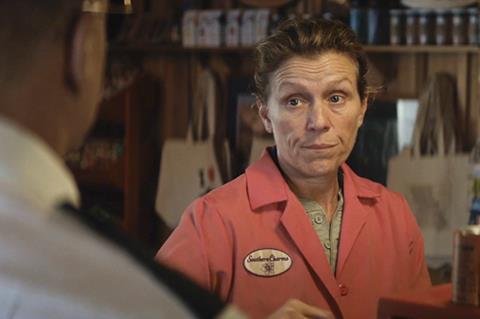 Dir/scr. Martin McDonagh. US. 110 mins.
A commanding Frances McDormand plays a strong-minded working-class woman who thirsts for justice for her murdered daughter in Martin McDonagh's quixotic, loose Three Billboards Outside Ebbing, Missouri – a film with the best title and trailer of the year, but which fails to fully deliver on the promise of either.
A whimsical modern-day Western with the boiler-suited Frances McDormand playing the lone ranger in a fight for justice
Anchored by a funny, foul-mouthed performance from McDormand, McDonagh's daringly-structured dark comedy is rich and layered and often laugh-out-loud funny although it trips over constant tonal shifts. As a writer, McDonagh front-loads his narrative into the first 20 minutes, and layers on long monologues. The early, well-signposted death of a central character has clanging reverberations for what's left of the plot, which McDonagh the director can't fully quiet.
A strong cast which also includes Sam Rockwell, Peter Dinklage, Lucas Hedges and Caleb Landry Jones pulls hard together, straining for the piece to cohere, although Australian actress Abbie Cornish is palpably ill at ease. The promise of a Coen Brothers-style black comedy from the man behind In Bruges should still be commercial catnip for distributor Fox Searchlight on US release in November after a festival run, however, and awards aren't out of the question.
McDonagh never really answers essential questions about his piece, pre-occupied with the tease of the structural challenge he has set himself. His characters' motivations are consistently elusive: Tarantino-ish dialogue may aim to shock with casual racism and vulgarity, but Three Billboards never fully comes alive outside its writer's mind as its characters kneel to his will. Punchy sequences bounce off each other as McDonagh's well-written pages often struggle to slot together. When it's funny, though, Ebbing really scores, and many viewers will find the laughter carries them over its problems.
The premise is perfect for that internet sensation trailer: McDormand is Mildred Hayes, the tough, flinty, foul-mouthed mother of murdered teenager Angela. Running out of patience with local law enforcement, she buys ad space on three billboards outside the town of Ebbing to make a statement on Easter Sunday: her daughter was 'raped while dying, and still no arrests Sheriff Willoughby (Harrelson)?', they ask, consecutively.
The Sheriff is much loved by the Ebbing townsfolk, however, despite the fact he's willing to tolerate a torturer of black people, Officer Dixon (Rockwell), on his staff. Funny, snappy interludes dot the narrative with McDormand in flying form on the dentist's chair and in a charged confrontation with her local priest. Sherriff Willoughby, so enjoyably played by Harrelson, thrillingly thunders that it "looks like we've got a war on our hands". Next minute, though, he reveals he's dying of pancreatic cancer, while the racist Dixon starts to veer wildly between thuggishness and outright mental disability,
McDonagh now turns the plot over to take-no-prisoners Mildred's increasing unpopularity as the town starts to sympathise with the sheriff, and soon she's kneeing teenagers in the crotch, making Molotov cocktails, and talking to her slippers. Coming across like a whimsical modern-day Western with the boiler-suited Mildred the lone ranger in a fight for justice, Ebbing is filled with outsized characters. Rockwell (and his character's mother) are so riven with eccentricities, they're unbelievable.
The UK-born director flirts with US race relations, making gags about racists before installing a black Sheriff whose role is instantly dialled down. The sexual politics are strange: Mildred's abusive ex-husband has a dumb 19-year-old girlfriend (bad) but Harrelson's Sheriff Willoughby has a much-younger wife (Cornish, true love). As Joan Baez warbles about the Night They Drove Old Dixie down, Three Billboards hops around its protagonists, hoping to land on one that can take the weight of this increasingly incredible scenario.
Shot around Asheville and Sylva, North Carolina, this is former playwright (The Cripple of Inishmann) McDonagh's third feature after In Bruges and the disappointing Seven Psychopaths. Despite its many pleasures, Three Billboards seems to underscore how he still hasn't quite found his feet in the US. The fact he can't find the keys to the Coen Brothers safe is only highlighted every time Frances McDormand shows us yet again and so convincingly what she's made of; her character never makes as much sense as the actress's perfect delivery.
Production companies: Fox Searchlight Pictures, Film4 Productions
International distributuon: Fox Searchlight
Producers: Graham Broadbent, Martin McDonagh, Peter Czernin
Executive producers: Rose Garnett, David Kosse, Diarmuid McKeown, Bergen Swanson
Cinematography: Ben Davis
Production design: Inbal Weinberg
Editor: John Gregory
Music: Carter Burwell
Main cast: Frances McDormand, Woody Harrelson, Sam Rockwell, Peter Dinklage, Lucas Hedges, Abbie Cornish, Caleb Landry Jones, John Hawkes