Nanni Moretti returns to Cannes with an adaptation of an Israeli novel transposed to an affluent Rome suburb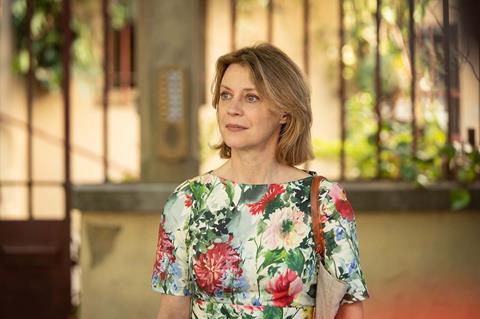 Dir Nanni Moretti. Italy/France. 2021. 119 mins
It's easy to grasp the cinematic potential of Israeli writer Eshkol Nevo's 2015 trio of interlinked novellas, translated into English as Three Floors Up, centred around three families who live on different floors of the same Tel Aviv condominium. It's full of unreliable narrators, games of truth and lies, and contains a critique of coercive forces in Israeli society and religion. How strange, then, that Italian director Nanni Moretti should decide, in transposing the material to a suburb of his own city, Rome, to turn it into a straight-up middle-class melodrama.
Conventional, old-school staging
Three Floors is not a bad melodrama per se, but has none of the needle-sharp emotional intensity of The Son's Room (2001). Neither, with one small exception, does it reprise the fascinating games that the director played with memories, moods and states of consciousness in his last film and previous Cannes competition contender, Mia Madre (2016). It feels rather like one of those worthy dramas that were turned out by less celebrated Italian directors in the 1980s and 1990s – even in its old-fashioned attitudes and sexual politics. Still, the film is currently selling steadily and could possibly be well-timed, as older, lockdown-weary audiences look for the reassurance of a familiar, well-made, drama that pushes reliable emotional buttons. And Moretti being Moretti, it will certainly be seen by plenty of people at home in Italy and in Nanni-loving France. Some may decide, though, that it's a bit too close to a decent TV drama to light up theatrical screens.
The film follows three sets of characters over three timescales, each set five years apart, the last of which is a maskless, pre-pandemic 'today'. All live on different floors in an elegant Roman apartment block – one of those bourgeois condos with pretensions of grandeur that sprouted like mushrooms in the city's leafy suburbs in the three decades after Rome became the capital of Italy in 1871. From its gate, at the start of the film, emerges Monica (Alba Rohrwacher), a fragile young mother heading to hospital alone to give birth, as building contractor husband Giorgio (Adriano Giannini) is once again away for work. She witnesses an accident caused by drunk-driver Andrea (Alessandro Sperduti), a directionless young man whose father – dour magistrate Giorgio, played by the director – sees him as a disappointment and a failure. That's not a view shared by Giorgio's wife Dora (Margherita Buy), who prioritises motherly affection over censure, but lives in her husband's controlling shadow.
Andrea's car ends up half inside the ground-floor office of Lucio (Riccardo Scamaracio), who lives upstairs with his anxious wife Sara (Elena Lietti) and young daughter Francesca. Thus does one set of tyre tracks introduce three stories that will unfurl into Andrea's estrangement from his family, the lonely Monica's struggle with motherhood and her own sanity, and Lucio's dark suspicions about what happened on the night an elderly neighbour with memory issues got lost in the park with Francesca.
This is no melodrama in the flamboyant Almodovar style. It's more in the school of Douglas Sirk: Moretti's focus is squarely on characters and story, and fortuitous coincidence plays little part. But it's precisely the sobriety of Moretti's conventional, old-school staging of the three stories (you can almost imagine the catering truck parked just out of sight in each shot) that highlights the "so what?" factor in strands that have little resonance outside their own dramatic arcs. The most engaging and least contrived of the three (partly due to an affecting performance by Rohrwacher) is Monica's story – the only one to approach Mia Madre's games with narrative subjectivity, as it dips in and out of the distressed young mother's point of view. However, on the few occasions when Three Floors attempts anything like social commentary – for example, in its staging of a racist riot outside a clothes bank – the effect is close to risible, while its handling of Lucio's relationship with an underage girl is unreconstructed in the sympathy with which white male privilege is given a free pass (she was very flirty, after all).
Yet for all this, there are still pleasures to be had from the craft on show in Three Floors. The fine production design neatly suggests that these apartments both reflect their owners' tastes and act to hold them back from change. And then there's Franco Piersanti's evocative soundtrack, played by a small classical ensemble in which a breathy clarinet and melancholy accordion dominate. It's used not so much to give muscle to emotional moments as to push them into a more timeless sphere, to evoke the human comedy behind these generational tragedies.
Production companies: Sacher Film, Fandango
International sales: The Match Factory, info@matchfactory.de
Producers: Nanni Moretti, Domenico Procacci
Screenplay: Nanni Moretti, Federica Pontremoli, Vania Santilla, from the novel Three Floors Up by Eshkol Nevo
Production design: Paola Bizzarri
Editing: Clelio Benevento
Cinematography: Michele D'Attanasio
Music: Franco Piersanti
Main cast: Margherita Buy, Nanni Moretti, Alessandro Sperduti, Riccardo Scamarcio, Elena Lietti, Alba Rohrwacher, Adriano Giannini, Denise Tantucci, Anna Bonaiuto, Paolo Graziosi, Stefano Dionisi, Tommaso Ragno