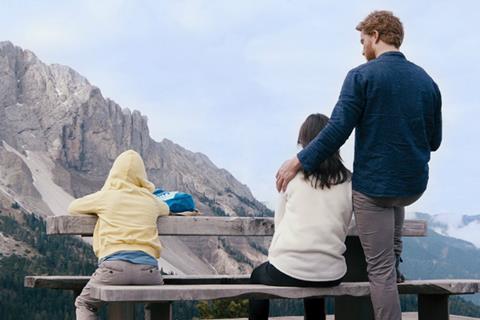 Dir/scr. Jan Zabeil. Ger-It, 2017, 94m.
Like the picturesque allure of towering mountains from a distance, domestic bliss is a treacherous idyll in Three Peaks, the psychologically complex, emotionally compelling second feature from German filmmaker Jan Zabeil after his San Sebastian best new director-winning The River Used To Be A Man. Reuniting with that film's Alexander Fehling, and taking Oscar-nominee Bérénice Bejo and movie debutant Arian Montgomery along for the rocky trek, the writer/helmer dismantles a fledgling family's fragile sense of contentment during an initially quiet, ultimately revelatory Italian Dolomites trip.
Three Peaks takes the time to recognise the texture lurking beneath its symbolism
Here, getting away from it all proves an impossible concept; as much as snowy alps and a cute log cabin may catch the eye, they can't distract from the troubles lurking within their midst. It's a premise that previously worked well in Force Majeure, though Zabeil eschews acerbic slices of married life for a contemplative dissection of a man's tentative relationship with his girlfriend's young son. An astute choice, it won Three Peaks the Piazza Grande prize in Locarno, with a Toronto berth following, additional festival attention certain, and modest theatrical interest capable of being cultivated.
The parallels between the film's frosty setting and its vacationing characters arrive early, the feature filled with silently imposing terrain and largely unspoken struggles. Yet Zabeil doesn't favour a heavy-handed approach. Indeed, though other obvious moments arise — describing the real-life titular landmark as a father, mother and child; watching a shadow literally grow over an escapade off of the beaten path — Three Peaks takes the time to recognise the texture lurking beneath its symbolism, and to use its instances of thematic shorthand as a path to deeper insights.
Ultimately, that's what the outdoorsy Aaron (Fehling), his paramour of two years, Lea (Bejo), and her eight-year-old Tristan (Montgomery) all seek during their alpine jaunt. Smiling and superficially happy, they travel from resort swims to a remote chalet with a spring in their steps but a weight on their shoulders. Aaron and Lea plan their future together, including a possible move to Paris and adding their own child to the mix, though Tristan offers passive aggressive resistance. He'll call his new father figure "papa", but also sabotage Aaron's time with Lea by crawling into bed with them at any opportunity. That the boy talks to his biological dad frequently via phone, and that his mother is determined to strictly demarcate patriarchal roles, further complicates the trio's dynamic.
Accordingly, when Aaron impulsively takes Tristan wandering, it's with caution as well as fondness; a foreboding combination. Imbued with the knowledge that venturing beyond one's comfort zone rarely works out well, the audience waits and watches as a patient portrait of family tension becomes a more urgent quest for survival — complete with a shift in the story that not only heightens the drama and thrills, but plunges into an icy lake teeming with childhood rebellion.
If Zabeil's script hadn't peppered its first half with recognisable exchanges seesawing between affection and animosity, its descent into darker territory might have proven too big a leap. Every slow-building development, however, is grounded in familiar emotions, issues and motivations. Further, if the film didn't rest on such composed performances, it might have conjured melodramatic disbelief, but the excellent Fehling and Montgomery play their pivotal figures with the requisite nuance. In this three-hander, Bejo has the least to do but convincingly conveys a woman's tussle between her child's wants and her own desires.
Both cinematographer Axel Schneppat and editor Florian Miosge deserve just as much credit for helping the end result find its relatable yet disquieting niche; the former ensuring that the formidable majesty of the landscape and the wordless sentiments plastered across stoic faces equally make an impact, the ,latter giving simmering unease its own rhythm. Three Peaks' focus on everyday sounds similarly amplifies that balance between routine and unsettling that sits at the heart of the movie, and all without a score dictating the mood.
Production companies: Rohfilm Productions GmbH, Echo Film GmbH, sri Sudwestrundfunk
International sales: The Match Factory, info@matchfactory.de
Producers: Benny Drechsel, Andreas Pichler, Philipp Moravetz
Cinematographer: Axel Schneppat
Editor: Florian Miosge
Production designer: Michael Randel
Costume designer: Cinzia Cioffi
Main cast: Alexander Fehling, Bérénice Bejo, Arian Montgomery