George Miller conjures a Djinn - Idris Elba - out of a bottle in this poignant ode to storytelling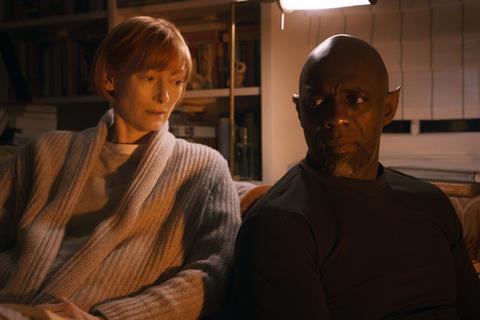 Dir: George Miller. Australia. 2022. 108 mins.
A story about stories and a romance about the mystery of love, Three Thousand Years Of Longing finds George Miller letting his imagination roam free, although the results don't always measure up to the material's inherent magical properties. Idris Elba plays a Djinn - or genie - who approaches Tilda Swinton's 'narratologist' with the possibility of granting her three wishes, leading to a series of epic fables that only belatedly locates a poignant emotional undercurrent. Hardly lacking ambition or verve, this amped-up fairy tale comes complete with social commentary and a grownup examination of the consequences of seeking connection, but the episodic, intermittently engaging saga frustrates more than it enchants.
Elba's performance as this powerful but hamstrung figure effortlessly gives a sense of The Djinn's larger-than-life might.
Like Mad Max: Fury Road, Three Thousand Years premieres in an Out Of Competition slot at the Cannes Film Festival. The star wattageof the two leads will certainly boost awareness, although those who adore Miller's Max Max pictures will discover that his latest is three-thousand miles removed from those hardcore action films. Still, at a time when adventurous cinema such as Everything Everywhere All At Once is finding an audience, this freewheeling mix of love and mythology could catch on.
Swinton is the bookish Alithea, who insists through voiceover that she's content, even though she's alone. A studier of stories, she travels from her London home to Istanbul, where she purchases a small, gorgeous bottle which, after rubbing, unleashes a Djinn (Elba), who will give her three wishes. Because of her professional expertise, Alithea is wary of accepting that offer — after all, in plenty of narratives, wishes lead to unintended repercussions — which prompts him to tell her about the centuries of misery he has endured courting different loves, his pursuits ending in heartbreak.
Working from the A.S. Byatt story 'The Djinn In The Nightingale's Eye', Miller has crafted a hyper-vivid reality in which, for most of the first half, The Djinn and Alithea talk in her Turkish hotel room, and this magical being's misadventures are shown in elaborate, colourful flashbacks. Whether it's The Queen Of Sheba (Aamito Lagum) or a forgotten 19th-century genius named Zefir (Burcu Golgedar), The Djinn has sought to be freed by having the object of his affection make her three wishes. Yet some unexpected obstacle always gets in the way.
Although Miller has reunited with many of the technical wizards who shaped Fury Road, these sequences often feel laboured rather than virtuosic. Plus, Three Thousand Years starts to become repetitive, with the film constantly returning to Elba and Swinton in that hotel room, each time recapping the fallout from his latest reminiscence. This suite of flashbacks has a higher purpose, though, which is to interrogate our need for narrative — how it creates meaning out of the seeming shapelessness of life. The effects work is often striking, and Elba's performance as this powerful but hamstrung figure — he seems cursed to be trapped in that bottle forever — effortlessly gives a sense of The Djinn's larger-than-life might. But for a director whose films often have a furious forward momentum, Three Thousand Years feels a little more scattered and distended.
That said, the picture intriguingly switches gears later on, becoming a muted, melancholy love story between The Djinn and Alithea, who tentatively begin a relationship. Swinton gets to work in a lovely, more vulnerable key than she has in quite a while in these segments, playing her narratologist as someone who has cut herself off from the possibility of a partner. Even here, though, Three Thousand Years is overly busy, not entirely convincingly including a digression about the rise of bigotry in the age of Brexit. Tom Holkenborg's sweeping score hints at the dramatic grandeur that Miller seeks, hoping to show how love (like narratives) keeps people going during dark times.
There's beauty in that notion, and it's heartening that the man behind Mad Max's pedal-to-the-metal intensity is just as passionate in his belief that love can conquer all. When Three Thousand Years allows Elba and Swinton to embody two very different lonely, wary souls who have found one another, the picture's wilder, more erratic stylistic swings fall away. Although, Miller's latest may be inspired by the power of stories, it's not an altogether riveting tale on its own.
Production company: Kennedy Miller Mitchell Productions
International sales: Film Nation Entertainment, cirabien@filmnation.com
Producers: Doug Mitchell, George Miller
Production design: Roger Ford
Screenplay: George Miller, Augusta Gore, George Miller and Augusta Gore, based upon the short story "The Djinn In The Nightingale's Eye" by A.S. Byatt
Cinematography: John Seale
Editing: Margaret Sixel
Music: Tom Holkenborg
Main cast: Idris Elba, Tilda Swinton