Naples-set festival opener with offscreen connections to the Elena Ferrante brand.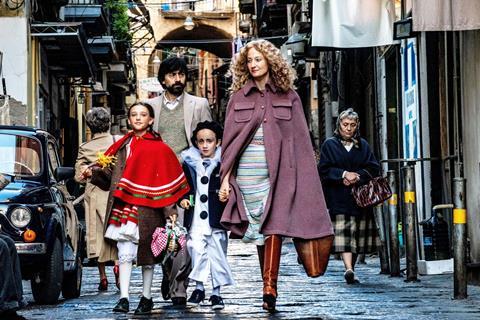 Dir. Daniele Luchetti. Italy. 2020. 100 mins.
The first Italian film to open Venice since Giuseppe Tornatore's Baaria in 2009, Ties is based on a book by Neapolitan writer (and co-screenwriter) Domenico Starnone, whose close connection with Italy's most famous pseudonymous 'mystery author' Elena Ferrante was revealed in a media investigation a few years back. Certainly there are strong echoes in both the book and film of Ferrante's 'Neapolitan Novels', as recently adapted for the HBO series My Brilliant Friend. Both Starnone and Ferrante are good at exposing the underbelly of all those happy Italian family clichés, at digging into the detail of the damage that people can do to one another as partners, as parents, as siblings, and as friends.
Some virtuoso touches fail to make up for the frustrations engendered by a film that seems as locked in a holding pattern as its two main protagonists
Over a period of around 35 years, Ties follows the lives and arguments of a married couple who separate without quite being able to cut the cords that bind them, and charts the effect this destructive limbo has on their two children. Luchetti is an experienced director whose career spans a similar timescale (his first film, It's Happening Tomorrow, was in Cannes' Un Certain Regard section in 1988), and the cast of Italian A-listers he has assembled here respond to the intimacy of an approach in which faces, gestures and silences often count more than words spoken. But there's no getting away from the fact that for all its sensitivity this is essentially a melodrama, one that feels increasingly static as it unfolds to its 'surprise' denouemnet. At home in Italy, and in France, where Luchetti's films are generally well-received, Ties will get a prestige arthouse airing, but elsewhere it's difficult to see what it has to offer in a crowded marketplace.
An opening caption tell us that we're in Naples in the early 1980s – but that much is clear from the clothes, cars and the warm, cluttered interiors of the resolutely analogue Neapolitan apartment where Alba Rohrwacher's Vanda and Luigi Lo Cascio's Aldo live with their primary-school-age daughter and son. A happy facade of bedtime stories and family TV sessions wears thin soon enough when, during a row in the kitchen, the intense, introverted Aldo tells his emotional, tightly-wound wife that he's seeing another woman.
Later, following Aldo to Rome, where he works as the presenter of a book programme on Italian state radio's cultural channel, we meet his vivacious young lover, Lidia (Linda Carridi), and realise he is as reluctant to commit to her as he is to leave Vanda for good. He may be good at smooth radio spiels about famous authors, but when asked to explain himself by either woman, he clams up – because he knows, we suspect, that to explain would be to reveal his moral bankruptcy.
The script's three-decade timespan is not continuous. Essentially, Ties consists of two interleaved sections, this first one set in the 1980s and another set over thirty years later – round about now, we assume – in which the older Vanda and Aldo, still married, still living together and still essentially unhappy, are played by Italian cinema and theatre stalwarts Laura Morante and Silvio Orlandi. Bridging them is a short section set in Rome in the 1990s that illuminates the film's title – though it works better in Italian, where 'lacci' means both 'ties' or 'bonds' and 'shoelaces'.
Shot in a close, warm handheld style that matches the stifling nature of the emotional prison the couple have built for themselves, Ties comes up with a few good visual and aural ideas – notably in a scene where Vanda invades her husband's inner work sanctum and we see them argue through the glass of the radio editing booth as some unseen hand throws a switch and mutes their dialogue. Views through glass loom large again in a child's view scene in which Vania attacks Aldo and Lidia in the street, knowing full well that the kids are watching from the car. But these virtuoso touches fail to make up for the frustrations engendered by a film that seems as locked in a holding pattern as its two main protagonists.
A final scene featuring the now adult children, played by Giovanna Mezzogiorno and Adriano Giannini, attempts to break this spiral with a surprise ending. But though the acting is excellent here as elsewhere, the effect is theatrical and a little trite. It feels, in the end, like a daytime TV spin on poet Philip Larkin's celebrated line "They f*** you up, your mum and dad".
Production companies: IBC Movie, Rai Cinema
International sales: mk2, intlsales@mk2.com
Producer: Beppe Caschetto
Screenplay: Domenico Starnone, Francesco Piccolo, Daniele Luchetti, adapted from Starnone's novel Lacci.
Cinematography: Ivan Casalgrandi
Production design: Andrea Castorina
Editing: Daniele Luchetti, Ael Dallier Vega
Main cast: Alba Rohrwacher, Luigi Lo Cascio, Laura Morante, Silvio Orlando, Giovanna Mezzogiorno, Adriano Giannini, Linda Caridi