Dir/scr: Avishai Sivan. Israel. 2015. 120 mins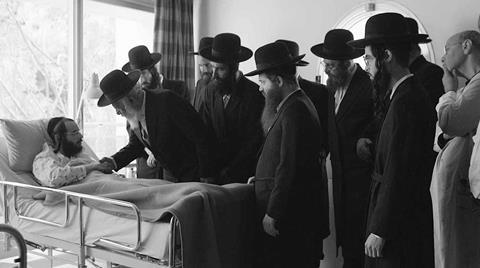 Avishai Sivan lays down a marker as the potential Carl Dreyer or Lars Von Trier of Israeli cinema with Tikkun, an impressive but relentlessly austere depiction of a crisis of faith. The story of a young, ultra orthodox yeshiva student and his journey from devotion to doubt is told in stark black and white images that unfold in a measured manner that borders on the soporific. It makes for a demanding, overlong two hours but the intensity of the approach and some provocative moments sustain interest as good intentions pave the way to a kind of hell.
Tikkun confirms Avishai Sivan as a distinctive voice in world cinema willing to get down and dirty with basic matters of faith
Tikkun (a religious reference) was named Best Film at the Jerusalem Festival and is sure to attract extensive interest from other festivals and committed cinefiles. Commercially it could prove a very hard sell - although that didn't stop distributors who successfully sought an audience for Dreyer and Von Trier over the years.
Haim-Aron (Aharon Traitel) is devoted to his studies to the point of martyrdom. He is always the last student to leave his college. When he drops his prayer boxes he fasts as a sign of repentance. Consuming a few squares of chocolate almost feels like a sin to him. One shot shows him as a solitary figure in a library lined with books that almost appears to consume him.
An accident in the shower at the very moment Haim-Aron was contemplating masturbation leaves him unconscious and unresponsive. After forty minutes attempting to revive him, the paramedics are prepared to declare him dead until his father (Khalifa Natour) intervenes. Miraculously, Haim-Aron comes back to life but it is changed both physically and spiritually.
He no longer has any need for glasses. He no longer has an appetite for his studies. His decision to stop eating meat is a particular affront to his father who is a kosher butcher. He acts with immodesty and starts hitchhiking to Tel Aviv where he is tempted by a prostitute. It is as if his Lazarus-like resurrection has left him a lost soul full of questions and doubts and cast adrift from the certainties he once embraced. In selfishly defying the will of God, Haim-Aron's father suspects he may be the architect of his own worst nightmare.
The depiction of an ultra orthodox Jewish community lends the film an added fascination and one assumes that many of the supporting players are non-professional actors. Aharon Traitel successfully depicts Haim-Aron as a constantly anguished soul in both his selfless devotion to God and his tentative sense of release once that has ended. Khalifa Natour is a powerful presence as his father, a formidable man whose spontaneous act of love for his son may have destroyed the natural order of his world.
Tikkun often looks striking. Cinematographer Shai Goldman captures haunting scenes of Haim-Aron alone in the city; a solitary figure at dawn's first light or shrouded in morning mist. The film has a startlingly surreal streak as Haim-Aron's father is confronted by an alligator that emerges from the toilet bowl or is distraught by visions in which he appears to have stabbed his son in the back. Director Avisha Sivan also invites controversy, especially when Haim-Aron digitally violates a dead woman left at the roadside after a car crash.
Formal in its construction and often favouring the calm gaze of fixed camera shots, Tikkun confirms Avishai Sivan as a distinctive voice in world cinema willing to get down and dirty with basic matters of faith.
Production companies: Plan B Productions, The Mouth Agape, United King Films
International sales: Plan B Productions ronenbental@gmail.com
Producers: Avishai Sivan, Ronen Ben Tal, Moshe Edery, Leon Edery
Cinematography: Shai Goldman
Editors: Avishai Sivan, Nili Feller
Production design: Amir Yaron
Main cast: Aharon Traitel, Khalifa Natour, Riki Blich, Gur Sheinberg, Omri Fuhrer