Mark Chao and Yang Zishan are stranded in Antartica in this pre-Lunar New Year release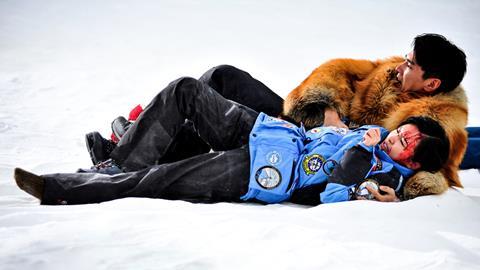 Dir. Wu You-yin. China. 2018. 114 mins.
The odds of being in a plane crash may be one in 11 million, but the chance of witnessing an aviation disaster at the multiplex is much greater. Just four months after Idris Elba and Kate Winslet braced for landing in The Mountain Between Us (2017), mechanical failure over Antarctica leaves Mark Chao and Yang Zishan perilously stranded in 'Til The End Of The World. Adapted by director Wou You-yin from his 2014 novel, this romantic survival yarn is unabashedly clichéd but benefits immensely from the natural splendour of Earth's southernmost continent and its reunion of the stars of the popular youth drama So Young (2013) in more physically taxing circumstances.
'Til The End Of The World prompts consideration of fate and nature's indifference to mankind's plight, although these themes are ultimately buried in an avalanche of sentimentality
If a fraction of the Mainland China television audience who swooned over the Taiwanese-Canadian heartthrob Chao in his recent series Eternal Love (2017) turns out to see him on the big screen, 'Til The End Of The World may enjoy a few weeks of reasonable local business before being swept away by a blizzard of Chinese New Year releases. Internationally, comparisons with The Mountain Between Us and a love story lacking full-blown passion should prevent it from breaking out of the niche market for Chinese language releases.
It opens with a chartered flight over Antarctica. One passenger is successful entrepreneur Wu Fuchun (Chao) who plans to launch an Antarctic wedding business catering to couples eager to celebrate their special day with the ultimate Instagram moment. With his brash persona, cheeky catchphrase ("Call me Fortune"), and ostentatious fur coat, he's the polar opposite of fellow traveler Jing Ruyi (Yang), a reserved scientist heading out to a remote research facility to study auroras. When a snowstorm causes the plane to crash, they emerge as the only survivors and are forced to overcome the elements together.
As the prodigiously knowledgeable Ruyi has broken her leg in the crash, she must depend on Fuchun who proves to be surprisingly capable once he accepts that his cellphone is useless in this part of the world. They find a small cabin with a working generator and enough supplies to last a few months, but their hope rests on being able to reach the station to which Ruyi was travelling. The problem is that it could be in any of four directions, entailing that Fuchun must trek out for days at a time until he finds the facility.
In contrast to The Mountain Between Us, the weakest element here is the crash sequence: its choppy patchwork of models, CGI, and rear projection cannot rival its Hollywood counterpart's unbearably harrowing four-minute long shot. However, cinematographers Lau Yiu-fai and Lau Chi-fai have a field day with the natural special effect that is Antarctica as 'Til The End Of The World boasts awe-inspiring vistas that serve to emphasise the paradoxical environment. This is one of the most beautiful places on Earth yet a single careless step can prove lethal.
Despite striving for accuracy by packing his screenplay with interesting facts (a polar science advisor is prominently listed in the opening credits), Wu strains credibility by cramming in every possible scenario as if to create the ultimate cinematic Antarctic survival guide. This means that the story takes on an episodic, almost leisurely feel after its urgent start as Wu flits from adventure to comedy to tearjerker in a bid for broad appeal, leaving Joe Hisaishi's typically layered orchestral score to smooth over the transitions.
Fortunately, the film has a confident leading man in Chao who is eminently relatable whether making light of his predicament by chatting to cute penguins or staring death in the face. Although ostensibly a two-hander, Yang has less to do, but nonetheless recaptures her chemistry with Chao and becomes more serenely luminous as the film progresses. Within the traditional man-versus-nature framework, their central romance finds blind optimism clashing with scientific rigour until animosity predictably thaws, albeit in a chaste manner that entails maudlin expressions of devotion rather than fiercely intense clinches.
Much of the film's emotional heft, then, comes from watching these protagonists constantly struggle only to be no closer to their mutual goal. Getting outside to restart a generator becomes an epic mission when one's leg is fractured, while chiselling out of a crevasse after a long fall requires interminable fortitude, yet any sense of triumph upon accomplishing the near impossible dissipates once the harsh reality of being trapped sets in again.
As with most survival stories, 'Til The End Of The World prompts consideration of fate and nature's indifference to mankind's plight, although these themes are ultimately buried in an avalanche of sentimentality. Still, the film is so sincere in its tribute to human resilience that even the most even the most hard-hearted audience member will be rooting for a happy ending.
Production companies: C2M Pictures, Skywheel Entertainment, Trapezes Production,
US distributor: China Lion,info@chinalionentertainment.com
Producers: Cao Xin, Stanley Kwan, Yuan Tian
Screenplay: Wu Youyin, based on his novel 'Till the End of the World'
Cinematography: Lau Yiu Fai, Lau Chi Fai
Production design: Lin Mu
Editor: Tu Yiran
Music: Joe Hisaishi
Main Cast: Mark Chao, Yang Zishan