Andrea Riseborough is superb as an alcoholic single mother from West Texas in Michael Morris's earnest feature debut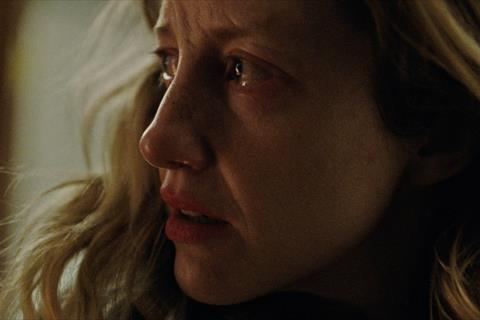 Dir: Michael Morris. 2022. US. 119 mins.
A single mother in West Texas wins $190,000 in the lottery. It's enough money to change her life: she could buy a house. She intends to, but first, Leslie (Andrea Riseborough) buys a round of drinks. Fast forward six years and Leslie is being evicted from a dingy motel room for failing to pay her rent. With her worldly belongings stuffed into a pale pink suitcase, Leslie takes temporary solace in the dim comforts of booze and men at a local dive bar. Andrea Riseborough gives a guttural and reliably first-rate performance as the titular Leslie in Michael Morris' painfully earnest feature debut about the limits of control.
Deliberately paced like a slow country ballad: three acts and the truth
Morris, who has worked mostly in directing TV (Preacher, Better Call Saul, Locke & Key) and newcomer Ryan Binaco, who wrote the script as a (warts and all) love letter to his mother, have crafted a familiar story about alcohol addiction. What gives theirs an edge over others of its kind stems from both Emma Rose Mead's authentic production design and the evocative grainy aesthetic of the film, which was shot on 35mm. Its impressive cast, anchored by a superb Riseborough and with Andre Royo, Owen Teague, Stephen Root, Allison Janney and Marc Maron in support, should garner interest from further indie events and possibly secure a limited release following its premiere at SXSW.
Riseborough has much to explore in Leslie, a complex character who is presented in two contrasting lights. The first is as an alcoholic vamp, heightened by the film's dimly lit bars. Leslie wears bright red lipstick with a pout to match, basking in the artificial glow of the neon signage. In the sobering light of day, Leslie is pale and sullen; bruised and beaten with burst capillaries, matted hair and stained clothes, her fingers black as soot, still holding soggy cigarette ends.
Pulling a tattered piece of paper from her pocket, Leslie has a list of scrubbed out phone numbers for her estranged son, James (Owen Teague), the only person she can beg for a second chance and somewhere to sleep. Before long, Leslie has run through every last chance, thrown out by her son and long-time friends Dutch (Root) and Nancy (Janney).
She has done wrong by everyone she loves and is sleeping rough when she is given one final opportunity to make good in the form of a menial job as a motel maid. Here, Leslie encounters unreserved compassion in Sweeney (Maron), the hapless fool who hires her, giving her room and board, and even an advance on her wage – no questions asked. As the pair grow closer, they share fragments of backstory and Larkin Seiple's cinematography slowly moves from mid shots to close-ups of their faces, mirroring the deepening of their connection.
It is this empathetic lens that fights the otherwise damning indictment of Leslie's mothering that the narrative offers. Morris focuses sharply on her weathered face, the message writ large: when no one else believes in you, it is hard to believe in yourself. Inspired by street photography from the 1950s and '60s, Seiple's lens watches but never judges. Chris McCaleb's edit adds dramatic tension, cutting from her furrowed brow to another dive bar, where Leslie stares down a shot and a pint.
Linda Perry (4 Non-Blondes) wrote an original song for the film, Angels Keep Falling, which plays gently over its final moments, a sweeter contrast to the raw lyrics and gravelly timbre of country tunes that carry the rest of the film, from Dolly Parton's Here I Am, to Willie Nelson's Are You Sure? (played ironically over last orders at the bar). Though To Leslie is a tad lengthy at just under two hours, it is deliberately paced like a slow country ballad: three acts and the truth.
Production company: Bluewater Lane Productions
International sales: UTA, BrunnerA@unitedtalent.com
Producers: Claude Dal Farra, Brian Keady, Kelsey Law, Ceci Cleary, Philip Waley, Jason Shuman, Eduardo Cisneros
Screenplay: Ryan Binaco
Cinematography: Larkin Seiple
Editing: Chris McCaleb
Production design: Emma Rose Mead
Music: Linda Perry
Main cast: Andrea Riseborough, Allison Janney, Marc Maron, Andre Royo, Owen Teague, Stephen Root, James Landry Hebert, Catfish Jean