Dir. Dome Karukoski. Finland, 2017, 116 minutes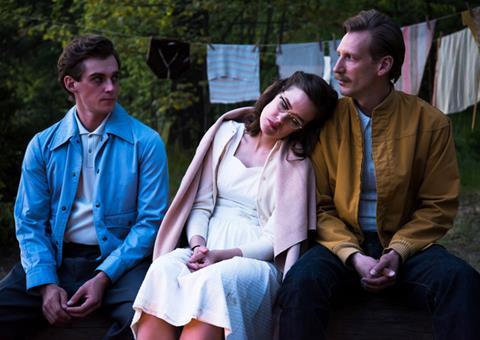 When Ilppo Pohjola's documentary about Tom of Finland, Daddy and the Muscle Academy, first appeared in 1991, it was a defiantly niche proposition targeted solely at the homoerotic artist's gay male fans. It's a sign of how times have changed that Dome Karukoski's biopic of the same subject - real name Touko Laaksonen - not only opens the Gothenburg Film Festival in its 40th anniversary edition, but is also carried at 40 locations throughout the region.
An artfully composed and sensitively acted life story
Audiences will be rewarded with an artfully composed and sensitively acted life story that also fairly nimbly encapsulates social and sexual progress in the second half of the 20th century. LGBT film festivals will queue up to programme the prestige picture - a €5m production filmed in Finland, Sweden, Germany, Spain and the USA - ahead of select arthouse theatrical distribution.
Tom of Finland is known for his wildly liberated pencil drawings of extravagantly muscled, massively endowed and beautifully handsome icons of hyper masculinity such as motorcycle cops, sailors and construction workers. What his fans maybe didn't consider is the experience of repression that fuelled these erotically charged images. And it's those experiences that give dramatic weight to this nicely poignant life story, spanning the years from World War II to the AIDS crisis.
We are introduced to Touko (Kites Over Helsiniki's Pekka Strang) as a withdrawn, private and rather haunted figure, who lives with his sister Kaija (Jessica Grabowsky) in post-war Helsinki. He lands a job as an art director at the advertising agency where Kaija works, but keeps his own artwork secret even from his sibling. Principal social pastime for Touko is anonymous sex in local woodland parks - which receive a police crackdown ahead of the 1952 Helsinki Summer Olympics. Since homosexuality is still illegal in Finland at this point, it's an irony that parkland cruising is a more achievable option than a committed gay relationship.
Screenplay by Aleksi Bardy (Heart of a Lion) strays into love-triangle mode when Kaija moves handsome young lodger Veli (Lauri Tilkanen), nicknamed Nipa, into the apartment. Kaija's romantic hopes are disappointed, as becomes clear when the trio heads for a midsummer visit to the countryside home of the Laaksonen extended family - a rather magical sequence that contrasts with the sombre tones of Helsinki.
The greatest contrast in visual palette, perhaps unsurprisingly, is reserved for the later California-set sequences, after Touko starts having his work published by US beefcake magazines under the nom de plume Tom of Finland. ("'Tom of Sweden' would sell more," suggests a printer when the alias is coined by a magazine editor. "But it seems Finland has bigger cocks," comes the reply.) This final act introduces two new characters: Doug (Seumas Sargent), a shy young man who reinvents himself in the aspirational macho image of 70s gay liberation, and handsome boyfriend Jack, played by Norwegian dreamboat Jakob Oftebro.
Narrative focus is an inevitable casualty of Karukoski and Bardy's ambition to tell a rather sprawling life story, which includes haunting flashbacks to the war (in which Touka knifes to death a Russian soldier) as well as the fallout from the 1980s AIDS epidemic (which saw Tom's sex-positive images included in the blame game).
If Touko remains a rather frustratingly unknowable figure, however, the film finds a rewarding heart in his touching relationship with Nipa - a sensitive ballet dancer who is far from the macho ideal of Tom's imagery, albeit a suitably pretty one. Nipa just wants to be able to hold hands in public, and to have "sissy" yellow curtains in their shared apartment; a beguiling flipside to his lover's relentless fetishisation of bulging black leather.
Production company: Helsinki-Filmi
International sales: Protagonist, info@protagonistpictures.com
Producers: Aleksi Bardy, Miia Haavisto, Annika Sucksdorff
Screenplay: Aleksi Bardy
Cinematography: Lasse Frank Johannessen
Editor: Harri Ylönen
Production design: Christian Olander
Music: Hildur Guönadóttir, Lasse Enersen
Main cast: Pekka Strang, Lauri Tilkanen, Jessica Grabowsky, Taisto Oksanen, Seumas Sargent, Jakob Oftebro, Niklas Hogner