Noémie Lvovsky delves into her own past for a story about a nine-year old girl whose mother isn't "all there"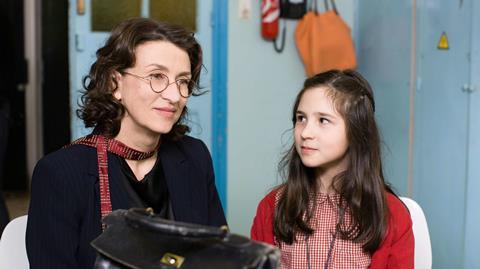 Dir. Noémie Lvovsky. France. 2017. 95 mins
A moving, intimate and intensely emotional coming-of-age story resounding with personal echoes, this gentle and touching picture is dedicated by Noemie Lvovsky to the memory of her mother, who died in 2010, whom she adored but once also lovingly described as someone "who wasn't all there".
Though Lvovsky was evidently deeply involved emotionally in the story, it is all delivered in subtle, low-key tones
Featuring a superb performance by Luce Rodriguez as the pre-pubescent girl who has to assume the role of an adult in her relations with her mother, expertly interpreted by Lvovsky herself, and carefully nursing its way between the pitfalls and clichés that tend to plague this kind of film, Tomorrow and Thereafter (Demain et tous les autres jours) should do well not only in festivals but also as a select family item in France.
Mathilde (Rodriguez), a bright, intelligent, introverted nine year-old, lives with her mother (Lvovsky), a warm, educated but fragile personality who tends to lose contact with reality every once in a while, her fits becoming more frequent as the film progresses. From the opening scene, where the two sit across the table facing the school counsellor who seems a bit concerned that Mathilde isn't sociable enough, the ties between mother and daughter are immediately evident. The older woman flies off on a tangent and loses her grip on the conversation, while the young girl is worried, embarrassed but terribly affectionate, desperately trying to cope with a situation that is beyond her capacity and age to deal with. A similar scene occurs again later, when Mathilde sings at a school ceremony and her mother jumps on the stage to hug her effusively, disrupting the entire event.
The plot's tapestry is enriched on the one hand by the character of Mathilde's father, yet another restrained but affective performance by Mathieu Amalric, who keeps an eye on his daughter from afar, since living with her mother is obviously such a challenge. On the other hand, there is the baby owl, offered to Mathilde by her mother, a kind of alter ego whose human voice is heard only by the girl and of course the audience.
Everything that goes through Mathilde's mind, from her mother's sanity to the familiar obsession with death at her age (provoked by a skeleton in an anatomy lesson), comes out in the deftly written conversations between the girl and her bird.
An often awarded and experienced actress and director, Lvovsky, who credits Arnaud Desplechin as an inspiration for playing both sides of the camera at the same time, never takes a wrong turn on either side. Though she was evidently deeply involved emotionally in the story, it is all delivered in subtle, low-key tones.
Alternately funny and sad, pert and melancholy, with a rich soundtrack ranging from Vivaldi to American ballads, Tomorrow And Thereafter moves at a brisk pace, relying every step of the way on Rodriguez and Lvovsky, who carry the entire picture on their shoulders. It works both as the portrait of a woman who realises she no longer can function as a mother or member of normal society, but also successfully conveys her lively daughter's desperate efforts to maintain appearances and keep her mother close by, cuddling her, telling her bedtime stories she invents on the spot and taking care of her (when the opposite should have been taking place). Only once does she break into frustrated anger, when these tasks simply turn out to be too much for her.
Production company: F for Film
International sales: Gaumont, ariane.buhl@gaumont.com
Producer: Jean-Louis Livi, Sidonie Dumas
Screenplay: Noemie Lvovsky, Florence Seyvos
Cinematography: Jean-Marc Fabre
Editors: Annette Dutertre, Anne Weil
Music supervisor: Hubert Cornet.
Main cast: Luce Rodriguez, Noemie Lvovsky, Mathieu Amalric, Micha Lescot, Elsa Amiel, Anais Demoustier
.