A happy excuse to revisit Woody & Co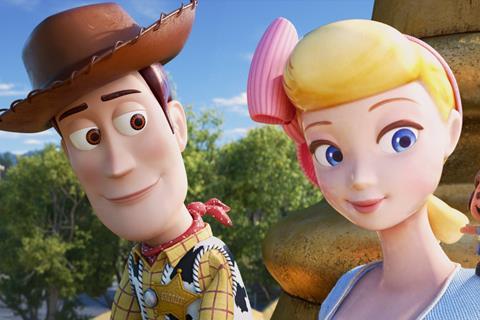 Dir: Josh Cooley. US. 2019. 100mins.
Nearly a quarter of a century since the original film, Toy Story 4 reaffirms this franchise's standing as the jewel in Pixar's crown: an adored property whose emotional resonance and abundant wit still shine. This sequel may not be as buoyant as previous chapters, but the filmmakers' continued commitment to honouring these characters — and to understanding what is so universal about their quest to love and be loved — is worth treasuring. Action-packed and tear-jerking, Toy Story 4 is, above all else, a happy excuse to revisit Woody and his friends as they go on another adventure underscored by loss and the eternal, inevitable need to set aside childhood things.
Almost everyone in this film wrestles with what it means to feel loved, and Cooley acknowledges the vulnerability that comes from such uncertainty.
Disney is set to release the film in the UK and US on June 21, hoping to eclipse the gaudy totals of 2010's Toy Story 3 ($1.1 billion worldwide). Last summer, Incredibles 2 grossed $1.2 billion — Pixar's current global champ — and good reviews should help propel Toy Story 4 to even higher sums.
The new movie finds Woody (voiced by Tom Hanks) getting accustomed to life with a new child, Bonnie (voiced by Madeleine McGraw), who seems less interested in playing with him than with his pals Buzz Lightyear (voiced by Tim Allen) and Jessie (voiced by Joan Cusack). Woody badly misses his former child, Andy (who is now grown up), but is determined to connect with Bonnie, who at her first day of school, makes her own toy out of a spork (a spoon/fork hybrid), naming him Forky (voiced by Tony Hale).
Woody tries to make Forky feel comfortable around the other toys — which is traumatic for Forky, who doesn't understand why he's sentient — but when Bonnie's whole family goes on a road trip, the two will find time to bond while encountering an evil doll named Gabby Gabby (voiced by Christina Hendricks).
This feature directorial debut of Inside Out co-writer Josh Cooley is overstuffed, and the film's two credited screenwriters and six additional storywriters labour to juggle a large cast of characters. Even Buzz becomes something of a supporting player, as Toy Story 4 focuses largely on Woody's difficult transition to his new life — to say nothing of his running into an old flame, Bo Peep (voiced by Annie Potts), whom he assumed he'd never see again. Their nervous romance — and the surprising personal transformation that has happened for Bo — is a large part of Toy Story 4, which also throws in an elaborate plot involving Woody's attempts to rescue Forky from Gabby's nefarious clutches.
That density of incidents and individuals can be exhausting, robbing the picture of its fleetness. (Between the rapid-fire jokes, Randy Newman's playful score and the whiz-bang action set pieces, these films enjoy flaunting their confident effervescence.) In addition, Toy Story 4 can't help but repeat previous thematic beats and emotional showstoppers.
But if some narrative déjà vu is inescapable, the filmmakers' ability to find new ways to chronicle Woody's insecurities remains rewarding. Andy may no longer be a part of this miniature cowboy's life, but Toy Story 4 illustrates just how painful that separation has been for him. In Bonnie, Woody seeks to replicate the past, only to learn the futility of that strategy.
Because Hanks continues to voice Woody as a goodhearted but stubborn toy — fiercely loyal but afraid of change — the character's fearfulness is amusing and poignant, and this sequel does a superb job chronicling his realisation that he needs to let go of outdated ideas about himself. This franchise has always been metaphorically rich, and Toy Story 4 adroitly comments on everything from empty-nest syndrome to the fear of a shifting, more diverse world that might feel alien to those used to the status quo.
Of the new characters, Hale's Forky is a goofy, anxious delight, while Keanu Reeves has a blast playing a daredevil action figure. Hendricks gives Gabby a sinister undercurrent, but such is Toy Story 4's generosity that even she is rendered sympathetically. Almost everyone in this film wrestles with what it means to feel loved, and Cooley acknowledges the vulnerability that comes from such uncertainty.
It's hardly an insight to note that this franchise was never simply about toys but, rather, life's impermanence — how childhood, friendships and loved ones eventually slip away. Toy Story 4 is a little too frenetic and a little less inspired, but if this ends up being the bittersweet final chapter, it can nonetheless teach kids and adults how to make peace with saying goodbye.
Production company: Pixar Animation Studios
Worldwide distribution: Disney
Producers: Jonas Rivera, Mark Nielsen
Screenplay: Andrew Stanton, Stephany Folsom, original story by John Lasseter, Andrew Stanton, Josh Cooley, Valerie LaPointe, original story by Rashida Jones & Will McCormack, Martin Hynes, Stephany Folsom
Production design: Bob Pauley
Editing: Axel Geddes
Cinematography: Patrick Lin, Jean-Claude Kalache
Music: Randy Newman
Main voice cast: Tom Hanks, Tim Allen, Annie Potts, Tony Hale, Keegan-Michael Key, Jordan Peele, Madeleine McGraw, Christina Hendricks, Keanu Reeves, Ally Maki, Joan Cusack