Christian Petzold's fourth Berlin competition film sees German refugees stuck in France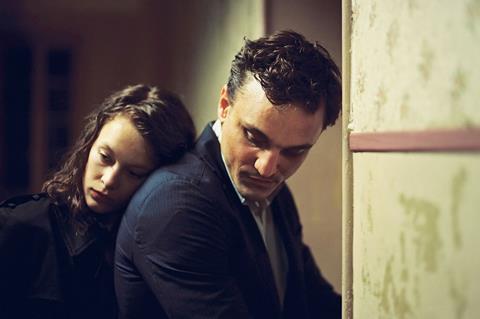 Dir Christian Petzold. Germany/France. 2018. 101 mins
Christian Petzold's films are invariably peopled by characters wrestling with identity, ghosts (both real and metaphorical) who are trying to escape world war, cold war, reunification. So it was perhaps inevitable that the director would find his own way towards Anna Segher's lauded 1942 existential novel concerning war-time refugees trapped in Vichy Marseilles while trying to flee the Nazis. You might say that, for good and ill, Transit is a match made in limbo.
Petzold has taken the bold decision not to dress Transit as an historical film, but to locate its action in the present-day. It is both then, and now
Like all of his work, the writer/director's fourth film in Berlinale competition is elegantly made, ingenious and intellectually challenging. Yet it's also too much like hard work to be entirely satisfying and, dramatically, it suffers from the same condition as its protagonists: inertia. After Phoenix, his most accessible film to date, this is a step back in what ought to be, for such a talented director, an easier bid to reach non-festival audiences.
With the Nazi troops just outside Paris, a German refugee, Georg (Franz Rogowski), escapes to Marseille. Before leaving the French capital he comes into possession of the papers of a writer, Weidel, who has just committed suicide. These include a manuscript, and a letter from the Mexican Embassy assuring Weidel of a visa. As only those refugees who can prove they're able to leave Marseilles are allowed into the port town in the first place, Georg duly assumes Weidel's identity.
While waiting for his ship, Georg encounters other refugees desperately waiting for transit visas to whisk them to safety – a conductor hoping to get to Caracas, a Jewish woman with her sights on the US. He also befriends the wife and son of a friend, who died on the flight from Paris, and the mysterious Marie (Paula Beer), who is desperate to find her husband – Weidel. As Georg falls in love, he has to find a way of saving Marie without revealing his deceit.
Most of the above scenario – the characters and their motivations – is evident from the screen; but the war-time setting is not. For Petzold has taken the bold decision not to dress Transit as an historical film, but to locate its action in the present-day. It is both then, and now. As if the novel didn't offer enough to mull over, he has upped the ante.
What this means in concrete terms is that Petzold and his production team have eschewed historical recreation, and place the actors amid contemporary Marseilles. There are no soldiers or tanks on the streets, only police cars. Costumes are what you might call classic.
Thematically, this gives the scenario the potential for incredible resonance. As the starving, fearful Europeans in the foreground of the story yearn for escape and a new life, Georg encounters today's African immigrants who inhabit their own living hell. When the narrator says that the locals "don't see you, you don't exist in their world," the powerful impression is that nothing has changed in the trade of lost souls, other than the conflicts that create them.
If only it weren't such a cryptic and heavy slog. Patience and an eagle ear are required for the inferences and scarce keynote words – 'fascists', 'the camp', 'cleansing' – in a script that places events in war-time France. Why certain people are speaking in French or German becomes a minefield of distraction.
Ironically, given his temporal ploy, Petzold doesn't offer enough contact with modern-day refugees – the one moment in which he does so is electrifying. He also introduces but seems to forget about the novel's interest in narrative (the refugees' anecdotes, Weidel's manuscript), in favour of the love quadrangle between Georg, Maria, a doctor and the dead husband, which singularly fails to spark.
Rogowski (Victoria, Happy End) carries the film with a surly charisma reminiscent of Joaquin Phoenix. But Beer, so good in François Ozon's Frantz, is given little opportunity to show what she can do.
Production companies: Schramm Film Koerner & Weber
International sales: The Match Factory info@matchfactory.de
Producers: Florian Koerner von Gustorf, Michael Weber
Screenplay: Christian Petzold, based on the novel by Anna Seghers
Cinematography: Hans Fromm
Editor: Bettina Böhler
Production design: Kade Gruber
Music: Stefan Will
Main cast: Franz Rogowski, Paula Beer, Godehard Giese, Lilien Batman