The extraordinary life of goalkeeper 'Bert' Trautmann is recreated in this UK/German co-production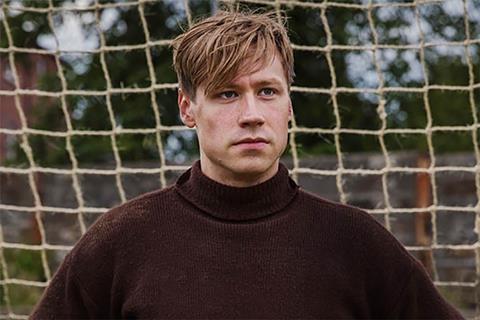 Dir. Marcus H. Rosenmüller. Germany/UK/Ireland. 2018. 119 mins.
A UK/German co-production both on and off the screen, Trautmann is a classically-made biopic, a post-war drama about a man whose life story – like many of that time – is almost unfathomable today. Bert Trautmann's name is well-known to British football fans as the heroic Manchester City goalkeeper who played to the end of the 1956 FA Cup Final despite having broken his neck. Not many, though, will be aware of the full back story explained here: how, as a former German POW, Trautmann refused repatriation and started to play the hostile UK minor leagues despite having been awarded an Iron Cross for his actions on the battlefront during the Second World War.
This should scores highly in both the UK and Germany, crossing over between football fans and older audiences
Director Marcus H. Rosenmüller (Grave Decisions) assembles a narrative in which, ultimately, the beautiful game draws former enemies together, and to that extent this match can feel predictable from the outset. Trautmann's life, however, was so full of unlikely plays that his personal journey is anything but. Lovely recreations of a post-War Britain (much shot in Northern Ireland), coupled with David Kross's sympathetic – if mostly mute – performance will ensure this scores highly in both the UK and German-speaking territories, crossing over between football fans and older audiences. Premiere TV slots alongside SVOD should also provide a rich playing field.
The trouble with an extraordinary life like Trautmann's is that, in trying to contain it all on screen, the film can feel episodic (war, followed by POW camp, followed by football, girlfriend, child, broken neck, etc). And Rosenmüller gilds the lily with a vengeful British prison sergeant, resulting in a pantomime tussle in a cemetery. For the most part, though, he has a strong grasp on this old-fashioned film, choosing to focus on the romance between Bert (Bernd) and Margaret (Freya Mavor), the daughter of the manager Jack Friar (John Henshaw) who is shown pulling him out of a Lancashire prison camp to play in goal for a struggling local team, St Helen's.
Apart from a few early scenes in German which set out the distinction between ordinary soldiers and bad Nazi's in the camp, there's a determination not to anchor Bert's character in pre-war or – past one repeated image – wartime Germany. There's no explaining away the fact he volunteered for service in the Luftwaffe, or spent four years at the front, so the filmmakers don't try to provide an answer in a traumatic childhood, for example, choosing to stick with Trautmann's own explanation that he regretted his actions.
So much time is devoted to the camp, Margaret, Bert's release and ultimate acceptance by Friar's family and friends, that the rest of the film sprints by a tad lopsidedly. Drawn together by flashbacks about the wartime death of a young Jewish boy who physically haunts Bert's life in the UK, Trautmann rattles through plot points which could fill an entire film by themselves. There's the huge protests outside Manchester City which greet Trautmann's appearances; a turning-point decision by the local Rabbi to accept the fact that a German would play in the league; success on the team culminating in that 1956 final and the broken neck; and further personal tragedy which results in Bert deciding not to play any more games due to crippling personal guilt.
There's something about Trautmann, though, that makes this film continuously watchable despite some heavy handed touches (traumatic sequences have a pronounced tendency to take place in the rain, for example). It's easy to look past this and search for him in every scene. That's of course due to Kross's silent appeal – although he's remarkably well-fed for a POW – but also to the sense that this is a good man whose extreme life story is an inspiration in very different times, when reconciliation can seem so difficult.
Production values are sound throughout. Adding greatly to the film's charm are early sequences set in local dance halls, matched later by recreations of pivotal games which cleverly meld in archival material to deliver a strong sense of time and place.
Production Companies: Lieblingsfilm GmbH, Zephyr Films
International sales: Beta Cinema, beta@betacinema.com
Producers: Robert Marciniak, Chris Curling, Steve Milne
Screenplay: Marcus H. Rosenmüller, Nicholas J. Schofield
Production design: Johannes Sternagel, Doerthe Komnick, Michael Binzer
Cinematography: Daniel Gottschalk
Editor: Alex Berner
Music: Gerd Baumann
Main cast: David Kross, Freya Mavor, John Henshaw, Harry Melling, Dave Johns