Dir. Jay Roach. US 2015. 124 mins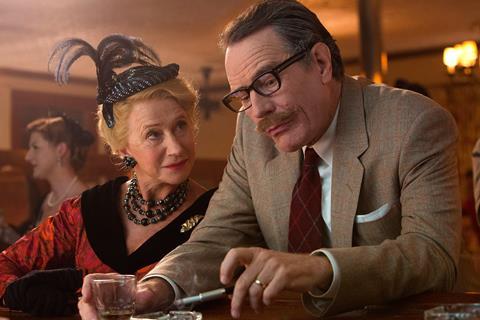 The anti-Communist hysteria of the McCarthy era may be one of the darkest periods in Hollywood history but few have dared to revisit it. The Way We Were (1973) and The Front (1976) are two of the rare titles to have ventured where others fear to tread. Trumbo views the era through the life of screenwriter and novelist Dalton Trumbo, serving up a surprisingly jaunty slice of Hollywood history that cuts a little deeper when it tries to illuminate the politics and injustice of the period. The accomplished, heartfelt central performance from Bryan Cranston has an outside chance at securing some awards season consideration, helping to attract the audience who sought out Hitchcock (2012) or Hollywoodland (2008).
Screenwriter John McNamara condenses major events and a full life into a two-hour movie which brings out all the issues of free speech and persecution to an audience who may be unaware of what happened more than sixty years ago
On the surface, Trumbo marks a considerable change of pace for comedy specialist Jay Roach (Austin Powers, Meet The Parents etc) but he still delivers a film that primarily seeks to entertain as well as inform. His approach is bright and breezy with plenty of snappy dialogue and comic situations to offset the horror that unfolds when an anti-Communist witch hunt is unleashed in Hollywood in the late 1940s.
Trumbo was the acclaimed screenwriter of a string of Oscar-winning hit movies from Kitty Foyle (1940) to Thirty Seconds Over Tokyo (1944). He had been a member of the Communist Party of the United States of America but when he refused to testify before the House Un-American Activities Committee, he was cited for contempt and sent to jail. One of the so-called Hollywood Ten, he was subsequently blacklisted by the major studios and only able to continue his profession pseudonymously as the real writer behind the screenplays for Roman Holiday (1953) and The Brave One (1956). A principled stand for his belief in free speech cost him dearly and a good deal of the film depicts his frantic efforts to stay afloat financially and his long, patient struggle to end the blacklist that eventually came when Kirk Douglas (on Spartacus) and then Otto Preminger (on Exodus) hired him and publicly credited his work for the first time in a decade.
In an inspirational speech towards the end of the film, Trumbo claims that we should not look for heroes or villains from the period but only victims. The film is a little more circumspect, depicting vicious gossip columnist Hedda Hopper (Helen Mirren) and uber patriot John Wayne (David James Elliott) as stalwarts in the anti-Communist movement and Kirk Douglas (Dean O'Gorman) as one of the true good guys.
Roach mixes black and white newsreels from the period featuring the likes of Robert Taylor and Humphrey Bogart with a string of actors playing famous faces of the period with varying degrees of success. Dean O'Gorman captures something of the athletic pugnacity of Kirk Douglas, Michael Stuhlberg conveys the defeated air of Edward G. Robinson and Christian Berkel is a hoot as the dictatorial Preminger.
Screenwriter John McNamara does a good job of condensing major events and a full life into a two-hour movie with enough substance to bring out all the issues of free speech and persecution to an audience who may be unaware of what happened more than sixty years ago. It may be a little glib at times but it does leave the audience with a sense of who Trumbo was, why he matters and the sacrifices made by a man once described as a " swimming pool socialist".
Bryan Cranston creates a potent sense of Trumbo as a reasonable man, full of charm, eloquence and principle and he is surrounded by a string of performances to savour from John Goodman as a cheerful philistine of a producer to Diane Lane as Trumbo's loyal wife.
Production Companies ShivHans Pictures, Groundswell Productions
International sales: Entertainment One Features features@entonegroup.com
Producers: Michael London, Janice Williams, Shivani Rawat, Monica Levinson, Nimitt Mankand, John McNamara, Kevin Kelly Brown
Executive producer: Kelly Mullen
Screenplay: John McNamara based on the biography by Bruce Cook
Cinematography: Jim Denault
Editor: Alan Baumgarten
Production design: Mark Ricker
Music Theodore Shapiro
Main cast Bryan Cranston, Diane Lane, John Goodman, Helen Mirren, Elle Fanning