A college game turns sinister in this lacklustre horror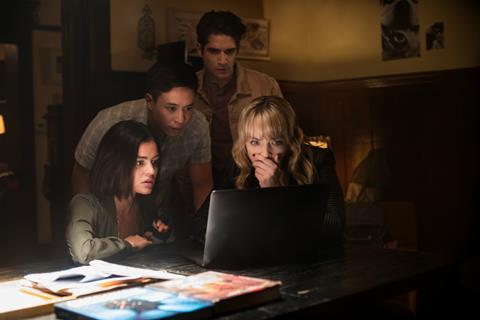 Dir: Jeff Wadlow. US. 2018. 100mins.
The truth hurts — and sometimes kills — in Truth Or Dare, a risible horror film cursed with a dopey premise. Preying on the secrets and lies of a group of college chums, a deadly, supernatural version of the popular adolescent game results in murder, madness and misunderstandings — but there's precious little to care about in a movie that's neither ingenious nor silly enough to savour.
The film is mostly populated by the kinds of disposable, angst-y teens that are the hallmark of threadbare horror flicks
Opening April 13 in the US and UK, this Universal release will have to hope that producer Jason Blum's recent track record of horror hits (Get Out, Split, Happy Death Day) adds a little sparkle to this woeful offering. Truth Or Dare will face direct competition from A Quiet Place, and a lack of star power may also hurt the film's commercial prospects.
Olivia (Lucy Hale) and Markie (Violett Beane) are lifelong best friends and college seniors, anxious at the prospect that soon they'll be going their separate ways after school. They decide to take a Spring Break trip to Mexico with some close pals — including Markie's boyfriend Lucas (Tyler Posey) — where they meet a mysterious stranger (Landon Liboiron) who takes them to a spooky, abandoned mission to play a game of "Truth Or Dare". What Olivia and Markie don't realize, however, is that it's a trap. Once they start playing, they can't stop — if they do, they'll be killed by demonic forces.
Director and co-writer Jeff Wadlow (Kick-Ass 2) works with a potentially juicy, Final Destination-like hook in which these friends try to outsmart whatever evil curse has them in their clutches while revealing horrible truths or undertaking painful dares. For the seemingly close-knit characters, admitting certain sensitive things to one another can be as fraught as being dared by this evil spirit to smash someone's hand with a hammer.
But for Truth Or Dare's terrors to really lacerate, we need to be deeply concerned about these characters' fate — or, at the very least, relish the possibility of them destroying one another as the game spirals further out of control. Alas, aside from Hale, who's moderately compelling as a socially conscious young woman who, nevertheless, is hiding some dark secrets, the film is mostly populated by the kinds of disposable, angst-y teens that are the hallmark of threadbare horror flicks.
Wadlow invests heavily in a possible romantic triangle between Olivia, Markie and Lucas — do Olivia and Lucas share a hidden infatuation? — but that development mostly sets the stage for some very ridiculous plot twists that conveniently force members of the attractive cast to get undressed.
Beyond the requisite (and irritatingly shrill) jump scares, Truth Or Dare tries to spook viewers by introducing dark character beats, including references to suicide and alcoholism, that are meant to ground the proceedings in real-world trauma. But the glibness with which Wadlow reveals these plot points borders on insulting and insensitive, and the generally unimaginative way in which the origins of this curse and the possible remedy are uncovered speak to the paucity of inspiration throughout the film.
Lest anyone think that Olivia and company can avoid bodily harm by simply choosing "truth" every time, the film has a mildly clever surprise for why that strategy won't work. But Truth Or Dare quickly runs aground as its not-very-bright characters fight to stay alive and track down the stranger who cursed them in the first place. Normally, the naughty fun of "Truth Or Dare" is in the possibility of hearing shocking confessions and undergoing humiliating challenges. With this movie, though, most of the excitement stems from counting down how many main characters are left alive — with each death, the audience is that much closer to being done with the whole bloody boring affair.
Production company: Blumhouse Productions
Worldwide distribution: Universal Pictures
Producer: Jason Blum
Screenplay: Michael Reisz and Jillian Jacobs & Chris Roach & Jeff Wadlow, from a story by Michael Reisz
Production design: Melanie Paizis-Jones
Editing: Sean Albertson
Cinematography: Jacques Jouffret
Music: Matthew Margeson
Main cast: Lucy Hale, Tyler Posey, Violett Beane, Hayden Szeto, Landon Liboiron