Indian horror opens Venice Critics Week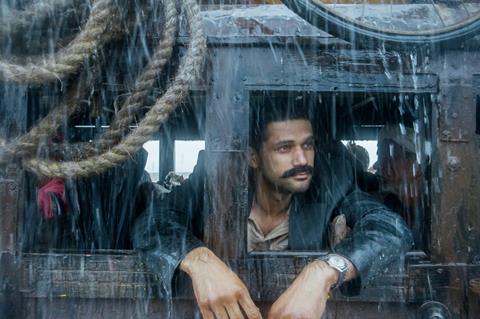 Dirs: Rahi Anil Barve, Adesh Prasad. India/Denmark. 2018. 109 mins.
It's always refreshing to see independent Indian film producers and talent trying out new genres: hard-boiled crime has become a staple of directors such as Anurag Kashyap, but horror has had a patchier record in the subcontinent. This could be changing: Venice Critics Week opener Tumbaad comes hot on the heels of supernatural thriller Pari, and it's perhaps no coincidence that both these 2018 releases are co-produced by stars eager for more challenging roles – Anushka Sharma in the case of Pari, Sohum Shah in Tumbbad.
The FX dazzle can't paper over the cracks in a story which has begun to drag
Audiences in search of a new world cinema niche to explore may want to bide their time, however, as Rahi Anil Barve's debut may well be confined to fantasy fests outside of its native land. Set in and around colonial Pune (Maharashtra state's second city after Mumbai), it's an initially atmospheric yarn let down by weak stock characters and a long veer into fright-free period drama in its over-long middle section. A re-engagement with horror in a series of delirious CGI-driven scenes set in a goddess' womb only partly make up for the lull.
Drawing on Indian folk legends and the work of Marathi horror genre writer Narayan Dharap, Tumbbad centres on a corrosive secret passed down from generation to generation – a Midas-like curse relating to a hidden treasure that, we're sure from the get-go, is unlikely to make its owner happy. The story is engagingly presented in an expository prologue and the first of the film's three chapters, which takes place in 1918 in the remote rural area that gives the film its name, lashed by rain day and night.
One of the virtues of Anil Barve's film is its sensory vividness, a quality well displayed in the isolated farmhouse where the first part is set. Rain and mud, cobwebs and slime, rusty metal, flour (a recurring motif), the smooth skin of a frightened young boy and the putrid, waxy flesh of his zombie-like great-great-great-grandmother, who has to be fed constantly to keep her semi-comatose, provide plenty of tactile frisson. The boy in question is Vinayad, and we will soon see him fifteen years on, now played by Sohum Shah, who also featured in the same production teams' well-received The Ship of Theseus.
At this point Tumbbad becomes something else entirely, a humour-laced ramble set in the backstreets of colonial Pune, hinging mostly on the wary friendship between Vinayad and the wily merchant Raghav (Deepak Damle), who buys the gold coins that Vinayad produces, month by month, in a slow but steady trickle. Colonial officials give way to Indian independence activists in a script that seems over-keen to walk us through history (Vinayad gets a gramophone, then a motorbike, then a car), and characters are introduced (like an opium-addicted mistress) who serve no useful purpose other than to chart Vinayad's gradual descent into cynicism and self-hatred as he grows richer.
Things perk up a little in the film's third chapter, set in 1947, when the source of Vinayad's gold coins is finally revealed. But the FX dazzle can't paper over the cracks in a story which has begun to drag. Competently shot with a handheld feel, the film is given a swelling soundtrack by video game composer Jesper Kyd. And the acting is credible throughout, especially from the three main juvenile leads.
Production companies: Eros International & Aanand L. Rai present a Sohum Shah Films production in co-production with Film i Vast and Filmgate Films, in association with Colour Yellow Productions
International sales: Eros International, eros@erosintl.com
Producers: Sohum Shah, Aanand L. Rai, Mukesh Shah, Amita Shah
Screenplay: Mitesh Shah, Adesh Prasad, Rahi Anil Barve, Anand Gandhi
Production design: Nitin Zihani Choudhury, Rakesh Yadaw
Editing: Sanyukta Kaza
Cinematography: Pankaj Kumar
Music: Jesper Kyd
Main cast: Sohum Shah, Deepak Damle, Madhav Hari Joshi, Anita Date, Ronjini Chakraborty, Mohd Samad, Harish Khanna, Cameron Anderson, Jyoti Malshe, Dhundiraj Prabhakar Jogalekar, Rudra Soni