Nadège Trebal makes the move from documentary to narrative feature with a moody romance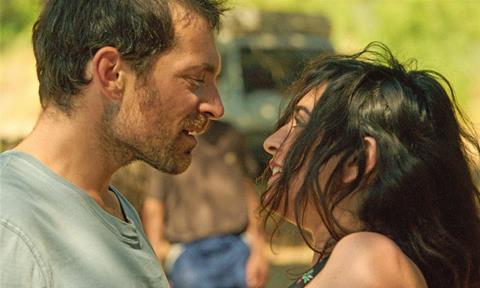 Dir/Scr: Nadège Trebal. France. 2019. 111 mins
Love and money are inextricably linked in Twelve Thousand. Writer/director/co-star Nadège Trebal makes a confident move into narrative features with a fatalistic, politically charged romance that is underpinned by a sense of the financial pressures and human casualties of a globalised economy. Further festival exposure should follow its Locarno premiere with the potential for some theatrical play in territories with an appetite for moody, quintessentially French cinema.
A picaresque yarn
Known for her documentaries Bleu pétrole (2012) and Casse (Scrap Yard) (2013), Trebal weaves those real-life experiences of workers, union organisers and the price of de-industrialisation into Twelve Thousand. She also takes a Dardennes brothers-style premise and invests its central couple with some of the heat found in a 1980s Jean-Jacques Beineix classic.
Frank (Arieh Worthalter) and Maroussia (Trebal) are a crazy-in-love blue collar couple whose physical attraction seems to operate at a permanent fever pitch. When Frank loses his (illegal) means of employment, he fears that he will also lose Maroussia. He vows to go in search of work and not return until he can match the 12,000 euros of annual income that Maroussia makes from child minding. He sees it as the one way he can prove his love, his worth as a man and his status as an equal in their relationship.
Frank sets off on an odyssey that has the feel of a knight on a noble quest. He is promised a minimum wage job miles from home as an industrial cleaner at an oil refinery. It is the first stage in a journey that is both external and internal as he discovers who he is and what he is prepared to do for the woman he loves. A charmer who will try anything, he sells cigarettes, works in security and even plays the fool and dances for the paltry Euros thrown at him by amused colleagues.
Twelve Thousand becomes a picaresque yarn as we follow the risks Frank takes and the temptations that confront him along the way. Various encounters expose the pride and hurt of those exploited by a country that seems to have nothing left to offer its ordinary workers. A twinkly-eyed Arieh Worthalter may invest Frank with a vulpine, roguish charm but it is not entirely convincing that every single woman he meets seems to go weak at the knees in his presence. It may just be Trebal's point that sex is the only currency these women possess.
Trebal also sets a number of rules that contrive to create distance between Frank and Maroussia, from a decision to avoid phone contact to an agreement that he will only return home when he has the exact sum required.
Trebal's most unexpected touch is the element of dance that runs through the story from a little choreographed routine at one of Frank and Maroussia's reunions to the lighter than air movements of a band of women, stealthily moving through the dark as they rob the vast containers where Frank works as a security guard. It is a little seasoning of whimsy in a film that treats its heavy themes with a light touch and rewards the viewer with a closing note of hope.
Production companies: Mezzanine Films, Maia Productions
International sales: Shellac sales@shellac-altern.org
Producers: Mathieu Bompoint, Gilles Sandoz
Editing: Cédric Le Floc'h
Cinematography: Jean-Christophe Beauvallet
Music: Rodolpe Burger
Main cast: Arieh Worthalter, Nadège Trebal, Liv Henneguier, Francoise Lebrun, Théo Cholbi