Ken Fero continues his powerful catalogue of deaths in police custody in the UK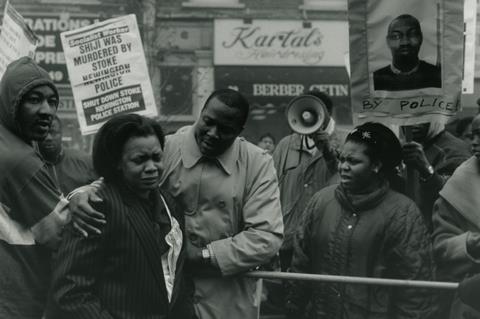 Dir: Ken Fero. UK. 2020. 75mins
Ken Fero and Tariq Mehmood's 2002 controversial documentary Injustice threw a shocking light on the unacceptable number of deaths that occur in police custody in the UK. (The Police Federation threatened to sue anyone who showed the film.) Nearly two decates later, he has produced a follow-up, written by Mehmood, which shows there's still something very rotten in the criminal justice system here. Making its debut at the London Film Festival, Ultraviolence, like Injustice, doesn't pull any punches. It may be a difficult watch, but, like its predecessor, it's a valuable took of education and protest as Fero combines achieve news footage, CCTV tapes and family testimony to document the cases of six individuals who lost their lives at the hands of the British police.
"This film is a memory for those who cannot forget, and a warning for those who refuse to see."
They are Christopher Alder, who died from a head injury on a police station floor in 1998. Brian Douglas (with whom Fero went to school) was struck on the head by a police baton in May 1995 and died from a fractured skull. Jean Charles De Menezez was mistaken for a terrorist and shot dead by police in July 2005. Paul Coker died alone in his cell. Roger Sylvester's violent arrest in January 1999 left him in a coma from which he never recovered. Finally, Nuur Saeed fell from a third floor window during a police raid in January 2006.
Fero delivers a roll-call of violence, made worse by the fact the families of all the dead men are still calling out for justice. Fero points out the fact that the majority of these victims were poor and non-white, illustrating, he says, the UK's historical issues with class and race which now lie at the centre of the country's politics.
While Fero knows the appalling facts he presents speak for themselves, he has also crafted a documentary which includes animated sequences from Ryan Potter which accompany accounts of the police violence and help bring a simplicity to each case. Working with editor Steve Morris, Fero and Mehmood pull in ideas from thinkers including Susan Sontag, about the need to look outside the frame of media images which are presented as fact. From filmmaker Paolo Pasolini, they dissect the idea of the "long take" pointing out that while deaths in cinema are usually short sharp shocks, real life is not so cinematic. Death is extended agony for both the victims (as we witness through distressing CCTV footage) and those left behind.
Repeated on screen texts speak to the vicious cycle of abuse, cover-up and protest that's happening not just in our justice system but also across a world defined by perpetual warfare and the politics of fear. "I have the truth," says Janet Alder, Christopher's sister, who this year made the awful discovery that the body her family were given to bury a decade ago was not that of her brother. Yet, as Ultraviolence reminds us, the truth is no longer the issue, but justice.
Fero himself acts as one of the film's narrators, couching his personal voiceover as a letter to his son about the importance of holding those in power accountable for their actions. "I have told stories of violence many times before," he says. "This film is a memory for those who cannot forget, and a warning for those who refuse to see."
Production company: Migrant Media
Producer/international sales: Ken Fero kenfero@btinternet.com
Screenplay: Tariq Mehmood
Cinematographers: Kaoutaiba Al Janabi, Souleyman Garcia
Editor: Steve Morris