Erige Sehiri makes her fiction debut with this gentle human drama set in a Tunisian orchard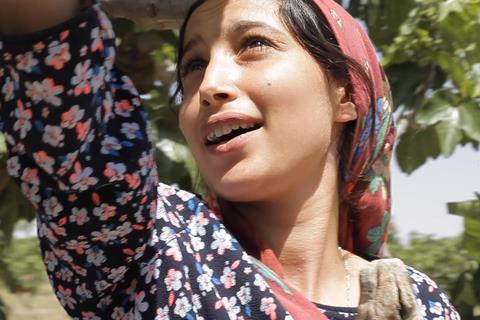 Dir: Erige Sehiri. Tunisia/France/Switzerland/Germany/Qatar. 2022. 92 mins
Picking figs is a delicate business. Leaves are used to line the basket to stop the fragile fruit from bruising, and tree boughs need to be bent gently lest they break. Director Erige Sehiri – along with her co-writers Ghalya Lacroix and Peggy Hamann – shows similar care in the way she treats the interconnected relationships of fruit pickers and their boss in this low-key ensemble drama which unfolds during a single hot day in a Tunisian orchard.
Sehiri has already proved herself as a documentarian with the award-winning Railway Men, and she brings that same sense of naturalism to her debut fiction feature
Under The Fig Trees has already been picked up by distributors in the Middle East, North Africa and France ahead of its world premiere in Cannes Directors' Fortnight, and it's likely to travel further thanks to its engaging depiction of summer flirtations and gentle exploration of sisterhood against a patriarchal backdrop. French-Tunisian filmmaker Sehiri has already proved herself as a documentarian with the award-winning Railway Men, and she brings that same sense of naturalism to her debut fiction feature. She's aided by a non-professional cast who are from the same north-western region where the film is set and who helped develop the script through improvisation. Her co-writer Lacroix, who also co-edits, shares a similar slice-of-life sensibility, having previously co-written films including Couscous and Mektoub, My Love with Abdellatif Kechiche.
The film's easy-going naturalism is evident right from the opening scenes, as we see teenage girls and older matriarchs chat by the roadside while they wait for their boss in the soft early light. They pack themselves onto his flatbed truck, the younger generation swapping shy smiles with the handful of boys who are also along for a ride, with the only exception being Fide (Fide Fdhili), who sits up front with the boss. Amin Bouhafa's score offers periodic additional movement and traditional songs also appear at key moments but, for the most part, it's the rustling of trees and birdsong that holds sway, thanks to immersive sound design from Aymen Laabidi, Yazid Chaabi and Jean-Guy Véran.
Once the workers reach the orchard, Sehiri and her cinematographer Frida Marzouk stay close and watchful as the youngsters get to work picking the fruit while the older generation sits elsewhere, carefully packing it into crates. It's hard work but there's also freedom among the trees, where flirtation is possible in a way it might not be in the confines of their village. As the day progresses, we'll see several courtship rituals play out, from young Sana (Ameni Fdhili) who wishes the object of her affections Firas (Firas Amri) was more conservative, to Melek (Feten Fdhili), whose ex-boyfriend Abdou (Abdelhak Mrabti) has returned for summer work after moving away to the coast and who is dealing with family tensions now that he is back.
There will also be other dramas as the day unfolds, but they are mostly of a modest sort that means the story stays believable. Less important than individual plot developments is the interplay between the characters, who are all attentively drawn, as they talk about their diverse views on marriage and romance.
Although the older generation is not the film's main focus, we see enough to know they remember their own youthful affairs. One woman, Leila (Leila Ouhebi), still wells with emotion as she recalls the love of her life, who she was unable to marry. There's a sense of playful fun to many of the interactions, too, from an agreement to a secret assignation in the yogurt section of the supermarket, to unusual burial arrangements. Darker themes about the abuse of power are allowed to emerge but nobody is painted as a pantomime villain. Opportunities for young women in this world may be few but they stand together and ready to take those that are offered and, as they leave the field for the day, the sweet warmth of shared experience and solidarity lingers.
Production company: Henia Production, Maneki Films
International sales: Jennyfer Gautier, Luxbox Films, jennyfer@luxboxfilms.com
Producers: Erige Sehiri, Didar Domehri
Screenplay: Erige Sehiri, Ghalya Lacroix, Peggy Hamann
Cinematography: Frida Marzouk
Editing: Ghalya Lacroix, Hafedh Laaridhi, Malek Kamounn
Music: Amin Bouhafa
Main cast: Fide Fdhili, Feten Fdhili, Ameni Fdhili, Samar Sifi, Leila Ouhebi, Hneya Ben Elhedi Sbahi, Gaith Mendassi, Abdelhak Mrabti, Fedi Ben Achour, Firas Amri