Dir/scr: Javier Fuentes-Leon.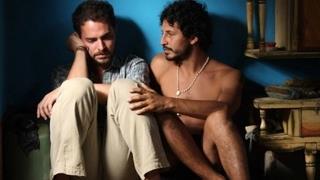 Peru/Columbia/France/Germany. 2009. 100 mins.
A delicate drama about a Peruvian villager's struggle to keep his gay love affair hidden, Undertow (Contracorriente) may be slight, but its simple, unhurried emotions have their pleasures. For his feature debut, writer-director Javier Fuentes-Leon concocts an unlikely romantic triangle in which one of the participants is a ghost, resulting in gentle observations about love, courage and honour.
Contracorriente may find a friendly reception in upscale art houses, with the film's gorgeous Peruvian seaside locations helping it along, although wider theatrical exposure seems unlikely.
Blissful married couple Miguel (Cristian Mercado) and Mariela (Tatiana Astengo) are about to have their first child, but Miguel has been secretly having an affair with Santiago (Manolo Cardona), a handsome painter. When Santiago dies in a boating accident, his ghost visits Miguel to ask him to find his body and give it a proper burial, which risks exposing Miguel's clandestine relationship to his homophobic village community.
Fuentes-Leon finds a novel twist on the plot gimmick of having the dead interact with the living by at first making the situation seem like the answer to Miguel's prayers: he can stay married to Mariela while occasionally spending time with the now-invisible Santiago.
But, of course, things quickly grow ever more complicated, and Fuentes-Leon does a nice, understated job of slowly peeling away Miguel's deceptions until he finally has to decide how to openly pay homage to his dead lover.
As Miguel, Mercado must walk a fine line, demonstrating how the character can genuinely love two different people without making him seem insensitive. That he navigates that balancing act so well is a testament to a film that offers no grand insights but contains plenty of modest humanity.
To sign up for Screen's weekly Reviews Newsletter with all the week's new releases, international openings and full festival reviews delivered free to your mailbox every Friday, please click HERE
Production companies
Dynamo
Elcalvo Films
Cinefacture
Memento Films
Neuecameo Films
Worldwide sales
Shoreline Entertainment
+ 1 310 551 2060
Producers
Rodrigo Guerrero
Javier Fuentes-Leon
Cinematography
Mauricio Vidal
Editors
Roberto Benavides
Javier Fuentes-Leon
Music
Selma Mutal
Main cast:
Cristian Mercado
Manolo Cardona
Tatiana Astengo
Jose Chacaltana
Emilram Cossio
Cindy Diaz