A dark, propulsive thriller about corruption and racism in Romania's police force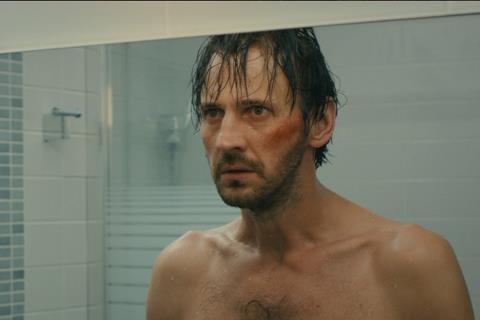 Dir. Bogdan George Apetri. Romania. 2020. 123 mins
Florin (Bogdan Farcas), a detective known for his ruthless approach and his muscular interrogation techniques, is preoccupied with a case, even as his life disintegrates around him. But the focus of Bogdan George Apetri's propulsive Romanian thriller is not so much the case itself, but the mystery of Florin's dogged obsession with it. A brisk, unfussy screenplay gradually reveals that what we are witnessing is not the solving of a crime, but rather a crime in the process of being committed. As the layers of police corruption and institutional racism are peeled back, it becomes increasingly clear that justice was never Florin's main motivation.
A grimly efficient character study of a flawed and damaged man
The second feature from Apetri (his first was Outbound, which won multiple awards including Thessaloniki's Golden Alexander), Unidentified screens in Thessaloniki having already won the Special Jury Award at the Warsaw International Film Festival. It's a grimly efficient character study of a flawed and damaged man who is intent on visiting harm to those he perceives as wrongdoers, and an indictment of the system that protects him. Bleak, but grubbily effective, the film should find a receptive audience on the festival circuit but the picture's unrelentingly downbeat world view might present a marketing challenge for more general audiences.
A rangy, unshaven detective, with lank hair and bitterness carved into his face, Florin has the kind of single-minded approach that allows him to block out all distractions. Increasingly urgent calls from those he owes money to remain unanswered; his boss's direct orders are ignored. His steely focus is trained on the case of two fires at two separate hotels, both owned by the same man. Florin is convinced they were both arson, and has a suspect in mind. But his boss refuses to give him the case, telling him to take time off instead or risk burning out.
Apetri deftly balances the ugliness of his central character – Florin is a cruel man who uses his police badge as a weapon to intimidate and who ruthlessly milks his friends for money and favours – with moments of striking beauty elsewhere. Music is key. In one terrific scene, the camera rests on Florin as he glowers at paperwork, while behind him, a child, the son of one of his colleagues, plays the violin with unexpected skill. In his busted up car, soon to be repossessed by the bank, Florin listens to Chopin. It's a thread of connection to his musician wife, Stela, who, it soon becomes clear, no longer lives in the flat they once shared. Elsewhere, the glowering institutional police station interiors and the morose parking lots are balanced by airy drone shots of the town and the lush forests that surround it.
Florin, however, is oblivious to the natural beauty of his surroundings. Wild-eyed, clammy of complexion and increasingly covered in cuts and bruises, he looks, says his boss, "like a scarecrow". With a habitual expression of curdled sourness, he is not a man who invites trust. Which is why, when he follows up his ruthless interrogation of illiterate gypsy Banel (Dragos Dumitru) with an appeasing pay-off and the offer of a job, Banel's readiness to go along with the suggestion is somewhat surprising. There are questions, too, about just how watertight is the incriminating plan that Florin has been working towards all along. But, as the film argues in a powerful final scene, when the majority of Florin's fellow cops are every bit as rotten as he is, that hardly matters.
Production company/international sales: Fantascope Films, office@fantascopefilms.ro
Producers: Florin Serban, Bogdan George Apetri
Screenplay: Iulian Postelnicu, Bogdan George Apetri
Cinematographer: Oleg Mutu
Editor: Bogdan George Apetri
Music: Frédéric Chopin
Main cast: Bogdan Farcas, Dragos Dumitru, Vasile Muraru, Ana Popescu, Kira Hagi, Andrei Aradits