An infectious documentary about roller skating takes the audience award (docs) at Tribeca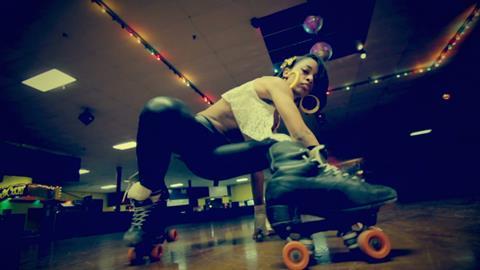 Dirs/prods. Dyana Winkler, Tina Brown. US. 2018. 88 mins
Who knew that roller skating was such an integral part of American life, especially for African-American communities? Dyana Winkler and Tina Brown's affectionate documentary United Skates is a real eye-opener, finding the wider fascination and emotional hooks in what initially appears to be a niche-interest subculture subject. The Audience Award at Tribeca will help attract attention towards a film that should feel like a pleasant discovery for audiences and critics alike.
The documentary really starts to grip as it grows to explore the social, political and financial aspects of the roller rinks
United Skates is both a celebration and lamentation for the roller rink. Once upon a time, every major urban centre in America could boast a rink that formed an essential part of the local entertainment landscape, allowing young and old to let off steam, hone their fancy moves or escape their daily cares. In Los Angeles, they became a neutral space where rival gangs would set aside their differences to relax in peace. They were also an essential element in the early years of hip hop and rap as the one decent-sized venue where emerging artists could perform. Salt-N-Pepa and Coolio are among those offering their testimony, but any celebrity element is quickly discarded in favour of emphasising what skating and rinks mean to ordinary individuals.
Woven through the documentary are the human interest stories of Los Angeles mother Phelicia Wright and her five children, struggling Chicago rink owner Buddy Love and passionate North Caroline skater Reggie Brown. Skating is such a vital part of their lives that their individual stories help to bring the subject alive.
The documentary really starts to grip as it grows to explore the social, political and financial aspects of the roller rinks.Gentrification means that countless rinks are disappearing as land is rezoned for more lucrative options of shopping malls and housing. There are potent aspects of racism to the way the African-American communities have been treated. White rink owners have prohibited the playing of soul music, imposed a specific dress code or banned the sizes of wheels or styles of skates, anything that lets it be know that some audiences are less welcome than others. Reggie devotes his energies to re-establishing an " Adult Night" in which black audiences know that the music and house policy will be sympathetic.
The most dynamic elements of United Skates are some all too brief montage sequences showing off the different regional skating styles from the Texas Slow Walk to the Ohio bounce, Atlantic Jackknife and a painful, splits-like move called the nutcracker that requires little explanation. The flow, movement and athleticism in these scenes capture a sense of the carefree joy in skating. That joy is balanced by a plaintive sense of loss in the roll call of establishments across America that have closed. A giant map of the country is dotted with white spots noting the rinks that once were and their disappearance is marked, quite literally, by the lights going out all over America.
Infused with nostalgia, United Skates is also an infectious call to arms, noting the way in which communities are starting to fight back. Any such movement surely begs for a promotional slogan of Make America Skate Again.
Production company: Sweet Ninja Films
International sales: Endeavour Content KIwashimi@endeavorcontent.com
Screenplay: Dyana Winkler
Editing: Katharine Garrison
Cinematography: Matthew Peterson, Tina Brown, Dyana Winkler
Music: Jongnic Bontemps, Jim Winkler
Featuring: Phelicia Wright, Reggie Brown, Buddy Love