Russian drama is a challenging winner of the New Directors award at Spain's premier festival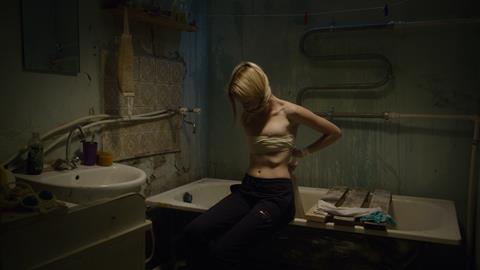 Dir: Lena Lanskih. Russia. 2021. 109 mins
'Is it better to be young?' the teenage protagonist is asked in Unwanted, and on this evidence, the answer must be a resounding 'no'. A grim catalogue of the ways in which supposedly modern societies are still defined by the invisible underclass, this gruelling tale of the trials of a 14-year-old mother in a bleak town in the Urals is driven by a deeply committed performance by Anastasiya Strukova, whose raw, unvarnished truthfulness renders Lena Lanskih's debut feature both almost unwatchable yet almost compelling at the same time. It is an intense, uncomfortable viewing experience that won the New Directors Award at the recent San Sebastian festival.
A portrait of an aggressive, loveless rural Russian society in which the generational divide remains enormous
The pre-title sequence features blonde, sulky-faced teen Vika (Strukova) in the rain and on the verge of selling her newborn for adoption. (If ever a teenager had earned the right to a sulky face, it's here.) She finally decides against the sale, and will spend the rest of the film locked into the terrible limbo of wanting to keep the child, whilst knowing that doing so means that her own life will be a dead end.
To make matters worse, the father is her stepbrother (Slava Baranov). The family, headed by mother Marina (Olga Malahova) and ineffectual father Oleg (Vladimir Shabelnikov), has closed ranks and decided to keep the baby's existence a secret: one dreadful scene at her grandfather's wake has Vika falteringly attempt to reveal the truth to assembled mourners, who ask her to prove it by showing her breasts. Understanding that to do so would also be useless as well as humiliating, she declines.
Having had to leave school, Vika is no longer welcomed by her friends, or more specifically by their parents. She is caught, pathetically, trying to steal face cream from a supermarket, and arrested: a later attempt to be arrested as she goes in search of validation by someone, anyone, is met with indifference. The only moments of potential cheer in her unhappy existence come in the form of the dance classes that she is forced to abandon when she falls ill, and in Andrej (Ivan Ivashov), a tattooist who takes pity on her. But he doesn't actually want Vika: much like her child, she is indeed unwanted.
Lanskih's film is thus also a portrait of an aggressive, loveless rural Russian society in which the generational divide remains enormous. It's a patriarchy in which much of the men's work is done through the women, who unreflectingly spout their hatred at the cosmically unfortunate Vika. But perhaps the film is at its most potent when exploring the impact of the birth on Vika's body, as she falls ill with endometriosis (which her mother puts down to skin allergies), urgently downing painkillers — and unable to share her condition with anyone.
A bravura performance that combines intense physicality with extreme fragility is therefore required, and Strukova delivers, seemingly able to internalise some of Vika's own resilience and thus banishing the thought that we might be watching mere miserabilism. Vika, entirely unable to reflect on her own experience and even less to communicate it to anyone, lives on the edge of a madness that Strukova sometimes brings brilliantly alive, her joy at being with Andrej in one forest-set scene spilling over into hysterical laughter; she also cultivates a masochistic streak that doesn't, like much else in the film, bode at all well.
Some of the dialogue seems so wonderfully surreal that it can only have been drawn from life. 'Don't smile,' Marina chides Vika as they walk through the local market. 'People will wonder why you're so happy.' Perhaps inevitably recorded in various shades of brown by a slightly unsteady hand-held camera, the locations are suitably downbeat: a baby screaming from a pram in the midst of a grey wasteland, a broken slide, cheerless concrete apartments with dark, messy interiors. The gritty spirit of the Romanian new wave hangs over Unwanted, and from such a dark film, you hope for some of that dark comic relief: but like its unfortunate young protagonist, you wait in vain.
Production company: CTB Film Company
International sales: CTB Film Company, drozd@ctb.ru
Producers: Natalia Drozd, Sergey Selyanov
Screenplay: Lena Lanskih, Ekaterina Perfilova
Editing: Lena Lanskih, Alexander Pak
Production design: Pyotr Balabanov
Cinematography: Mikhail Weitsenfeld
Music: no no
Main cast: Anastasiya Strukova, Olga Malahova, Vladimir Shabelnikov, Tatyana Tihmeneva, Slava Baranov, Ivan Ivashov