Swedish children's adventure with the homespun quality of a Michael Gondry feature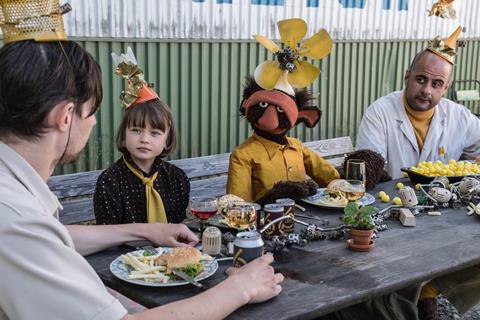 Dir. Petter Lennstrand. Sweden. 2016. 82 mins.
A charming Swedish children's adventure follows a neglected eight-year-old girl who finds friendship among the eccentric inhabitants of a recycling plant. Pottan (Mira Forsell) was never meant to spend her holiday at the Rydberg Recycling Center but her harassed parents dumped her at the gates, mistaking it for the Pony Camp they had signed her up for. Behind the wire fencing, Pottan discovers a community of humans (escaped convict Dennis) and Jim Henson-esque creatures (Rydberg, the bombastic boss; Ture, a gentle genius with a knack for robotics). She also discovers a home-made space rocket, poised for its maiden voyage.
There is remake potential, although the design of the film and its puppet characters is as much a part of the appeal as the somewhat slight story
The film, which screens in Berlin's Generation Kplus strand, and its director have already been acknowledged at the Guldbagge awards (Swedish film awards), with Petter Lennstrand taking home this year's Gullspiran, a prize reserved for an individual who has made outstanding contributions to children's film. The film's success outside its home territory will be dependent on high quality dubbing, as a subtitled release would severely restrict access to the intended audience. Selling points include the gorgeous design – the film blends the engaging homespun quality of a Michel Gondry film with the most appealing gelateria colour palette since Spike Jonze's Her – and the fact it is positioned in an underpopulated gap in the market.
With the majority of kids' cinema being animated, there is a shortage of stories featuring relatable real child characters embarking on fantastic adventures. There is remake potential, although the design of the film and its puppet characters is as much a part of the appeal as the somewhat slight story.
The screenplay doesn't shy away from peril or from the sharp edge of emotional content. Pottan's inadvertent abandonment by her parents is genuinely wrenching. And her first encounter with the Rydberg employees – a glaring Dennis (Adam Lundgren) brandishes a crowbar – is hardly reassuring. But behind the gates is a quirky community living in a wonderland of discarded treasures. It looks like a blend of Jean Pierre Jeunet's MicMacs with Wes Anderson's The Life Aquatic, with added puppets.
Rydberg (voiced by director Lennstrand) offers Pottan a job (once he has established that she doesn't have union representation). And the permanently worried-looking Ture (Guffe Funck) takes her under his wing, crafting a furry robot buddy for the lonely little girl. But the closest relationship is with the initially hostile Dennis, who warms to her when they share their unhappy childhood memories.
Eclectic music choices add to the film's distinctive, slightly retro feel. The boisterous Indian rock and roll track Jaan Pehechaan Ho, from the Hindi thriller Gumnaam (also used in Ghost World) is a repeated musical motif. And a band made up of puppet raccoons and hedgehogs provides a bleepy analogue synth accompaniment to a brief party scene.
An incident involving a pet pig sends Pottan into space, with just her robot toy for company. And the scene is set for a daring rescue – think Gravity, but made out of tinfoil and pipe cleaners. A slightly rushed ending rather lets the neglectful parents off the hook, but for younger audiences, the neatly tied up loose ends are unlikely to be a problem.
Production company: Memfis Film
International sales: TrustNordisk ApS susan@trustnordisk.com
Producer: Lars Jönsson
Screenwriter: Petter Lennstrand, Martin Olczak
Cinematography: Erik Molberg Hansen
Editor: Kristin Grundström
Production design: Josefin Åsberg
Puppet design: BLA Stockholm; Petter Lennstrand; Helena "Äwe" Bäckman
VFX: Tomas Naslund
Main cast: Mira Forsell, Adam Lundgren; Guffe Funck, Petter Lennstrand, Shebly Niavarani; Ida Engvoll; Susanne Thorson; Eric Ericson